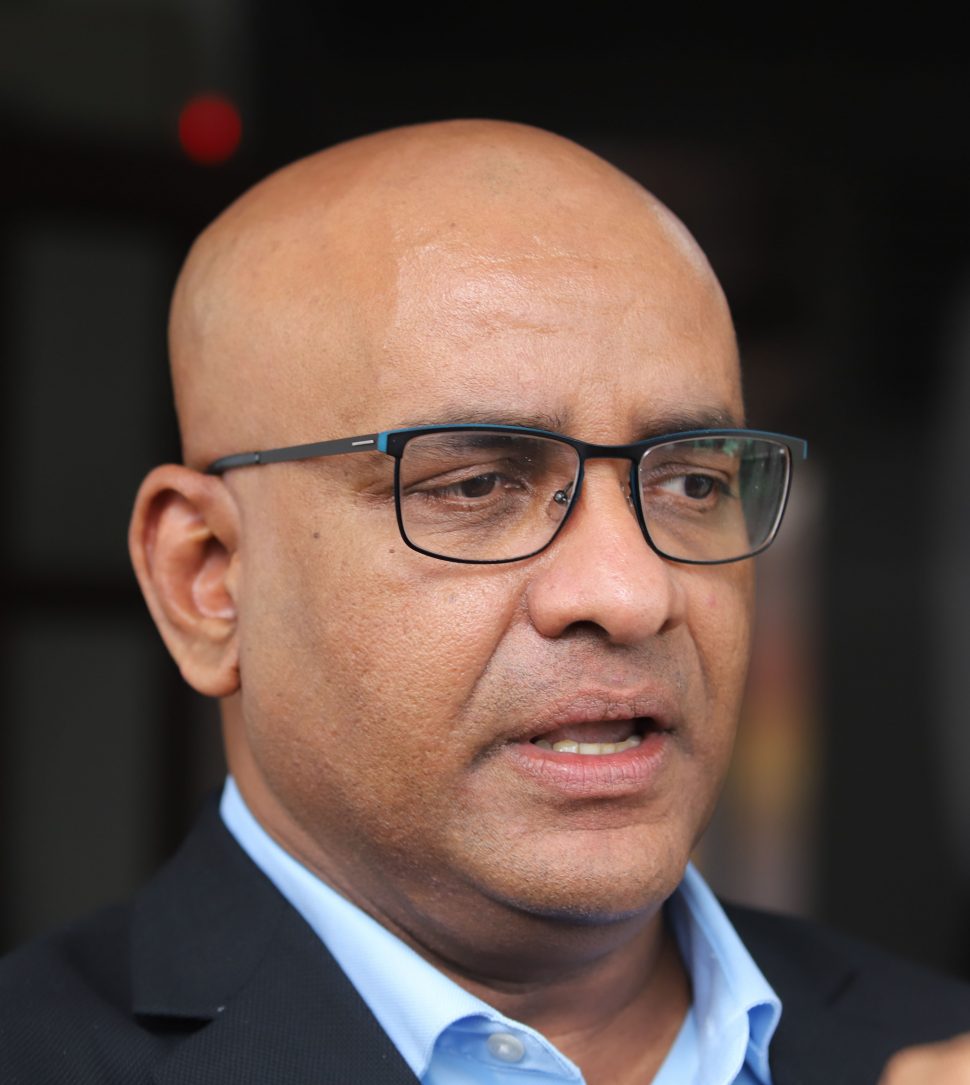 Bharat Jagdeo
November 11 ,2021
In 2018, then Opposition Leader Bharrat Jagdeo blistered the APNU+AFC administration over its sloth in auditing US$460m in ExxonMobil costs but now in 2021, as PPP/C Vice-President he has casually excused his government from forensic scrutiny of nearly 20 times that amount – US$9b.
Jagdeo last week announced that ExxonMobil's post-2017 expenditure for the Liza-1 and Liza-2 wells would not be audited as government was not able to select a strong local group to undertake it, although it had advertised this year for foreign firms.
"We have been very disappointed that we have not been able to select a group to do the audit of the post-2017 expenditure on Exxon. The reason is we did not have a strong local content. We had two local groups that came in but they were not strong enough. We want to build a capacity in Guyana to do this audit," Jagdeo said.
"We think our people have enormous skills, forensic skills, auditing skills, and we are looking to see if we can't have an arrangement where we have a consortium of local people partnering with a foreign company so we can build capacity right here in Guyana. We are disappointed that from the individual bids we did we have not been able to do this. When I get back from Scotland (from the COP26 conference) I have asked the minister to see if we can't get all the groups that expressed interest to see how we can partner, they can partner with a foreign company to do this audit. We also have to build this capacity in GRA (Guyana Revenue Authority). GRA has been mandated to build a capacity to do this. But it is a disappointment because it has been quite a while," he added.
Jagdeo's explanation has raised questions about the fate of the bids by international companies to do the auditing and why the government here did not seek urgent overseas help for the task given the magnitude of the sum. If the US$9b in expenses is inflated it means that Guyana would be getting less profit oil than it is entitled to. Prior to Jagdeo's casual announcement on Friday there had been no statement by the government that it was having difficulty sourcing an auditing firm and that there was a risk of the statutory period for doing the audit expiring.
Jagdeo's position is an about-turn from his and the PPP/C's position on auditing the expenses of oil companies. As Opposition Leader in 2018, he had vowed that should the party get back into government, it would ensure that all of ExxonMobil's claimed expenses are subjected to rigorous scrutiny.
He had been vocal in criticising the APNU+AFC government for its sloth in auditing the US$460M pre-contract costs. In June of 2018, Jagdeo had questioned why auditing of the pre-contract expenses had not begun given that ExxonMobil would not refuse to have its books checked.
"What surprises me is that ExxonMobil says that we are open to the audit… but it is still not done," Jagdeo had told a press conference.
He also said that while he had no immediate plans if the government refused to commission an audit, should his party return to government it would ensure that one is done.
"It has to be done and we will do it," Jagdeo stated.
He had emphasised that it was only through auditing that this country would know if costs submitted were indeed the sums spent.
"Imagine the people said they will do the audit. So, the government should have said, 'Okay, we will get a firm to [do it] and at your cost, too. Whatever the figure is we will put that figure in the agreement.' Easily that could have been done because they had no push back from the company. But the people said US$460 million and [Minister of Natural Resources Raphael] Trotman said 'Put it in there, put it in.' They already made a huge fundamental mistake by putting it in the contract, a figure that was not audited. The company said they are not unwilling to have this done all you have to do is ask our own government…I wish they would do it," he said.
Jagdeo had said that while the figure submitted by ExxonMobil and partners reflected purported costs prior to the discovery of oil in 2015, he could not comment on if he believed the US$460m figure was accurate.
"If I say that to you, I will be just like Trotman. You have to submit the invoices. You have to say here is a contract for the rig. The Government of Guyana then says 'Yes, we can verify that it cost US$30 million.' Then the next questions should be 'Was this competitively sourced? Could we have gotten it for US$20 million, because the going rate at that time was US$20 million?' Then: Was it a company related to the oil company? Because if it was related, the cost could be inflated," he stated.
"These are questions for everything that comes out of every expenditure of the company. At the end of the day, you aggregate and come up with a figure and you say, this is real because we have asked the questions and have gotten the answers," he added.
Extensive
Pointing to an April 2021 notice and terms of reference by government which called for only firms with extensive experience to bid for the auditing contract, Chartered Accountant Christopher Ram on Tuesday told Stabroek News that Jagdeo's statement is disingenuous.
"It is both misleading and unfortunate for VP Jagdeo to lament the absence of local capacity to audit the costs reported by the oil companies. The statement is inconsistent with the Government's own advertisement, inviting bids to audit the contract costs: it was directed to `internationally recognized accounting and audit firms with extensive experience in …. Auditing petroleum costs under production sharing contracts and other petroleum agreements and its fiscal implications.' Were firms expected to lie about their status and capacity, or was it a condition of the World Bank's US$20 million for a project which includes the audit?" Ram questioned.
"And if the Government was so interested in auditing those costs, it could have called on the Audit Office, which has easy access to Canada and its wealth of experience in petroleum audits, to provide assistance, even as a short-term measure," Ram said.
Five companies
In the April 2021 notice, Guyana Oil and Gas Capacity Building Project (P166730), the PPP/C government had outlined that the audit would entail the company, among other objectives, understanding the methodology applied in conducting the audit and interpreting the findings while communicating those findings to the contractor. It was expected that the auditing process would take four months.
In July, five companies submitted tenders to the National Procurement and Tender Administration Board (NPTAB) for the contract 'Consulting Services for Cost Recovery Audit and Validation of Government of Guyana Profit Oil Share'.
They were Bayphase Oil and Gas Consultants of the United Kingdom; Rosa, Correia & Associados (RCA) Inc. of Portugal in partnership with Swale House Partners of the U.S.A; Baker Hughes subsidiary Gaffney Cline and Associates of the United Kingdom; Eclisar Financial and Professional Services of Guyana and Calendar Law Firm of the USA.
Eclisar was the only local company bidding. It is unclear if Jagdeo was referring to Eclisar's bid when he spoke about the process not going through because of a lack of local content.
'Fundamental mistake'
However, Jagdeo on Friday said nothing on if the procuring entity, the Ministry of Natural Resources, had informed the companies of why they did not qualify or why the Government of Guyana never announced that none of the tenders met the required criteria or what the criteria were. No explanation was given on why the contract was not again advertised or if government had asked ExxonMobil to extend the two-year statutory period, given the lack of capacity here and the impact of the COVID-19 pandemic on works globally. For the second straight day, the Ministry of Natural Resources has not responded to queries from Stabroek News on this matter.
Ram had told Stabroek News on Tuesday: "The history of audits of petroleum costs goes back to the 1999 Agreement signed by the PPP Government, imposing a two-year limit on the Minister responsible for petroleum to audit the costs, expenses, accounts and records of the oil companies. That restriction was further entrenched in the 2012 Model Petroleum Agreement published by the Natural Resources Ministry under Robert Persaud during the Ramotar presidency. And of course, Raphael Trotman, Persaud's successor under the APNU+AFC Government, sleepwalked into signing a pre-discovery contract for a post-discovery situation! That no such audit has been done in seventeen years of the PPP and five years of APNU+AFC signaled to the oil companies that they were free to do as they please, in all matters concerning their operations, including Local Content, an absolute requirement of the law".
Now that successive governments have failed to protect the country's interest, rein in Exxon, and verify the billions of US dollars charged every month against oil revenue, according to Ram, "Mr. Jagdeo blames the absence of `strong local content'. This is not an academic, theoretical issue – it is serious and deals with real money."
Ram said that when the calculations are worked out, even a 10% overcharge found would have been significant for this country and to let that opportunity go to waste is unconscionable of any government to its people.
"Just think what even 10% of US$1 billion can do, let alone US$10 billion. Why would any Government be so casual with billions of dollars when from day one, those same oil companies refused to explain the US$92 million discrepancy between their claimed pre-contract costs as at December 31, 2015 and their own audited financial statements? It was a mix of arrogance for the people of this country," Ram said.
Senior Minister in the Office of the President with responsibility for Finance, Dr. Ashni Singh yesterday told Stabroek News that he has nothing to add on why government waited until the auditing of the US$9B in expenses fell into default before making it public. He said that Jagdeo's explanation suffices.
"I think this matter has been addressed exhaustively by the Vice President already and he was asked about it and he has addressed it fully. I don't believe that it is necessary, in any way whatsoever, for me to add to what the VP has already said," the Finance Minister said.
"Let me say definitively that we place the highest level of importance on ensuring we have the highest level of capacity to conduct these audits and that we do conduct them, and I can say that definitively. That capacity a lot of has been [done] to the work to build that capacity. A lot is on the way already," he added.
In addition to this fiasco over the US$9b in expenses, the PPP/C government is yet to release any information on the audit of US$460m in pre-contract costs by IHS Markit.
In December of last year, GRA Commissioner-General Godfrey Statia had told Stabroek News that the audit of ExxonMobil's pre-contract costs had been completed and the report was handed to the Department of Energy to be forwarded to the company for its response.
"We have actually completed our part and have given it to the Department of Energy to give to Exxon. When you are finished with an audit, you have to give the other party a chance to respond. That is normal. You have to inform the party of your findings, if not you have not completed the audit so that is where I know we last were," Statia had said.
This newspaper understands that the report was handed back to the consultant for the completion of some work and it was returned to the Department of Energy (DoE).
ExxonMobil, according to sources, never received any report from the DoE.
At a cost of US$300,000, United Kingdom-headquartered IHS Markit was hired by government in 2019 to undertake the auditing of ExxonMobil's pre-contract costs and had begun working alongside the GRA to complete this task.