Aug 29 2018
Assistant Commissioner Nigel Hoppie is tipped to be President David Granger's choice for Commissioner of Police, sources say, with Assistant Commissioners Maxine Graham, Paul Williams, Lyndon Alves and Leslie James to serve as Deputy Commissioners.
Stabroek News has been told that the president is scheduled to meet with opposition leader Bharrat Jagdeo tomorrow, as part of the consultation process that is required by law, to discuss the choices.
Hoppie, Graham, Williams, Alves and James are among eight members of the force who had been interviewed for the post.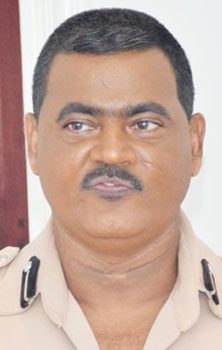 The other applicants were current acting Com-missioner David Ramnarine, who is the most senior rank in the force, Marlon Chapman and Clifton Hicken. Ramnarine's omission from consideration as Top Cop or as one of the Deputy Commissioners will come as a major surprise.
Ramnarine was appointed acting Commissioner following the retirement of Top Cop Seelall Persaud in March of this year. However, he has been acting since last year, when Persaud took his outstanding accumulated leave.
The candidates for the post were interviewed by a panel that included the President and Minister of Public Security Khemraj Ramjattan. Information provided to this newspaper stated that Graham, the lone female, excelled in the written component of the interview. One acting commissioner told Stabroek News that questions were asked about current affairs and the geography of the country.
While the acting commissioner said that they "did not have a problem" with the questions, they complained that the questions caught them "off guard" as they were not "prepared and could not right away remember all those things from way back when."
Jagdeo has criticized the president's method of selection, saying that the police should not be subjected to geography tests and he noted that when he was president he had instituted a more practical approach. "Rather than myself sitting in an interview panel with two ministers and asking which river crosses which one and what the length of the Waini River is, we got four prospective candidates and we sent them off on a course in the UK. We exposed them, then I got a report of them independently ranked…," he said, while noting that current Minister of Citizenship and former Commissioner of Police Winston Felix can attest to this.
Stressing the need for the restoration of public trust and the reform of the Guyana Police Force, Granger had earlier this month said that his choice for substantive Police Commissioner would be someone who is "unbribable" and can steer the organisation in the right direction.
"Integrity is the most important and I am looking for intelligence and impartiality. I don't give orders to the Commissioner of Police but I want somebody who is unbribable. I want somebody who is intelligent and want somebody who is committed to carrying out the programme of security sector reform who has the initiative and who can generate public trust. If I put somebody there who is not trustworthy… the public would laugh," he told reporters, when asked about some of the qualities he is looking for.
When asked if any of the eight candidates possessed the qualities he was searching for, Granger said he was searching before adding that he also had to get advice from the new Police Service Commission.
"It is public knowledge that I did interview eight Assistant Commissioners, so I understand the field from which I have to choose and other jurisdictions in the Caribbean have invited officers from other countries like Britain and so on. I don't intend to do that. I think we have the talent in Guyana, [so] I intend to appoint a Guyanese but I am looking for somebody who has the intelligence, the impartiality and the integrity to hold such a position," he said.
He stressed that Guyana needs such a person, "a commissioner who they can look up to and I expect that he is going to be supported by four Deputy Commissioners." He stressed that Guyana has not had so many Deputy Commissioners for a long time and as a result the hierarchy of the force has been "flat. Everyone is of the same rank and of course that created morale problems. Everybody wants to rise to the top."
Newly-appointed Police Service Commissioner Chairman Paul Slowe has said someone who is competent, can command the respect of the members of the force and the public, and in whom persons have confidence should be the head of the force. However, Slowe was quick to point out that those were just his views and that a decision would be a collective one by the commission.