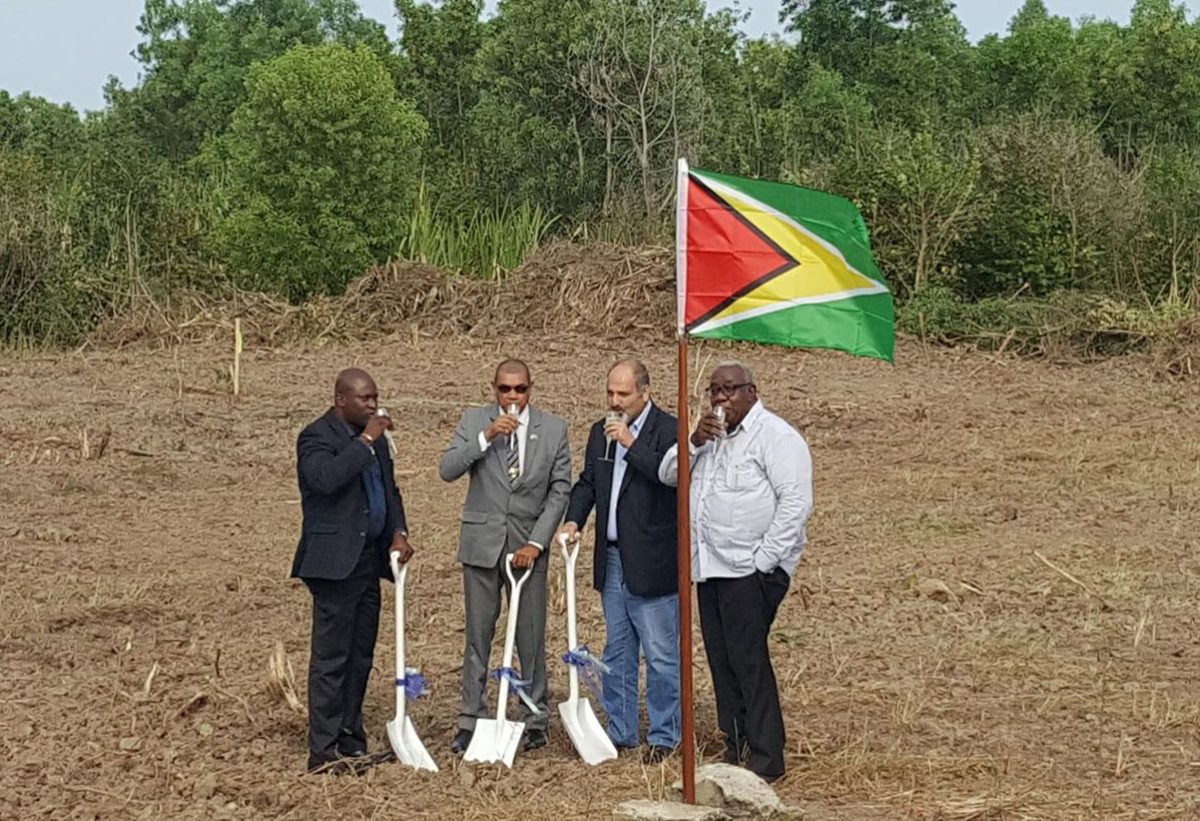 At the sod turning: from left are Head of NICIL Colvin Heath-London, Minister of Business Haimraj Rajkumar, John Aboud and Minister of Finance Winston Jordan.
-sod turning to be held soon – says NICIL
February 14 2020
Even as it declared that all transactions for the recently announced US$75 million AC Marriott Hotel are above board, the National Industrial and Commercial Investments Limited (NICIL) yesterday disclosed that the major US brand Hilton Hotel is also coming to Guyana at the same Ogle location.
NICIL did not say who the investors are for that project but disclosed that a sod-turning ceremony will be held next Wednesday at Ogle.
Yesterday, the government holding company which turned the sod for a US$75 million AC Marriott Hotel that is expected to soon begin construction aback the former Ogle Estate and alongside the Bertrand Collins Public Service College, defended the sale of the land.
It had the day before announced that Trinuyana Investments Incorporated of Guyana, a company owned by Trinidad and Tobago businessman, John Aboud, is the investor and that the hotel is expected to create about 400 jobs during its construction phase and some 200 permanent jobs when completed.
While NICIL informed that both it and the company were happy with the negotiations and the investment, no details on the terms of the agreement were given.
Yesterday, head of NICIL, Colvin Heath-London, and acting Priva-tization Specialist, Rachael Henry, said that Trinuyana was sold 2.16 acres at a cost of over $26 million (US$130,000) per acre. London assured that government evaluators had assessed the parcel of land and this was how the cost was arrived at. He said that expressions of interest for the land were invited in 2017.
And while not naming the investment team of which he leads, Aboud said that he expects funding for the US$75 million project will come through Republic Bank Limited (RBL) with which he has longstanding good financial relations.
"The group of investors which I have the honour to lead have had a long and successful career in the real estate development and management stretching from Florida in the north to Trinidad in the South and now Guyana. We have developed in excess of two million square feet of real estate and continue to manage all of it. Our expertise range from office buildings to retail shopping malls, to industrial parks, to special purpose buildings. And more recently, a Marriott Hotel in Trinidad and [a] world-class amusement and water park, also in Trinidad and carded to be opened in the middle of next month, God willing," he said.
"As investors and developers, we are always on the lookout for investment and development opportunities and it was not difficult to identify Guyana as a country that has infinite possibilities into the future, not only because of your recent good fortune in oil and gas, but the tremendous opportunities this will provide Guyana in developing the vast natural resources be it in mining, agriculture or tourism…," he added.
As it pertains to environmental regulations, head of the Environmental Protection Agency, Dr. Vincent Adams, has told this newspaper that the agency received a permit application for the hotel and that it was being processed. Aboud said that the company awaits all regulatory permissions, which he believes will be granted based on the fact that the company not only has a sound financial but environmental plan. He also underscored his company's commitment to its corporate social responsibilities and said that Guyanese can be assured that he will not derogate from his duties.
He also dismissed suggestions that the company had not received permission to use the AC Marriott Brand saying that he already had documentation to this end. "An AC Marriott will be built here," he stressed.
Aboud explained that discussions with NICIL started sometime in March of 2019 and his company was incorporated here in July. The agreement for the project, he said, was signed after the incorporation of the company but he could not at the time remember the exact date.
He said that the lands were proposed to the company when it held discussions about investments here and projects with the Guyana Office for Investment (GO-Invest).
The agreement raises questions about the timing of the announcement, as records from the Deeds Registry, seen by Stabroek News, show that the company was only registered here in July of 2019.
But Aboud said that Guyana's current political situation has no bearing on his company since business transcends politics and it was thus not taken into consideration for the investment. "We assume that Guyana will still be here after the elections. We are here for business and not politics," he said.
The businessman, who has been coming here for over six years and also owns Amalgamated Security Services Limited, said that he is currently in negotiations with GO-Invest to get concessions that are in keeping with an investment of that nature.
Head of GO-Invest Owen Verwey told Stabroek News that negotiations for the concessions started last week Friday and his office was going over the commitments of the company to Guyana before an agreement could be reached. "We have to ensure that they are putting this country first and are in keeping with what is expected," he said.
Verwey explained that the concessions looked for will be in keeping with those for hotel projects such as on materials and a five-year tax holiday on corporate income taxes.