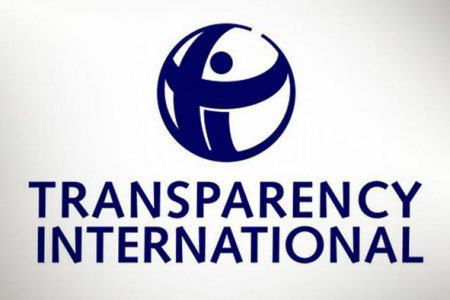 January 24 2020
Guyana has risen three points in the latest Transparency International (TI) Corruption Perceptions Index (CPI) Report, registering its best score ever and was once again listed among 22 countries which have significantly improved their standing in the last eight years.
"In the last eight years, only 22 countries significantly improved their CPI scores, including Greece, Guyana and Estonia," the TI Corruption Perceptions Index 2019 report said.
Guyana now has a score of 40 and is ranked at 85 out of the 180 countries which were looked at for the report which was released yesterday.
According to the report with this score Guyana is a "significant improver" on the CPI since 2012.
"While there is still much work to do, the government is demonstrating political will to hold former politicians accountable for the misuse of state resources," the report said.
Last year the country scored 37 points, one point below its then best score of 38 with a ranking of 91. The 2018 score was the best as in 2017 it had notched up a score of 34. For 2015, Guyana was ranked 119 with a score of 29 while in 2014, 2013 and 2012 it scored 30, 27 and 28 respectively. This placed it in the category of corrupt countries.
With a score of 40, Guyana is now on par with Trinidad and Tobago. It is however below several of its fellow CARICOM countries. The Bahamas tops the region with 64, followed by Barbados with 62, Dominica with 55, St Lucia, 55, Grenada, 53, Suriname, 44 and Jamaica 43.
The Index ranks 180 countries and territories by their perceived levels of public sector corruption, according to experts and business people. It uses a scale of zero to 100, where zero is highly corrupt and 100 is very clean. The 2019 report said that more than two-thirds of the countries surveyed scored below 50 with an average score of just 43. The top countries are New Zealand and Demark, with scores of 87 each, followed by Finland, 86, Singapore, 85, Sweden, 85 and Switzerland which also scored 85. The countries at the bottom this year are Somalia, South Sudan and Syria with scores of 9, 12 and 13 respectively. These countries are closely followed by Yemen, 15, Venezuela, 16, Sudan, 16, Equatorial Guinea, 16 and Afghanistan also 16.
The research also showed that several of the most advanced economies cannot afford to be complacent if they are to keep up their anti-corruption momentum. Four G7 countries, TI said in a release, scored lower than last year: Canada (-4), France (-3), the UK (-3) and the US (-2). Germany and Japan have seen no improvement, while Italy gained one point.
According to TI more than two-thirds of the countries – along with many of the world's most advanced economies – "are stagnating or showing signs of backsliding in their anti-corruption efforts" as is seen in the recent report.
It stated that countries in which elections and political party financing are open to undue influence from vested interests are less able to combat corruption.
"Frustration with government corruption and lack of trust in institutions speaks to a need for greater political integrity," said Delia Ferreira Rubio, Chair of Transparency International.
"Governments must urgently address the corrupting role of big money in political party financing and the undue influence it exerts on our political systems," she added.
For countries to reduce corruption and restore trust in politics, TI recommended that governments: Reinforce checks and balances and promote separation of powers.Tackle preferential treatment to ensure budgets and public services aren't driven by personal connections or biased towards special interests;
Control political financing to prevent excessive money and influence in politics;
Manage conflicts of interest and address "revolving doors";
Regulate lobbying activities by promoting open and meaningful access to decision-making; Strengthen electoral integrity and prevent and sanction misinformation campaigns; and Empower citizens and protect activists, whistleblowers and journalists.