October 18 2018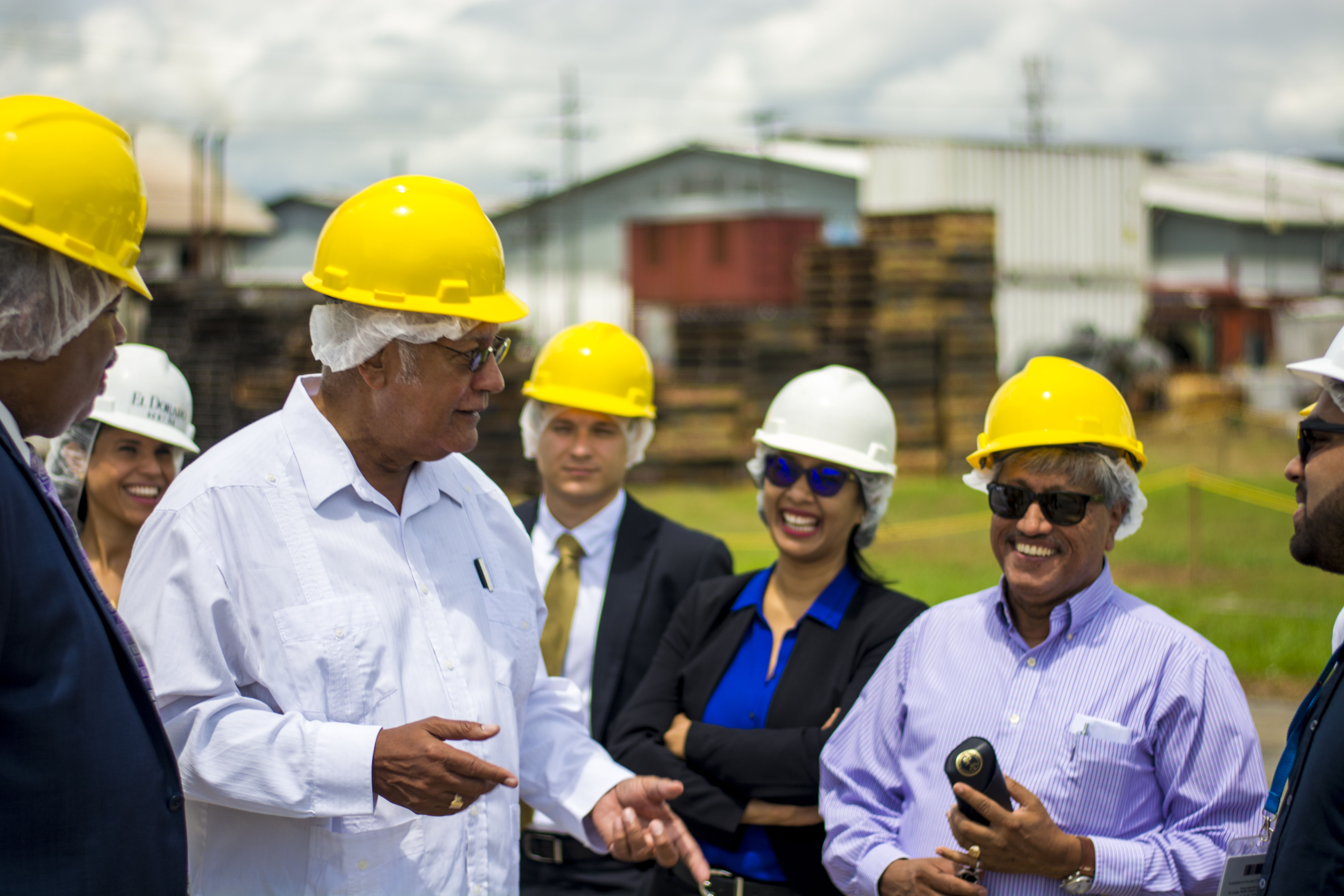 Agriculture Minister Noel Holder (second from left) and DDL Chairman Komal Samaroo (second from right) during the visit.
In the backdrop of Guyana importing US$25m annually in milk products, the Guyana Government and Demerara Distillers Limited (DDL) have committed to exploring the possibility of a partnership in the dairy industry.
A joint release from the two yesterday said that they have agreed to examine the implementation of a private/public partnership to develop the local dairy industry to provide for milk and dairy products. The partnership will also aim to expand local juice production with the Ministry of Agriculture embarking on a programme to encourage market driven agriculture.
This was among the decisions taken yesterday when Agriculture Minister Noel Holder and a team from his ministry toured the operations of DDL at Diamond during which there were wide-ranging talks with a DDL team headed by its Chairman, Komal Samaroo.
The meeting also saw a presentation by a visiting team from Tetra Pak, a Swiss headquartered company with which DDL is currently finalizing an agreement for the design and supply of a new packaging plant to be installed next year at Diamond. The presentation also encompassed a system for the effective collection of fresh milk from dairy farmers.
Holder's visit is the third by a government minister over the past three months as DDL and Government "seek to work together to ensure a smooth and coordinated approach to the implementation of their respective development projects". The release noted that earlier visits were paid by Public Infrastructure Minister David Patterson and Finance Minister Winston Jordan. These followed visits late last year by Prime Minister Moses Nagamootoo and Business Minister Dominic Gaskin.
Holder during the meeting said that Guyana's milk and milk products imports amount to about US$25m and the production of milk locally would eliminate this expenditure while creating jobs and generating revenue for local cattle farmers. He said there is a population of animals in Guyana that can be converted to dairy production over the next five to ten years. Holder had many years ago been in charge of the milk company, LIDCO.
He said that DDL with its technical, marketing and management expertise is best suited to work with Government to pursue the production of milk in Guyana.
Holder said that the government through the Guyana Livestock Development Authority will provide the required expertise on inartificial insemination, embryo transplant techniques, pasture management and on farm development and milk collection activities.
"There are synergies for us to work together and to access the needed resources through international agencies such as the World Food Programme," he said. Samaroo said that DDL is open to pursuing a partnership with the Government and will continue to engage in moving the process forward as part of the company's diversification plans.