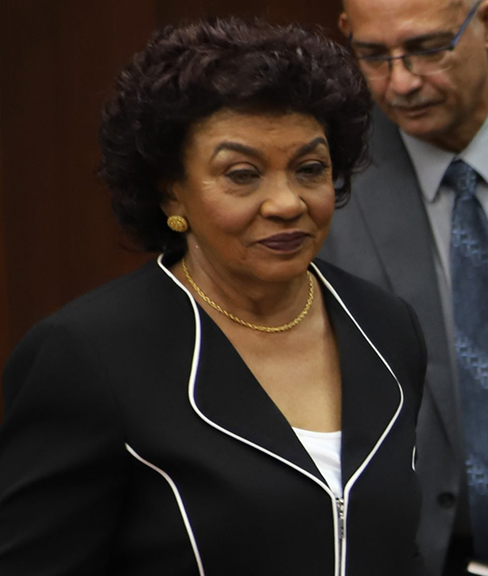 Chairperson Justice (ret'd) Claudette Singh
February 22 2020
-amid PPP concerns
Guyana Elections Commission (GECOM) Chairperson Justice (ret'd) Claudette Singh has defended the decision to reduce the amount of private residences used as polling stations and to rely more on public buildings.
Her defence came as the opposition People's Progressive Party/Civic ramped up its complaints about the reduction in polling places as the March 2nd general elections nears.
Speaking with reporters during the Disciplined Services vote yesterday, PPP/C Presidential Candidate Irfaan Ali complained that his party supporters would be disadvantaged by a reduction in the use of private residences as places of poll.
At the time he was echoing concerns his party raised in a press statement issued on Thursday evening.
In the statement the PPP/C claimed that GECOM had "discriminatorily and unfairly" applied the decision to discontinue the use of private residences as there are many private residences being used in Georgetown and along the East Bank of Demerara as polling stations while their strongholds have seen a significant reduction.
"We consider this latest development as yet another attempt by GECOM to frustrate voters, suppress and hinder voting and create possible confusion on Elections Day," the statement said.
In responding to the accusation, Singh said that the commission was implementing a recommendation from an international observer, the Carter Center.
"Those have been reduced because they're using public buildings, it's not that the polling stations are removed in the area, it's just the private residences –they're moving away from those…well that was a recommendation made by the Carter Center…Why would you use private residences when you have a public place?" she told media operatives at the Brickdam Police Station.
She explained that of the 2,339 polling stations that have been finalized, 92 are located at private residences.
Two of the PPP/C's major concerns are still to be answered by GECOM. These are whether in concentrating on public buildings voters now have to travel longer distances to polling stations and whether some public buildings will be too congested on polling day because of the increase in voting stations.
The PPP on Thursday cited a number of problem areas including Mon Repos, East Coast Demerara. It said that with almost 7,000 electors, GECOM has reduced the number of polling places from ten to two, eliminating completely all private residences, while cramping all the polling stations into two schools situated at the same location. This, it said, will definitely result in confusion.
The opposition party also cited La Grange on the West Bank of Demerara, where there is no polling place in what is a very populated community and the residents are expected to vote in the neighbouring village of Bagotville, which is known to be an APNU stronghold.
Chief Election Officer Keith Lowenfield also indicated that private residences were only used in circumstances where there is absolutely no public or other building that could be used and maintained and that all polling stations are tied into the ordinary route of citizens.
"If you live at 9th street to get to 1st you walk or use other means of transport. We are not taking away the ordinary route," he stressed.
The Carter Center Report on the 2015 General and Regional Elections noted that because of the lack of state establishments in some areas, 166 (or 7%) of the 2,299 polling stations across the country were located in private buildings and residences.
It added that while the establishment of polling stations on private property did not seem to negatively influence public confidence in the electoral process, GECOM should take steps in future elections to ensure that citizens can cast their ballot in a neutral environment free from intimidation.
Additionally both major parties have in the past raised objections to the use of private residences as polling places.
In 2015, David Patterson told Stabroek News that the APNU+AFC coalition wanted public places to be used as stations over private residences.
On that same day the then General Secretary of the People's Progressive Party Clement Rohee stated that the party was leery of the use of private residences as polling stations. "The PPP has made previous calls on GECOM to avoid as much as possible the use of private residences in preference for public and better known buildings as polling stations," he told a press conference.
Yesterday, President David Granger raised similar concerns, claiming that "In the past when the PPP was in government, it was apparent to us in the opposition then that some of the private residences were so obscure that many of our supporters couldn't find them and, in fact, some of them were changed at the last moment."
He stressed that there is no attempt on the part of the government-nominated elections commissioners or the members of the coalition to disenfranchise anyone but there were numerous abuses in the past in terms of the selection of private residences.
"Some of them were obscure, some of them were in houses of active political advocates and many persons not associated with the administration at that time were disenfranchised. I am very confident it will not happen. I am confident that the Elections Commission, which is in charge of elections, will make the right decision," he said.
Alli in turn dismissed Granger's comments.
"This is the first time I'm hearing about that. At no election did the PNCR or any other party complain. This is just an excuse how suddenly when this issue is raised he turns to this? Why wasn't this raised before? It is just an excuse and a lousy one," he declared.
PPP Executive secretary Zulfikar Mustapha, who was with Ali at the time, emphasised that the party was never involved in the selection of polling places. Rather they were agreed to by GECOM and the political parties.