"Flags don't win elections, but votes do" – Jagdeo
…urges supporters to ensure they vote on E-Day
Opposition Leader Bharrat Jagdeo told supporters of the People's Progressive Party/Civic (PPP/C) on the West Coast of Demerara that the party has a lot of plans in store for the development of the region but these can only be implemented with the support of residents.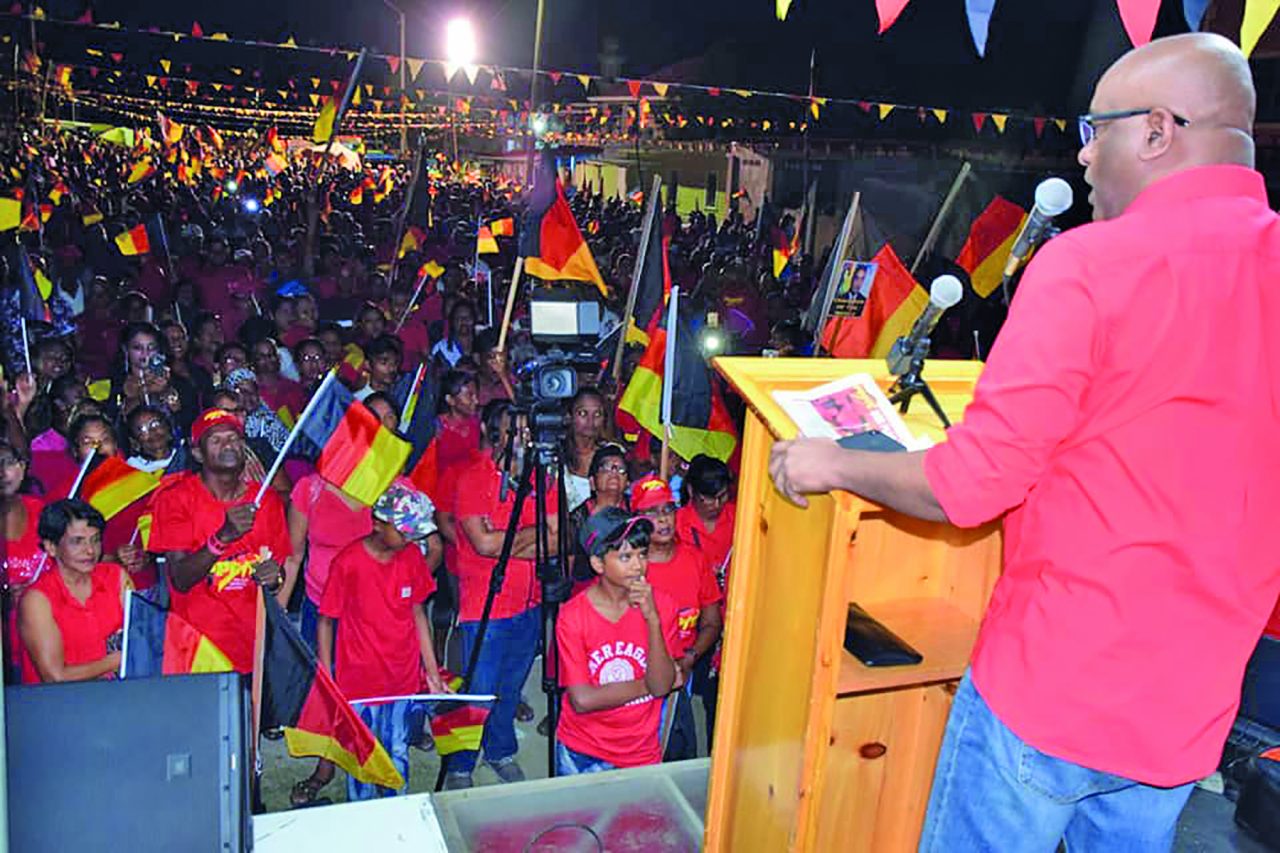 Jagdeo was at the time addressing a public meeting at Meten-Meer-Zorg, West Coast Demerara, on Friday evening.
He told scores of supporters that PPP's victory at the upcoming polls is dependent on their turnout on the March 2 Elections Day.
"A lot depends on you. Flags don't win elections but they're important. Big gaff don't win elections, votes win the election and we have the numbers on our side. The people of Guyana in our strongholds and in their strongholds have seen the decline of our fortunes because of the nature of the People's National Congress (PNC) and this so-called APNU/AFC coalition."

Comrades, therefore, a lot depends on you. Everything depends on you, your efforts. This party has always depended on you… Every single person has to become a campaigner and an activist. I'm counting on you to do that; that is what matters… So I'm here largely to ask you help… This is not for a single individual, this is for the future of our country, your children, your future…" Jagdeo urged.
According to the Opposition Leader, Region Three (Essequibo Islands-West Demerara) has enormous possibilities for development.
Among these, he noted, is another highway road to Parika, East Bank Essequibo, since the region is not only poised for more development but the increasing population necessitates such an infrastructure. He added too that the party will ensure that there is a "proper" four-lane high bridge so that persons can drive over at any time.
Jagdeo noted that after 2015 a lot of people became demoralised. But he noted that the party needed that time to regroup and get back in touch with its grass line supporters.
"The party needed this period to rebuild itself from the bottom up. We needed the time to get back in touch with our people. We needed to ensure that our messages of progress reach every corner of this country. And if we work together, a day will come when we shall get back to office and that day is some forty days away," he declared to loud cheers and applause from the crowd.
However, the Opposition Leader posited that the party is ready now and is prepared to work to fix all the things that did not go right over the past five years under the coalition.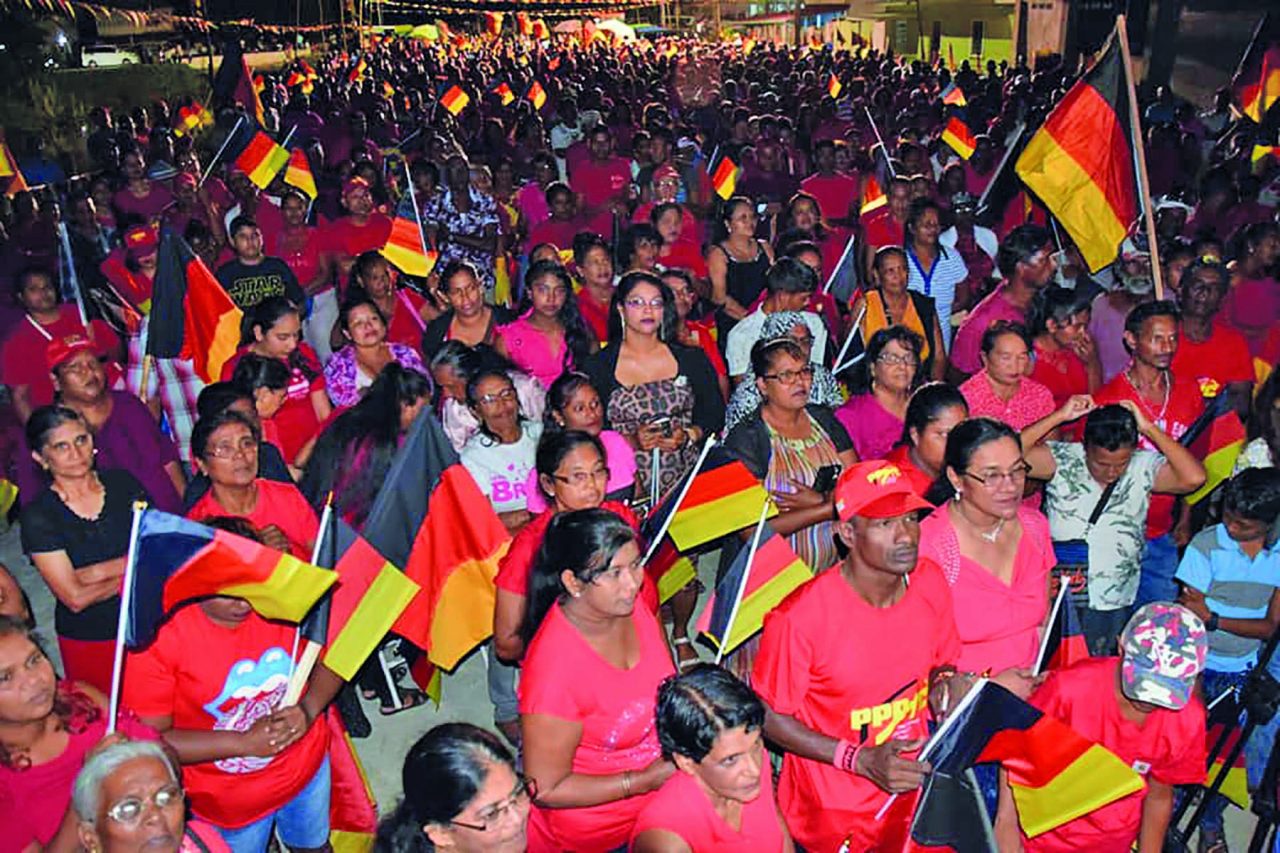 Jagdeo, a former President and current General Secretary of the PPP, argued that the PNC-led Administration has assaulted the country's freedom and violated its Constitution over the past year.
He contended that it was constant pressure from the PPP and mounting pressure from the international community that caused the coalition to finally set a date for elections.
"You are fighting to have a place in this country where the rule of law persists. Sometimes we don't think about this; we only think about the bread and butter issues but freedom is important too… So when you come on that day, you're voting for a free Guyana in the future. One in which you can raise your children and your rights will be protected too," he stated.
The Opposition Leader outlined to the supporters that they will also be voting against an economic philosophy that has no future. He pointed out that the incumbent regime has borrowed huge sums of money and indulged in wasteful spending. This behaviour, he reminded, is akin to that of past PNC Governments which caused the country to plunge into a state of bankruptcy – something which the PPP had to reverse when they got into office in 1992.
The former Head of State noted that during its term in office, the coalition's five national budgets totalled to over one trillion dollars and they have very little to show for their spending.
He outlined that all the sectors that provided jobs and income for citizens declined during this time, while taxes were increased by $88 billion more annually.
"That is why across Guyana now, money has shrunk from circulation. If you go to the market, people complain, the taxi drivers complain, people who doing hairdressing complain. People don't have disposable income anymore because $88 billion that were in your pockets goes to finance the useless expenditures of this Government," the PPP General Secretary stated.
Nevertheless, Jagdeo assured supporters that the PPP will ensure that these and other draconian measures implemented by the coalition will be removed and reserved so that Guyanese can once again return to productivity and sustainability.
Guyana Times VOTE PPP