Farmer reaps 450 pounds of onions
A CORENTYNE farmer has harvested some 450 pounds of organic onions from his Phillipe Farm, East Berbice, Corentyne, last Thursday.
It is the largest harvest for a single farmer since implementation of the trial project by Promotion of Regional Opportunities for Produce and Enterprises and Linkages (PROPEL), in partnership with the National Agricultural Research and Extension Institute (NAREI).
Rawle Medford, 41, said he started planting in early December and had 12 beds, but due to the rains during that period, he suffered a 30 per cent loss.
That did not deter the enterprising farmer as he continued the second time with 100 per cent success.
"I feel proud of this production and did not think I would have gotten so much due the challenges, which included the cleaning of the beds on time. There were six beds, 60 feet in length, three feet in width," he said.
Medford said when he was first approached to be part of the trial group, he was ecstatic to embark on the new variety of the high-value crop.
The farmer still has three more beds to reap, which should take the amount of onions reaped to a whopping 800 pounds.
Medford posited that he will continue planting onions on a larger scale after the May/June rainy season.
He is hoping to continue supplying local demand and hopefully to stop the importation of onions to Guyana.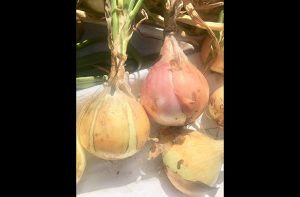 "We have the necessary means to plant, we have good lands and the trial has been a success, so after May, I am planning to employ two more persons and we are ready to make this bigger. This is organic onion. I am hoping people can see it and come on board to purchase," the farmer said.
And on that note, he called on the business community and Guyanese to support local.
"This makes me happy; this makes me optimistic. I am calling on Guyanese to support local organic products that can now be grown right here."
There has been a conscious effort to reduce the importation of products that can be produced locally; and with the successful trials by PROPEL in collaboration with NAREI, supermarkets can soon expect an influx of non-traditional crops that are locally produced.
In addition to being produced locally, the crops are being planted and harvested through organic methods,thereby reducing the need for harmful chemicals.
Kewal Mangar, the NAREI extension officer attached to the project, said in addition to Medford, there are at least three other farmers who were part of the PROPEL project, who have gone on to becoming independent onion farmers.
He said the Mercedes variety of onions has been more successful thus far and that NAREI is working closely with farmers of the non-traditional both in and out of the field and providing technical advice in addition to identifying potential markets for their produce.
Medford also plants bell peppers and boulanger.