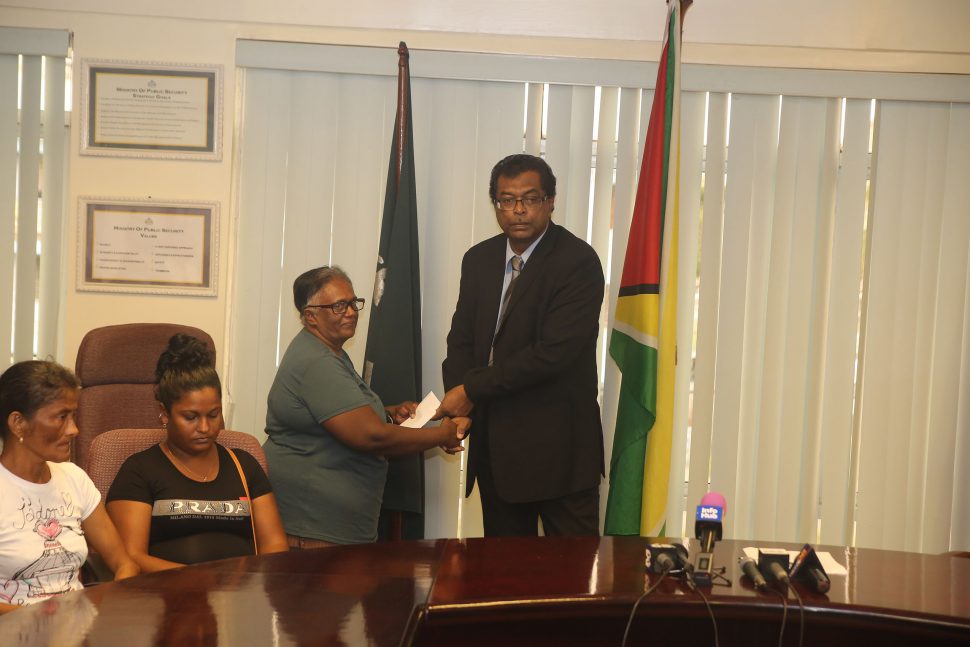 A relative of pirate attack Sunil Ramotar receiving the cheque from Minister of Public Security Khemraj Ramjattan (at right) yesterday morning. (Terrence Thompson photo)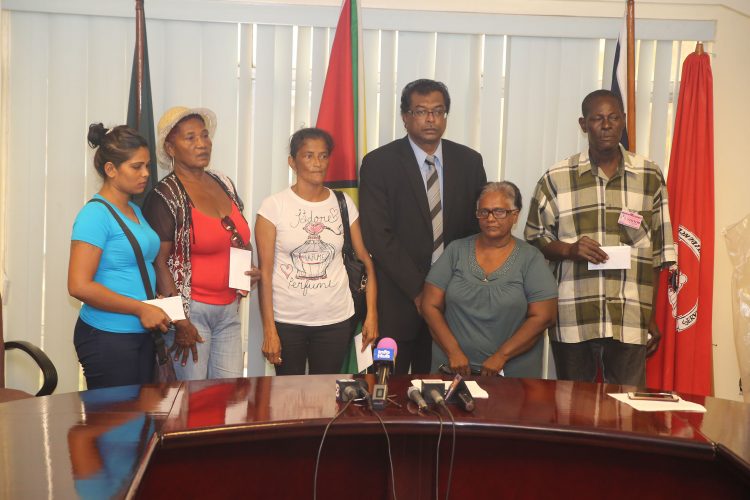 Minister Khemraj Ramjattan (third from right) standing with the relatives of the five of the piracy victims, namely Glenroy Jones, Sunil Ramotar known as 'Poddock', Sherwin Lovell, Vicky Persaud and Deonarine following the handing over of the cheques yesterday. (Terrence Thompson photo)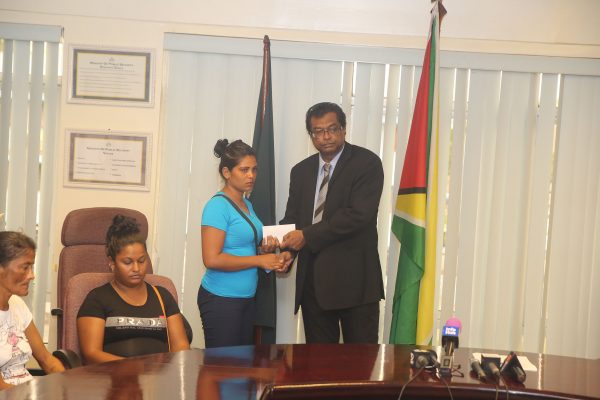 Minister Khemraj Ramjattan (right) handing over the cheque to a weeping relative of Vicky Persaud. (Terrence Thompson photo)
June 30 2018
Relatives of five fishermen, who were victims of pirate attacks off Suriname between April 27th and May 3rd, yesterday received a one-off payment of $100,000 from the Guyana Government.
Minister of Public Security Khemraj Ramjattan yesterday morning handed over cheques to the families of Glenroy Jones, Sunil Ramotar known as 'Poddock', Sherwin Lovell, Vicky Persaud and Deonarine.
Jones, Persaud, Ramotar and Deonarine are still missing and feared dead, while Lovell survived the attack.
"Indeed it is a moment when we are all saddened, yes because of the deaths that occurred and the traumatic effects it would have had on the many relatives. And, indeed, a number of relatives did contact the Ministry and also the Commissioner of Police consequent from the two attacks in Surinamese waters in which so many people died and indicated that they would need some kind of financial help [to] at least do a couple of things…," Ramjattan explained.
As a result, he said a discussion was held in Cabinet and a decision was made.
"We realised… too that we had to make certain requirements as to who the monies will go to. It will go to one family member that is a next of kin and also we are not going to in any way pay for that family any more than we are going to pay today. It will just be a one-off lump sum based on what it is that they had said they had done and incurred costs for," Ramjattan noted.
He said the handing over of the cash yesterday was fulfilment of a commitment he had made on May 5th, during a visit to the affected relatives. "I know it is not much money but it is going to help because some of the relatives that came were asking for some $80,000 to $90,000 and some were asking for some more but we decided at an average and Cabinet members agreed that we are going to donate that sum," Ramjattan said, while adding, "…Depending on other circumstances, financial circumstances, I rather suspect we might be in a position to do some more financially," he said, while noting that at this stage this is the best his ministry can do.
He also related that this group of families is the first of five batches that will receive this monetary contribution.
The minister added that he has since had dialogue with the ministers of Public Health and Social Protection for the provision of counselling services for the relatives of the victims.
Ramotar's mother, Rukmini Barran called 'Chandra Barran' yesterday told reporters that she is grateful for the financial help. She said she plans on using the money to travel to Suriname to find out more about the attacks. "Well he [Ramjattan] do a good job because he help out we fuh go and check out…this money wah I collect me gon go and check to see if I could see anything about my son", she said. "After the story me get sick. Me foot give up, all kind thing happening," she said.
Barran said her son, who fathered two children, who are ages 12 and 15, worked as a fisherman from the age of 17. At the time of the attack, he was 41.
The woman said her son had left home and was basically "living at sea" at the time of the attack. "…I don't know wah fuh tell yuh. Right now I sad because ah miss meh son. It nah easy, me ah go through a pain yuh know. You lost yuh child and them big yuh know how. It nah easy," she cried.
Her only hope she said presently is to hear her son's voice again.
"Since this thing me neva hear back anything but meh been glad fuh hear yuh know. Me went to the station but them seh they can't do nothing because them nah find the body," Barran said.
An estimated 25 men – mostly Guyanese – were victims of the two attacks. Eight survived the attacks. Four bodies were discovered; three in Suriname and one in Guyana, three of which were positively identified. The remainder are missing and feared dead.
On April 27th, four boats carrying a total of 20 persons were attacked off the coast of Suriname. It was reported that each boat was occupied by five persons, comprising the captain and four fishermen.
The perpetrators, reported to have been armed with guns and cutlasses, chopped and beat the fishermen before robbing them. Some of the men were ordered to jump overboard with their injuries, while others were thrown into the water with batteries strapped to their legs. Four men who survived the attack swam until they were rescued by passing vessels. Two weeks later, another survivor was found.
Apart from Jones, Persaud, Ramotar and Deonarine, those feared dead from the April 27th attack have been identified as Tilaknauth Mohabir, 50, also known as 'Kai'; Ganesh Beharry; Ralph Anthony Couchman, 19, also known as 'Burnham'; Ramesh Sancharra, 48; Ramnarine Singh; Bharat Heeralall, also known as "Record," 49; Mahesh Sarjoo, 35; Rajkumar Bissessar; Randy Burnette; and Olenski Maxwell.
One week later, there was another attack off the coast of the Matapica Canal, approximately eight miles from the mouth of the Paramaribo River, which claimed the life of Hardeo Beechan, called Ganesh, 32.
Beechan was the captain of the boat which was attacked. This boat had four crew members.
Following the attacks, the local police had collaborated with their counterparts in Suriname, leading to several arrests.
Among those held were Premnauth Persaud, also known as 'Sinbad,' and Nakool Manohar, also known as 'Fyah,' who were jointly charged in connection with the attacks. They were jointly charged with the murder of Mohabir and Sarjoo. A nineteen-year-old, Alexander Deharte, was also charged with the murder of Mohabir. The three are currently on remand.