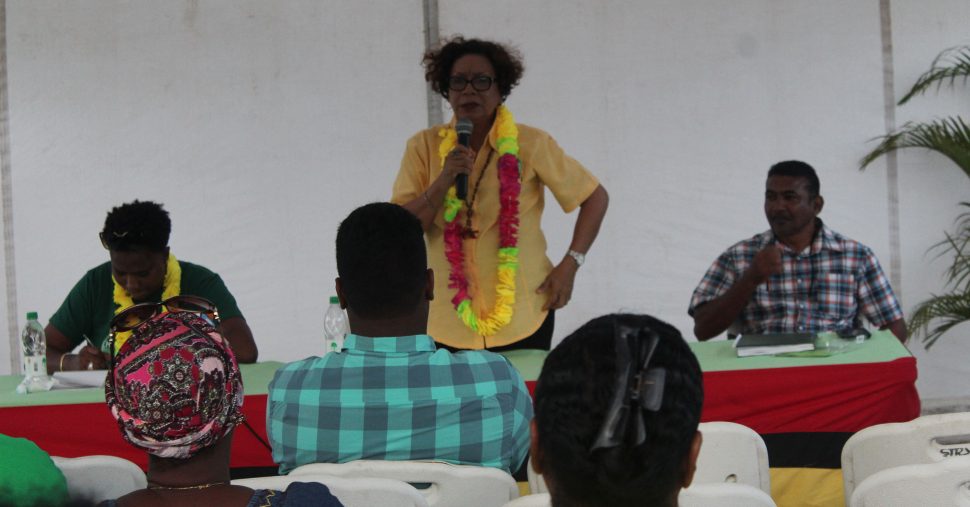 Minister within the Ministry of Indigenous Peoples' Affairs Valerie Garrido-Lowe addressing Corriverton residents at a public meeting
August 17 2019
Minister within the Minis-try of Indigenous Peoples' Affairs Valerie Garrido-Lowe last evening told a handful of Corriverton residents that based on information from President David Granger, general elections will be held this year.
"Elections will be this year, according to president. Elections will be this year," Garrido-Lowe stressed during a public meeting at Corriverton.
Her comments were made even as the president himself has maintained that he cannot set a date for the polls, which are due as a result of the passage of a no-confidence motion that was passed since last December, and that it is the Guyana Elections Com-mission (GECOM) that is responsible for the process.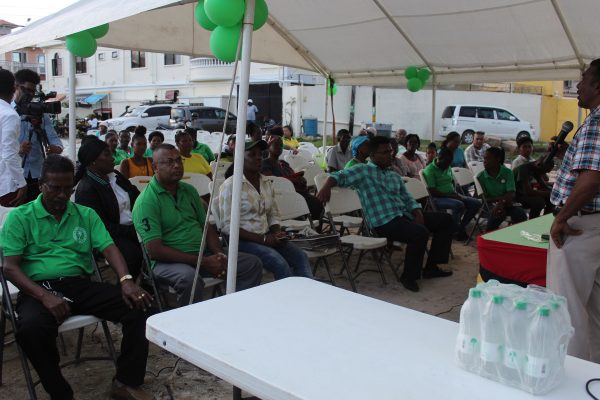 Attendees at the meeting
The opposition People's Progressive Party (PPP) has called repeatedly on President Granger to set a date for the elections and for Cabinet to resign in keeping with the provisions of Article 106(6) and 106(7) of the Constitution. Government, however, has said that while it accepts its interim status, the Cabinet would keep functioning.
After a meeting with Opposition Leader Bharrat Jagdeo last week Friday, President Granger had expressed the hope that newly appointed GECOM Chairperson Justice Claudette Singh would communicate the Com-mission's position within a week's time. "I made it clear that it is impossible if not impractical for me, even though in the final analysis I have to proclaim a date, I could not do so without the advice of the Elections Commission," he said after the meeting, before adding that "We are looking to hear something, maybe in a week's time."
Although GECOM met on Thursday, no decision was taken on polls.
As it has continued to do since the passage of the no-confidence motion against it, the government yesterday held outreaches throughout Region Six, with ministers heading to East Canje, Crabwood Creek, Fyrish Village, Corentyne, Rose Hall and Black bush Polder.

PPP supporters protesting the meeting
The PPP protested all of yesterday's outreaches.
At the Corriverton outreach, over 150 persons gathered to protest Prime Minister Moses Nagamootoo, who was due to attend. After he was a no-show, Zamal Hussain, PPP Regional Supervisor, pointed out that there were more protesters present to protest than those in attendance at the meeting.
He also said, that they were protesting to let the government officials know that are calling for an elections date before Septem-ber 18, as well as for the Cabinet to resign.
During her speech, Garrido-Lowe called on those gathered to choose a respectable leader. "Elections will be here and you need people… a leader of integrity, a leader who cares, an honest person, a courageous person, a visionary person to be that leader when the oil revenue comes," she said.
Garrido-Lowe then stated that the leader she was describing is President David
Granger. "Understand that we will have a lot of money coming into our country and we need an honest leader, we need a leader who cares to ensure that money is being utilised properly for our peoples benefit and to save for our children's future," she added, while telling residents to think about that and not about promises made by the PPP/C.
Garrido-Lowe did not call his name but alluded to Opposition Leader Bharrat Jagdeo's failed marriage and his treatment of the former First Lady. "What can you women expect from a man like that?" she questioned.
The minister also spoke of newly commissioned radio stations across Guyana and employment opportunities which she pointed out were created in Georgetown.She also spoke of sugar workers and the closure of sugar estates, while noting that the former workers have received severance payments already. She said it is now time for them to sit and think about the future.
Meanwhile, Stabroek News tried to ascertain from APNU+AFC regional officials present why the Prime Minister was not present but they could not say.
He also said, that they were protesting to let the government officials know that are calling for an elections date before September 18, as well as for the Cabinet to resign.