Parents, Minister clash at Georgetown meeting
…40% increase not feasible – Education Minister
…GTU to offer strike relief
By Shemuel Fanfair
As Government moves full steam ahead with its contingency plan to substitute teachers who are on strike, tensions flared when some of the parents questioned Education Minister Nicolette Henry on whether or not their children could be shortchanged by teachers fresh out of Cyril Potter College of Education (CPCE).
The concerns the parents raised abound for the next several weeks owing to the Guyana Teachers Union's (GTU's) announcement that it would offer strike relief for up to one month. The Education Ministry held an engagement at Queen's College (QC) in Georgetown with teachers, parents and education officers after visiting Hope Secondary School earlier in the day.
The event was planned in light of a GTU-fronted strike which began on Monday as teachers advocated for improved wages in front of the President's Office.
At QC on Tuesday, Subject Minister Nicolette Henry responded to the concerns raised, but indicated that Government is unmoved regarding the 40% across-the-board increases. She in fact said the requested increase in salaries is just not
feasible. She says that while she understands the union's position, stakeholders "have to be realistic".
During the meeting, the Minister was asked about the Administration giving ministers 50 percent increase in light of her comments that the State cannot afford GTU's proposed increases.
"I am aware that ministers benefited from salary increases of as much as 50%, (but) that was one salary increase since we came into Government; what is being asked is for salary increases every year including the fact that teachers benefited from salary increases in 2015, 2016 and 2017," she said.
The Minister further stated that the union put forward an unnecessary proposal when GTU executives sought duty-free concessions for themselves.
She added that Government loves all teachers, but many of her comments upset some of the parents present when they questioned if teachers coming out of CPCE could really be equipped to give primary school grade six or fifth form secondary school students the quality of education needed as they prepare for their exams.
"Teachers are the foundation of our country," one parent of a QC student noted.
Other parents called on the Education Ministry to resolve the issue, since the children stand to be affected the most. It was highlighted that fifth form students are in the midst of their School-Based Assessments which will form part of their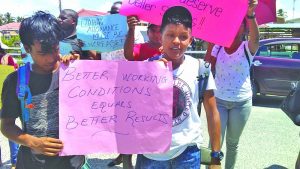 2019 CXC results. There are 998 schools across the country, and of the 10,000 teachers in the system, more than 7000 are members of the GTU. Chief Education Officer (CEO) Marcel Hutson is adamant that school will open as planned on September 3. He is discouraging parents against leaving their children at home. Government plans to utilise 98 new CPCE graduates, 204 current students doing practicum or teaching practice; and retired teachers.
GTU General Council approves Strike relief
Meanwhile, following teachers' concerns over cuts to their salaries, the GTU General Council held a meeting on Tuesday. During a press conference held afterwards, GTU President Mark Lyte announced that the union would offer partial strike relief to teachers amounting to 50 percent of their salaries. Teachers could be subjected to salary cuts if the strike action persists.
"Many of our teachers were not sure because of money (being) lost, so now that the union is coming out to say that we will support our teachers who proceed on strike, this should give those who are in-between and betwixt the confidence to go forward," the GTU President assured.
However, Lyte also cautioned that the relief fund could cover teachers for up to one month.
The Social Protection Ministry's Labour Department has invited the Education Ministry and the GTU for conciliation talks, but the union had expressed its unwillingness to attend the meetings on the basis that conciliation was already observed when previous meetings were held. However, the GTU said Tuesday that it will attend the conciliation talks scheduled for today.
Essequibo protest
Meanwhile, in Region Two, (Pomeroon-Supenaam), teachers joined their colleagues across the country in industrial action on Monday as they protested for a better life than was forthcoming from Government, they said. According to a teacher, Government is neglecting the most important people of the land. Some observed that with the oil and gas sector impending, teachers will be tasked to produce students who could capitalise on the industry.
Some students were also seen giving their support to the teachers by joining the protest. Region 2 teachers started the protest action at the Department of Education in Cotton Field, then marched to the Regional Administration Office in Anna Regina and back to Cotton Field, where they filled the air with their shouts, "WE DON'T WANT A CLASH – PAY US OUR CASH!" "NO PAY, NO SCHOOL!" (Additional reporting by Mohanlall Seulall)