'Cyber-bully' put on $200,000 bail
–for threatening life of President
BIBI Safoora Salim appeared before yesterday Chief Magistrate Ann McLennan to answer a charge alleging that she has made threatening comments against Guyana's Head of State, President David Granger, on social media.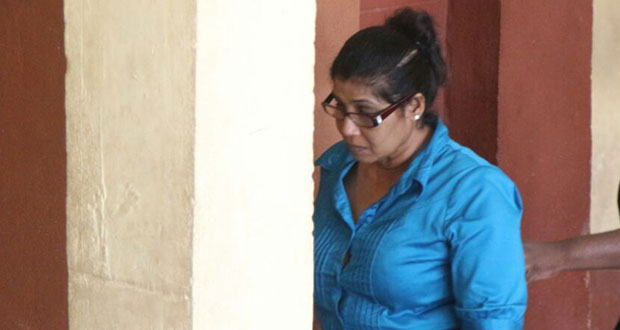 Bibi Safoora Salim during her appearance at the Georgetown Magistrates' Court yesterday
The 52-year-old Vergenoegen, East Bank Essequibo (EBE) resident denied that between March 1st and 31st, by means of a written and printed method, she had declared: "Granger want a bullet in head" on Facebook.
The mother of three was also charged with attempting to incite excitement, hostility, or ill-will by means of derogatory remarks of President Granger sent by cellphone to her son on 'Whatsapp.' She has also denied this charge.
Her attorney, Euclin Gomes, explained that his client is technologically challenged and is unlikely the one who had made the post on social media.
Police Prosecutor, Inspector Neville Jeffers, objected to Salim being granted bail on ground that the threats made by Salim had incited several others to comment on the said post.
Jeffers also pointed out that Salim had admitted to the police that she had posted the status on social media, and he said the ranks were in possession of the laptop she had used to access Facebook.
The court was told that the prosecution's file is complete and 14 witnesses would be called to testify.
Salim was granted $200,000 bail and was ordered to return to court on May 11 for commencement of the trial.
The woman has been charged under Chapter 23 of the Racial Hostility Act, which states thus: "A person shall be guilty of an offence if (he/she) willfully excites or attempts to excite hostility or ill-will against any section of the public or against any person on the grounds of their or his race, by means of words spoken by him in a public place, or spoken by him and transmitted for general reception by wireless telegraphy or telegraph; or by causing words spoken by him or by some other person to be reproduced in a public place from a record; or by means of written (including printed) matter or pictorial matter published by him."
If a person is found guilty of this offence, he or she shall be liable, on summary conviction, to be fined $65,000 and face imprisonment of up to two years.