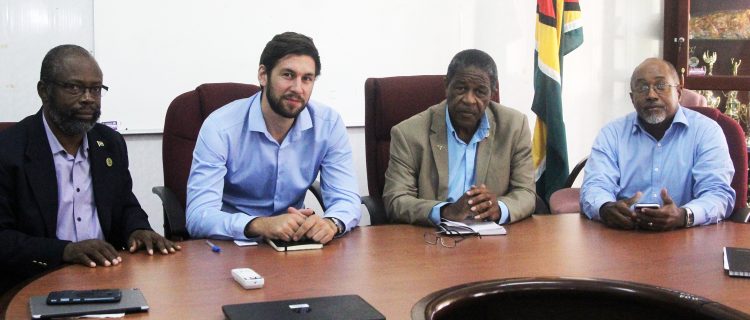 Coordinators of the Coconut Industry Development for the Caribbean (CIDC) programme. From left: Cyril Roberts, CARDI Country Representative; Ben Morrison, International Trade Centre consultant; Maurice Wilson, Regional Coordinator of the project; and Raymond Trotz, National Coordinator.
May 25 2018
With a resurgence in the demand for coconut products globally, and consequent interest from investors, Guyana is anticipated to double its current coconut production within a few years, and quadruple it by 2025.
Raymond Trotz, National Coordinator of the International Trade Centre (ITC), during a press briefing at the Agriculture Ministry yesterday, related that according to data from the National Agricultural Research and Extension Institute (NAREI), there are currently over 25,000 acres of coconut trees within Guyana. He stated that advice from GO-Invest indicates that investors are interested in expanding that number by about 27 and a half thousand acres over a number of years, and based on their projection, to about 100,000 acres over a ten-year period, as compared to the 2015 figure of 24,000 acres.
Trotz stated that the renewal of interest for coconut products has led to investor interest locally, although he opined that the attraction could also be attributed to the success of the 2016 coconut festival, which he described as "awakening the sleeping giant."
"We got a huge influx of investors querying how they can get involved in developing the programme in this sphere… our challenge is to lay the foundation to make that possible…We've got a lot of work to do to meet that capacity; to expand and meet that capacity to meet the industry needs," Trotz related.
Under the European Union (EU)/African, Caribbean, Pacific (ACP) Secretariat-funded programme 'Coconut Industry Development for the Caribbean (CIDC),' Guyanese farmers have been benefitting from training related to marketing, food safety, extension support, coconut production development and business training.
Guyana is one of 11 Caribbean countries to benefit from this initiative, which was implemented locally in 2015. The first phase of the programme will be completed this year. The programme is being administrated by the ITC, in association with its implementing partner, the Caribbean Agricultural Research and Development Institute (CARDI).
CARDI Country representative Dr Cyril Roberts explained that because of the attention now being paid to the value and usefulness of coconuts, those involved in the industry in the past have been returning to it, investing their time, money and efforts, and seeing returns as a result.
Roberts said that in developing the local industry, they are striving to have farmers utilise more of the raw material through processing.
According to data provided yesterday, as of 2015, 15% of the coconut product exported by Guyana was copra (dried kernels), while 9% accounted for crude coconut oil and only 2% made up non-traditional products, such as coconut water.
Diversification
"Currently, Guyana is seen as the supply basket to the region of coconuts…fresh, unprocessed coconuts, mainly… the recommendations of the studies that have come out of this programme…the Global Value Chain Analysis, suggests that Guyana targets the coconut water industry, which is growing in the United States by 25% year-on-year growth. It also suggests targeting value addition in-country through the investment in processing facilities. ITC's role in collaborating with CARDI is to facilitate interactions between different players in the value chain, whether that be investors, companies, farmers, processors and so forth," Ben Morrison, ICT International Consultant said yesterday at the press conference.
"For example, we have different investors now investing upwards of US$9 million in Guyana to process different coconut products, so this is the direction that we would be promoting. It's to diversify the export base in terms of the range of products and also the export destinations," he added.
According to Morrison, 1% of the global market supply of coconuts comes from the Caribbean. Trotz related that the Dominican Republic, "the most advanced in value adding" as it relates to fruit production, sources about 50% of its coconut supply from the Caribbean, with Guyana being the largest supplier.
In explaining the country's progress in terms of product diversification, Trotz referenced local company Precision, which, while having experienced a setback because of equipment malfunction, is expected to be back in operation by this December, and projected to have a demand rate that will rival the Dominican Republic export supply.
Trotz listed refined, bleached, deodorised coconut oil; virgin coconut oil; and coconut charcoal as being among Precision's product range.
"…Their demand rate is going to be for 700,000 nuts per week, which is an average of about 100,000 nuts per day. So what will happen by then, is most of what is being exported to the Dominican Republic will be largely consumed here, locally," he concluded.
Lead Farmer model
Meanwhile, as an initiative of the programme, the "Lead Farmer Model" was recently implemented as a means of disseminating information and technology among those involved in the sector. So far, 10 farmers across four regions—regions Two, Four, Five and Ten—have been selected to serve in that capacity.
Those Lead Farmers are tasked with passing on best industry practices to those dubbed "Second Ring Farmers." There are between 10 and 20 Second Ring Farmers to each Lead Farmer.
"The important thing about the Lead Farmer Model is they're catalysts to the business alliance formation between themselves as Lead Farmers, between the farmers in their vicinity, between the buyers, the processors, the exporters and the research. These guys are the satellites or focal points within their localities to effect change. So, it's a very stringent process and the Lead Farmers have a range of responsibilities and commitments that they have signed with the overall programme…," Morrison explained.
Morrison also pointed out that the Lead Farmer Model is the starting point to building up the country's supply base, the farmers' productivity and the value chain of the products.
"We improve the efficiency of the processes to ensure more value addition in-country and then we also advise policy in order to be supportive of these developments in the industry," he stated. He emphasised the need to adopt a "multi-product, multi-market dynamic" where farmers are not "overly reliant on one product or one destination." As a result, it was related that the training being delivered is not focused only on coconut production, but on other crops that will assist the farming system.
As part of the capacity building efforts, there are 16 training sessions planned for the period March to July, in the areas of food safety in coconut water production, integrated pest management, business training, training in coconut selection and best husbandry practices, training to meet international market standards, and for the creation of value-added products from coconuts.