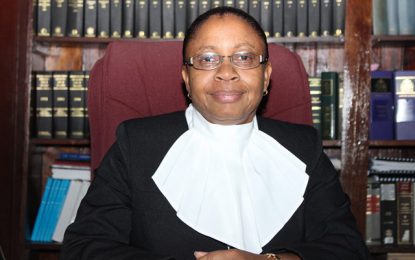 Justice Roxane George-Wiltshire
January 18 ,2021
Justice Roxane George-Wiltshire SC this afternoon struck out one of the elections petitions lodged on behalf of APNU+AFC but the other will proceed.
The second petition was thrown out based on the "fatal error" of not being properly served on the PNCR leader and former President David Granger.
In nullifying one of the two petitions filed for the APNU+AFC coalition challenging the results of the March 2nd 2020 elections results, Justice George-Wiltshire used the words "preposterous" and "absurd" to describe some of the arguments put forward by lawyers for the petitioners as they attempted to sway her from dismissing the petition.
The opposition Coalition filed two petitions challenging the results of the March 2nd General and Regional Elections which saw the People's Progressive Party/Civic (PPP/C) winning the seat of government on August 2nd.
In the second petition, petitioners Monica Thomas and Brennan Nurse contended that the elections were unlawfully conducted and/or that the results, (if lawfully conducted), were affected or might have been affected by unlawful acts or omissions. They nonetheless argued that from those polls it is Granger who should be declared the duly-elected President of Guyana.
They sought to have the court nullify the outcome and to declare President Irfaan Ali to be illegally holding office.
In the first petition, petitioners Claudette Thorne and Heston Bostwick want the court to determine among other things, questions regarding whether the elections have been lawfully conducted or whether the results have been, or may have been affected by any unlawful act or omission and in consequence thereof, whether the seats in the National Assembly have been lawfully allocated.