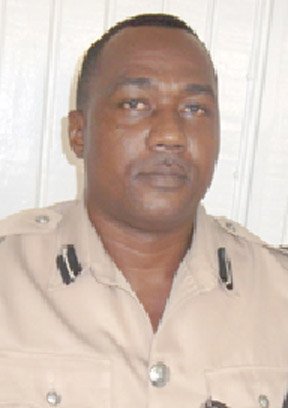 Andrew Foo
January 1, 2020
The Local Government Commission (LGC) has sacked Chief Constable Andrew Foo from the city constabulary with effect from yesterday.
Sources at City Hall confirmed the termination of Foo's services but explained that he will be able to receive all his benefits.
His firing comes months after the city council passed a no-confidence motion against him.
Stabroek News was told that in the letter sent to Foo, the LGC cited concerns for the public interest, his approval of training opportunities for ranks without informing the council, and his failure to carry out instructions and decisions of the council, among other things.
Following the passage of the no-confidence motion in September, the LGC was asked to decide on Foo's fate. He was given the opportunity to respond to the motion at a hearing. One source said he failed to provide satisfactory answers to the commission during the hearing.
Councillor Denroy Tudor, who moved the motion, noted that it sought the immediate dismissal of Foo but with all of his benefits and he stressed that the aim was to ensure a shift as it relates to the city constabulary.
He charged that "laissez faire" leadership and "lack of management" had pervaded the constabulary. He mentioned that at a committee meeting, a recommendation was made for the drafting of a security plan but no action was taken on it. "We finally found out that there wasn't any plan—no security plan—that was put in place for Russell Square and we have evidence. We had the vendors there that have been complaining tirelessly as it relates to these issues," Tudor said.
"We are trying to ensure that our vendors can move comfortably. We are trying to ensure that residents that traverse the Stabroek Square can be able to move without any cause of fear or apprehension," Tudor further said, while adding that even if complaints about little resources are made, the constabulary must be able to manage what it has.
Councillor Eketa Edwards, who seconded the motion, told the council that the ineffective management of the city constabulary had caused residents of Georgetown to not feel safe in the city. Edwards made reference to several issues, including disorderly parking within the city. "Business proprietors, residents and tourists are unsafe as they are robbed, stalls are broken into and sadly no action is being taken to rectify this issue," she lamented.
Edwards went on to recall seeing a number of city police officers around the city a few years ago but noted that the numbers have declined.
Also speaking on the motion was Councillor David Allicock, who spoke on the issues coming out of the Commission of Inquiry (CoI) into City Hall that was conducted in 2018.
Allicock pointed out that the chairman of the CoI had noted that it appeared that the Chief Constable lacked credibility.
He went on to quote from the CoI report, stating that the constabulary had launched a number of investigations and as months and even years elapsed, the investigations had yet to be concluded. "The CoI report stated that when Foo was questioned, he gave a story and caused a report to be prepared to corroborate his story. The CoI reports state… 'This is more than improper conduct, it borders on criminality.' Their words not mine," Allicock added.
PPP Councillor Bishram Kuppen, who also was in favour of the motion, called the day an important one as he said action was finally going to be taken against not only one officer but hopefully against many other heads of departments.
"The constabulary does not have any security plan. There is no succession planning. That question was raised before. We have robberies going on in the city, we have businesses complaining that there is no security at all here, we have missing weapons that they cannot account for in the constabulary department," Kuppen said while adding that there are officers within the constabulary that are obviously in need of training but there is no training being done.