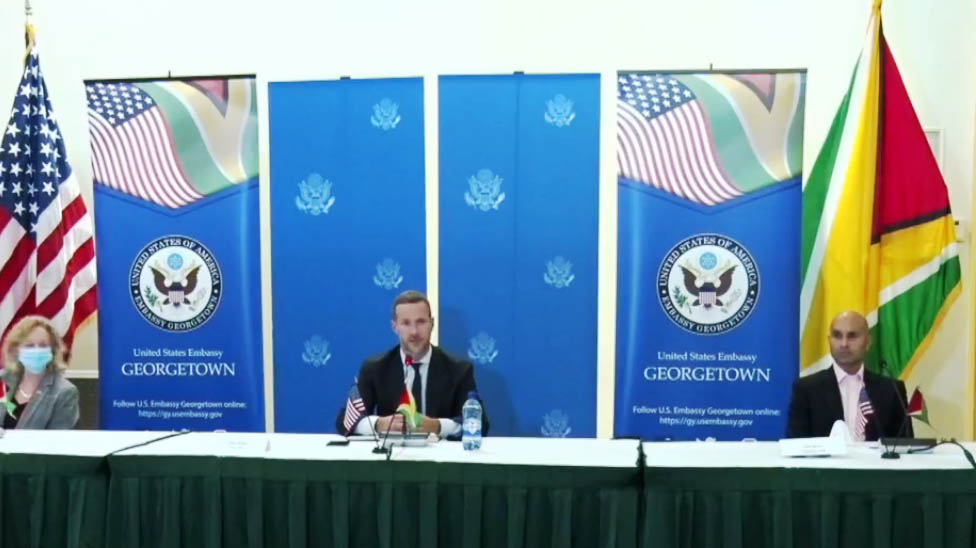 Head of America's Development Bank, Adam Boehler (centre), US Ambassador Sarah-Ann Lynch (left) and Private Sector Commission Chairman Nicholas Deygoo-Boyer at the press conference held yesterday at the Pegasus Hotel.
October 14 ,2020
Facilitating access to cheap electricity was among key issues for possible assistance when head of America's development bank, Adam Boehler and a team of investment officials met yesterday with Guyana's private sector.
Sources say that government's proposed gas-to-shore project could also be one of the first multimillion dollar investments.
Boehler, who is the Chief Executive of the US' International Development Finance Corporation (DFC) told a press conference last evening at the Pegasus Hotel that how to get the cost of electricity down so that the average person pays less was one of the questions asked yesterday.
The press conference was held following the meeting with representatives from the Private Sector Commission (PSC).
US Ambassador Sarah-Ann Lynch was also at the meeting and press conference.
Boehler is leading a US government delegation, comprised of officials from the US Department of Treasury, the US Export-Import Bank, the Department of State, the National Security Council and the Department of Homeland Security, on a mission he said that would "build" on US Secretary of State Mike Pompeo's recent visit to Guyana and Suriname.
Boehler yesterday was quick to point out that the US was not looking to invest only in mega projects here and noted that talks with the PSC were also about "investments in small- and medium-sized businesses. We talked about investments in agriculture and farmers… at the end of the day one of my main goals at the DFC is to increase the amount of jobs and [the] livelihood of the individual person living here in Guyana."
"What is important to me is not the amount of money but the impact we are going to have. We will look at projects in the multimillions to hundreds of billions of dollars down to projects that are going to get $500 to a small entrepreneur that needs it," he said.
During Pompeo's visit, Guyana signed on to the Growth in the Americas initiative, which seeks to catalyse private sector investment in infrastructure in Latin America and the Caribbean.
When asked precisely how the local private sector and Guyanese would be able to benefit from the recently signed Growth of the Americas Framework agreement, Lynch told this newspaper last month that it will unlock opportunities to attract trade and investment and attract capital to Guyana.
"It will unlock resources as well as expertise and enhanced relationships between the US business community and the Guyanese business community. It does require the US government, the Guyanese government and the private sector to come together and form a working group to figure out the details of how they want to take this forward. So it is basically, a framework, if you will, and then this working group will figure out," she further explained, while noting that the group will be coordinated by senior representatives from both countries to develop a joint work plan towards the achievement of the objectives of the framework within 90 calendar days of its effective date.
The framework, facilitated by the US Embassy in Guyana, is to be developed and will allow for follow-up talks on investments. Boehler said that lending terms and how much will be accessed had not yet been discussed and that when that framework is set up it will allow for those discussions. However, he assured that whatever projects are pursued by US companies will see local content playing a key factor. "Our focus is on high quality projects and local labour to drive those. We may not always be the quickest but we will always be the best," he said.
When a US company is responsible for an infrastructural project, Boehler said, its focus will always be on high quality infrastructure and that is what gives them an edge in the business sector. He also stressed that any American company working here will have to follow the rule of law and win contracts through a competitive bidding process.
The PSC head was optimistic after the engagement. "It's hard to tell at this point [financial terms], but I would say based on what they were saying, we are going to assume that the interest rate and the lending terms are going to be a lot better. You taking that much funding, looking for projects and putting it to compete where we have a high cost of capital, so I'm going to expect that the cost of capital is going to be the difference," PSC Chairman Nicholas Deygoo-Boyer told the Stabroek News following the meeting and press conference.
Deygoo-Boyer added that an initiative that would allow financing to be accessed by Guyana's smaller businesses was also most welcomed as persons in that category are most times shunned by lending institutions since they are seen as high risk.
"We would love that [that small businesses can access funding]. Here in Guyana, we have a lot of risk averse institutions in lending, and so if this is possible; that a way can be provided to allow, let's say village level financing, it could help with expansion of businesses and independence of persons and we will see additional growth…we welcome this," he said.
On infrastructural and other development projects, Deygoo-Boyer said the DFC is a "great partner now who can help us with access to capital now and help us with our infrastructure build out to really unlock the potential of a number of sectors in Guyana."
The establishment of the DFC has been seen by some analysts as a counter to Chinese financing of projects in the Americas.