CCJ invites written submissions on orders about motion of no confidence, GECOM Chairman
-will make decision on July 12th
The Caribbean Court of Justice (CCJ) this afternoon invited submissions from all the parties in relation to the consequential orders it should issue on its decisions upholding the motion of no confidence of December 21, 2018 and that the appointment of GECOM Chairman James Patterson was unconstitutional.
At a 90-minute hearing in Port-of-Spain marred occasionally by scratchy audio and transmission problems, President of the Court Justice Adrian Saunders said written submissions must be provided by July 1st and the court will make a decision on the consequential orders by July 12th.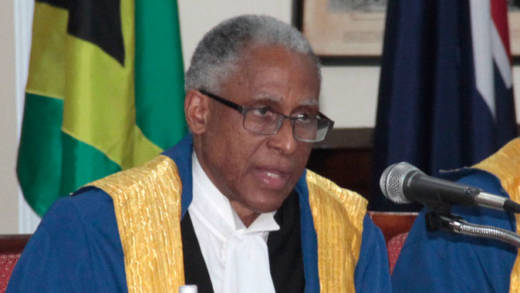 Justice Adrian Saunders
Justice Saunders' decision came after oral submissions from the two sides which varied greatly in what they expected the court to issue in terms of consequential orders.
At several points Justice Saunders expressed his exasperation with the dilatory manner in which Guyana's leaders and their counsel have approached the matter of arriving at a consensual decision on these important matters.
He said: "These matters are of the highest constitutional significance …It beats me that the Leader of the Opposition and the President and their respective counsel cannot meet to address the issues that confront us…"
He added that he wasn't seeing the same type of urgency expected from the CCJ being reflected in the behaviour of the political directorate. This he said is "unfortunate".
Justice Saunders added that the court didn't want to make political decisions but that the rule of law had to be upheld. At one point he dramatically brandished the Guyana constitution and said that it had to be complied with.
Douglas Mendes, Counsel for the opposition leader, pressed the court to recognise that the only provision now applicable following the upholding of the motion of no confidence was article 106 of the constitution setting a three-month time frame for elections. The court in turn put this to counsel for GECOM, Stanley Marcus and for the government, Eamon Courtenay and each was asked to reflect on how the CCJ should address that provision.
Mendes told the court that the Opposition Leader was in agreement with a timeframe for elections of three months from today.
Marcus induced mirth as when asked by Justice Winston Anderson when GECOM would be ready with a list for elections he replied on December 25th.
Justice Anderson's rejoinder was "So you are hoping to provide a Merry Christmas to the electorate of Guyana".
In the time before the a decision is issued on July 12th, the court is hoping that the President and the Opposition Leader can make progress on a new candidate for chairmanship of GECOM.