Three arrested for harassing doctor on her caste, driving her to commit suicide
The three doctors were named by the victim's family for harassing her on her caste
Published: May 27, 2019 15:02 Last updated: May 29, 2019 12:41Huda Tabrez, Community Web Editor
Dr Payal Tadvi
HIGHLIGHTS
Dr Payal Tadvi, a Mumbai-based gynaecologist at BYL Nair Hospital, committed suicide on May 22.
Her family had accused three senior doctors for harassing her and using casteist slurs against her. The junior doctor belonged to a scheduled tribe and had joined the hospital on a reservation quota.
The three accused have been arrested by police authorities.
Dubai: Three female doctors in Mumbai, India, have been arrested after they were accused of driving a junior doctor to suicide. They have been sent to police custody until May 31.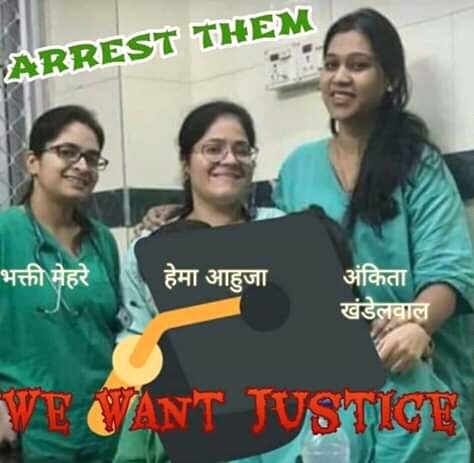 The victim, Dr Payal Tadvi, allegedly committed suicide after facing sustained harassment and abuse because of the caste she belonged to.
According to a news report by Indian news channel, India today, the Agripada police arrested Ankita Khandelwal, one of the three accused on Wednesday morning. Previously the police had arrested Hema Ahuja on Tuesday night and Bhakti Mehere on Tuesday afternoon. News agency ANI reported that the three were likely to be produced in court today.
Dr Payal Tadvi had committed suicide on May 22, and the case brought to light the issue of caste-based discrimination in India. Many Indian social media users campaigned to get justice for the doctor and her family using the hashtag #JusticeForDrPayal.
The suicide had created a furore online, after it was reported that the death was a result of caste-based harassment.
The harassment
Her husband, Dr Salman Tadvi, was quoted in the Indian newspaper The Hindu: "When she came to Nair Hospital for her postgraduation, she was asked to temporarily share a room with Dr Hema Ahuja and Dr Bhakti Mehere. The two began harassing her soon.... The two doctors would go to the toilet and wipe their feet on her mattress and litter it. When she would be away, they would taunt her that she was spending time with her husband."
According to Mumbai Mirror, the two doctors, along with another doctor, allegedly made fun of her caste and posted derogatory messages on a Whatsapp group. Tadvi had joined the college on a reservation quota.
Historically disadvantaged castes and tribes receive a quota for minimum representation in schools, universities and government jobs, as per the Indian Constitution. This is termed as 'reservation'.
Her mother, Abeda Tadvi, had filed a written complaint to the head of the department in the hospital but she alleged that no steps were taken. Dr Tadvi committed suicide on May 22.
"Whenever she used to speak to me on the phone, she would say that these three people torture her as she belongs to a tribal community, use casteist slurs on her. We want justice for her," Dr Tadvi's mother told the news agency ANI.
She also told reporters that Payal was harassed over "petty issues" by the doctors who "threw files at her" in front of her patients.
According to a report in the Indian newspaper Mid-day, she said: "Had the authorities acted swiftly and shown sensitivity, my daughter would have been alive today."
Action taken
The report also stated that hours before she died, Dr Tadvi told her mother that she was unable to bear the torment from the three doctors, who have been absconding since they learned about her suicide.
The Maharashtra Association of Resident Doctors has cancelled the memberships of the three accused, according to news agency ANI. In their response, the accused urged the association to conduct a fair investigation, referring to their heavy workload in letter: "You all are aware of the workload in residency and do you all really believe burdened with the workload is ragging?"