....Any rank guilty of unofficial searches will be fired – CANU Head
Two Georgetown families are now sleeping with one eye open as they remain on the alert, following a raid to their homes last Wednesday evening by persons claiming to be Customs Anti-Narcotics Unit (CANU) ranks.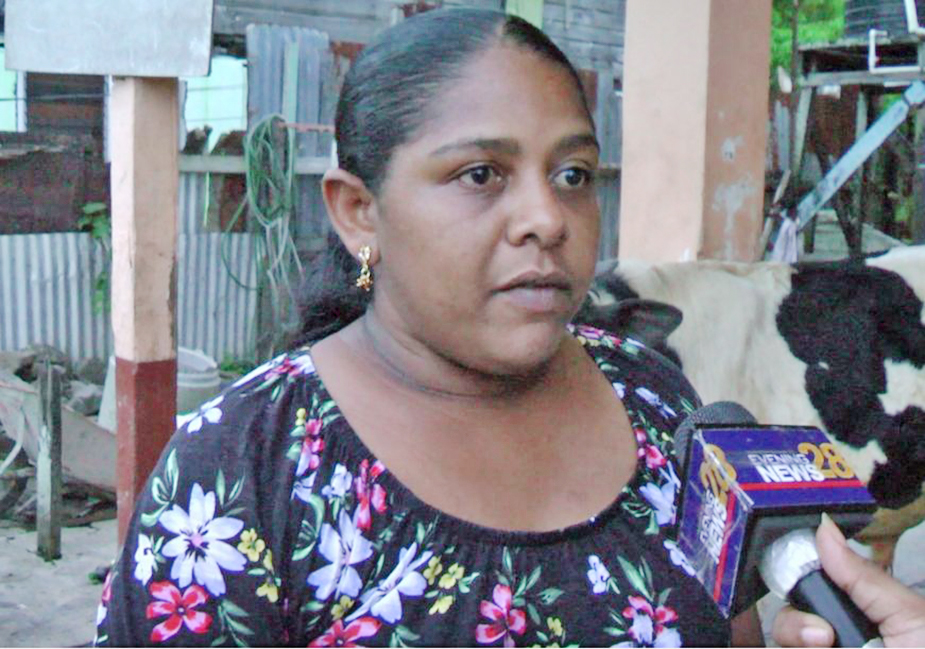 The still-traumatised residents of Independence Boulevard, La Penitence, Georgetown, recently related their frustration to Guyana Times , noting how afraid they still were.
Sheneza Bacchus, 41, of Lot 241 Independence Boulevard, told this publication on Monday that 10 alleged CANU ranks, two of whom were females, barged into her home about 17:00h on Wednesday last.
Bacchus said she was at home with her two daughters and her son when she saw a van pull up in front of her yard and the men started kicking down her gate. The woman said she ran to her two girls, who were eating, to inform them of what was going on and by the time she got to her back door, a man approached her and demanded that she step aside.
The frightened woman said she questioned the 'officers'' intentions when she was told they were CANU ranks who received reports that the family had drugs. The startled woman told this newspaper that she informed the men that her family was not involved with anything illegal and even requested a search warrant, but she was pushed aside.
According to the woman, the men proceeded to her children's room before ransacking the home. A female rank, Bacchus said, even demanded that she and her daughters strip.
"The female rank, she tell me that I have to go in the room and strip, me and my two daughters. She stripped my big daughter first and then I said how can you strip a little girl? she is only 15, so she said okay and she didn't touch us or anything like that. She took off her top and when they finish with those two, I tell her that 'I am unclean, I cannot do this', she said 'no, you have to go through with this', so I didn't take off my clothes completely, I just pulled down my skirt and my top and that was it," the woman recalled.
Following the strip search, Bacchus said the female rank told the male officers that "everything was clear".
According to her, the men said they believed she had something to hide and went into the bottom flat of the house and continued with their search. After nothing was found, Bacchus said one of the men from the group said he was sorry for what happened as they were just doing their jobs.
The group then proceeded to the home of Carlene Kishna, who lives a few houses away from Bacchus, who also shared her experience.
Kishna told Guyana Times that the same group of men entered her home about 17:30h on Wednesday after finding nothing in her neighbour's home.
The woman, who almost had tears in her eyes, explained that she was home with her sickly husband, two children and grandchildren when the men claiming to be CANU ranks went into her home and flashed what was supposed to be an identification card in front of her face while saying that they received reports that she too had drugs and guns in her home.
The mother told this publication that she requested a search warrant, but she was told that they were CANU ranks and did not require one.
"When we go upstairs, one of them turn to me and say '(if) you have jewellery and hundreds of thousands of dollars in here, bring it out'. So I said 'where am I going to get that sort of money from; I don't have no money. We is poor people; we just mind two cows to survive'," she recounted.
Kishna told this publication that after the men searched for about 45 minutes, one shouted from the top flat of her home to abort the search.
"When they finished I ask them what about our character and so, because this is what we gun got to be living (with), people gun got to be thinking like if we involved in some sort of illegal things … we really, really scared about this. I am calling even on the President to look into this matter, because is not right. We can't continue living in fear like this. My children are traumatised. I am traumatised," she added.
The frustrated woman said she suspected that a neighbour, who was an ex-CANU rank, might be the one behind the searches, since they are involved in a land dispute.
No record of search
The two determined housewives, desperate to get justice, on Monday visited the CANU head office and requested to speak to the Head of the agency in relation to the matter. They were, however, unable to meet with the Head.
According to Kishna, the ranks told her that they have no records of such a raid in the said area. She noted too that she was told that she could not make a report at the Police Station, because it involved CANU ranks.
The Head of CANU, Michael Atherly, when contacted by this newspaper, said that he has no record of such a raid. He, however, noted that should any of his ranks be implicated in the unofficial search, they would be immediately dismissed.