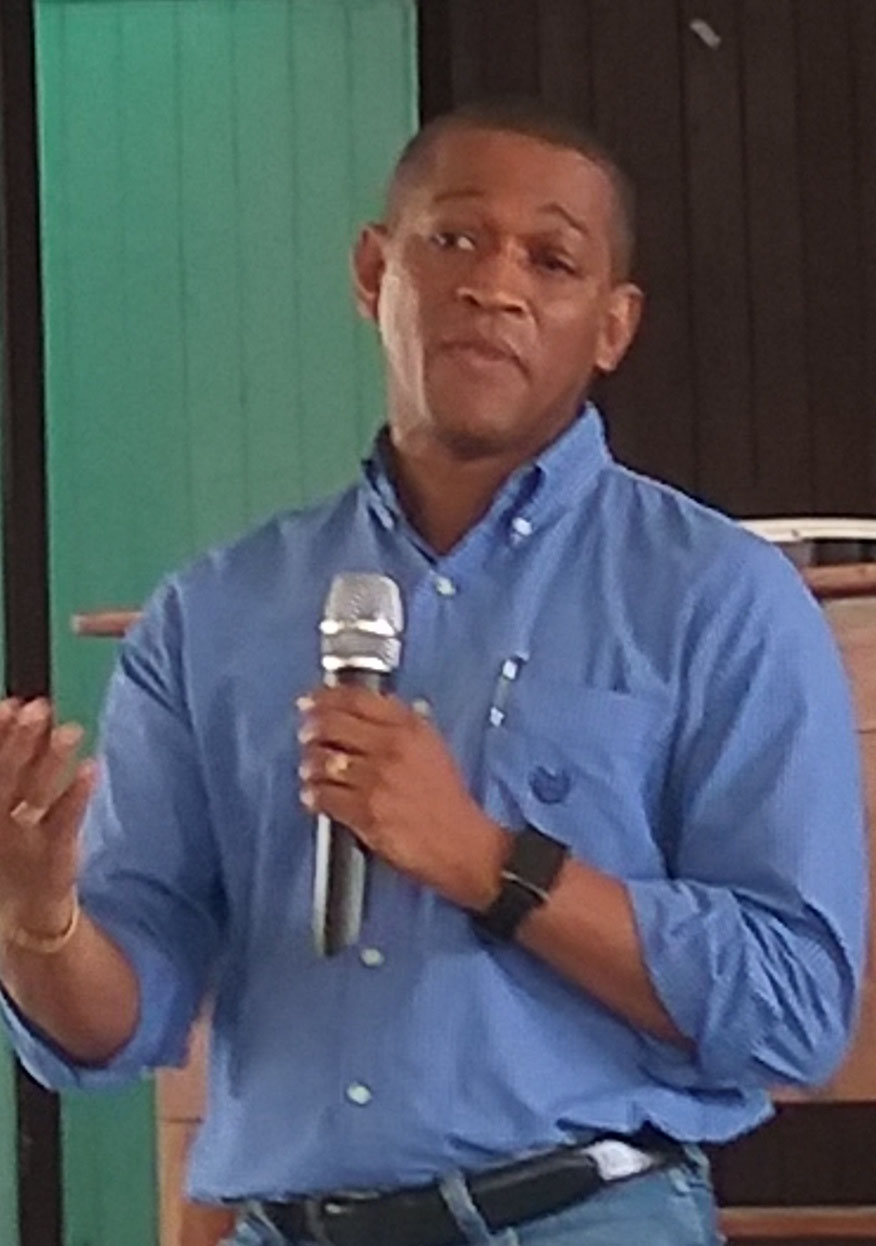 Dr Mark Bynoe speaking during the forum
Feb 18 2019
Head of the Department of Energy (DoE) Mark Bynoe told Berbicians on Friday that they must work to prepare themselves for opportunities that will come from the oil and gas sector, since the country has just scratched the surface.
"We are sitting not just on a gold mine, but we have the lottery ticket and it is up to us when we wish to cash it in," Bynoe said during an interactive session at the Berbice High School in New Amsterdam. He added that Guyana has only begun to "scratch the surface." As such, he said, relevant systems and procedures must be put in place so that the entire country can benefit.
"We have factored discovery in excess of five billion recoverable barrel of oil. We also have had a fair amount of associated gas. We expect that by first quarter of 2020, we will start seeing oil being produced for Guyana," he said, adding that the gas also found, can transform Guyana's energy sector.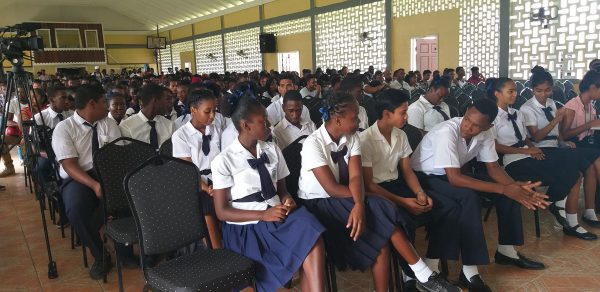 Bynoe said that the sector must be properly managed through recruitment and institutional strengthening. He noted the criticisms for their hiring of external expertise but said that since the sector is a new one, such is needed. "It is to align Guyanese or to attach Guyanese with those external expertise that ultimately the capacity is being built of our people that we can then transition to manage these for ourselves," he said.
The DoE head informed that the first Floating Production Storage and Offloading (FPSO) vessel which can store one million barrels of oil at a time, is expected to be in Guyana by the third quarter of this year. A second FPSO expected subsequently will be twice the size of the first one, he said.
He said that Guyanese are being trained to operate the FPSO vessel even though it is not yet in the country's waters. Twenty-five persons have so far been trained and that they are looking at training another 25 before the end of 2019 since an estimated 100-150 persons would be needed for the workforce on the vessel. They are aiming to have the workforce be at least 75 per cent Guyanese, he said.
According to Bynoe, a university degree is not necessarily required but the fundamentals of a technical education is what is needed to seek employment.
He revealed that operators have just completed a needs assessment which has identified where the critical skills are needed. This allows the department to embark on more targeted and strategic training, he said.
Meanwhile, Bynoe said he has seen increased investors' confidence in the local economy and noted the need to further boost this. He also spoke about the multiplier effects from the revenue garnered. "Through providing greater confidence for persons to invest, through allowing persons to affirm Guyana's status as an attractive investment destination, we have to ensure that we are positioning ourselves not just for today but for tomorrow and what is yet to come," he said.
Bynoe said that the DoE seeks to effectively and efficiently manage the hydrocarbons for all Guyanese and operates on five core principles namely efficiency, predictability, transparency, accountability, and data and evidence.
He stated that based on efficiency, "whatever you do, do it at the lowest possible cost with the maximum possible outcome." For predictability, he explained that they do not plan to just share information but to also interact with investors, operators and sub-contractors, among others.
The DoE head noted that one aspect persons are interested in, is what are the rules in doing business in the sector. He said that irrespective of who you are, you must be given an equal opportunity to participate, and in that way, they are aiming to be predictable. "Whatever we do, you will see we are tendering, we are advertising, we go through process and then we recruit, so no one will accuse the department of ever giving jobs or giving contracts or giving resources away to friends, family and associates," he said.
On transparency, he explained that whatever is done by the department will go through international scrutiny. "You also have the ability and also the authority to question us, 'well why have you done it this way' or 'why haven't you done it this way''; we want to ensure that everyone feels comfortable that the resources of Guyana are well-managed and looked after," he said.
With regards to accountability, Bynoe said that the DoE will be accountable not only to themselves but to the people of Guyana. Actions will only be taken based on data and evidence, he added.
Bynoe emphasised that the session was to assist persons to make informed decisions regarding their future. "(It) is to help you to position yourselves for what is to come not only from oil and gas but from the revenue from oil and gas as well," he said. He added that it was also an opportunity for stakeholders to actively participate in the discussion and decision-making process.
Prior to the commencement of the meeting, over 200 youths and other Berbicians including former sugar workers gathered with envelopes in their hands as they were reportedly told that the DoE was heading to Berbice to offer employment to some 200 persons.
One young woman told Stabroek News that a government representative in the region told persons that the DoE was looking for 200 persons and would be visiting to conduct interviews in the region.
The young woman, who asked not to be named, said they were told to walk along with their identification card, TIN certificate, birth certificate, CXC slip and certificates of other programmes they would have been a part of, if any.
Regional Chairman David Armogan, during his opening remarks, immediately dismissed the notion that persons would be interviewed for employment. After the chairman made this statement, youths gathered began to exit the building.
However, Bynoe during his presentation, said that his department would have been willing to take the names of persons at most, had they stayed.