'Burnhamite' faction has taken control of PNCR and will fight to stay on in power – Jerome Khan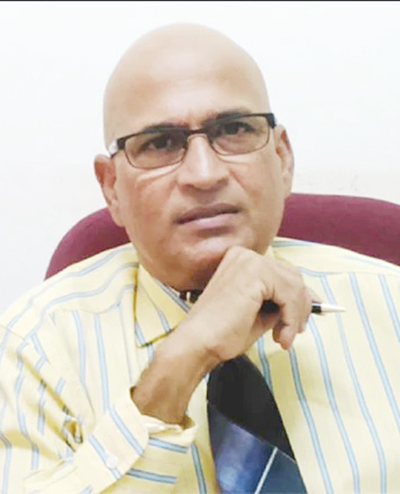 A "Burnhamite faction" has taken control of the PNCR and will wage a bitter fight to ensure they continue to enjoy a good life, says former PNCR parliamentarian Jerome Khan.
"…the current election impasse has evolved to a war of attrition between [PNCR headquarters] Congress Place and the rest of the world," wrote Khan in a post on his Facebook page. "The group that (Kaieteur News columnist) Freddie Kissoon describes as the Burnhamite faction is real, they exist and they have taken over control of the PNCR, aided and abetted by a compliant protege of the founder leader," he asserted.
Khan alleged that twice before, "this small but influential gang" within the PNCR was thwarted in their efforts to seize control of the party, firstly by the late President Hugh Desmond Hoyte and then by Robert Corbin.
"This faction, I predict, will fight to the bitter end as their good life is threatened. They simply do not care about the threat of sanctions; they believe they can ride it out," Khan wrote.
"I am convinced that there will be further deterioration and the war of attrition will continue to force some power sharing arrangements," he said.
According to the former parliamentarian, the most difficult question for all is whether the world would "accept a small bunch of thieves who have stolen the inalienable rights of citizens." He said that "if your rights are stolen from you, it is tantamount of taking your life away; this is not any social interaction from which something positive can emerge, but equivalent of a bandit robbing you and then [you] have to agree to share with the robber in order to live in peace, with the bandit."
Khan charged that the mindset is to wage a "war of attrition" and he observed that observers have left, while adding that locals will get fed up, weary and abandon the cause. "The region will hypocritically posit themselves as peace brokers and events like COVID-19 will shift focus to survival," he wrote.
According to Khan, not a single word has emanated from the Ministry of the Presidency about scaling back the "fat cat life style of the boys and girls" even as he claimed that "daily" staff are being sent home without any pay, and hampers are now being distributed, even as bills pile up.
"The supporters of all political parties will suffer. But the masterminds do not care and will continue to enjoy the good life," he said.
According to Khan, while he does not know how it will end, he envisions the leadership struggle in the PNCR being played out on TV post President David Granger.
"This is not about Guyana but about a handful of greedy individuals who caricature [former President Bharrat] Jagdeo as the enemy. If Jagdeo was not around they would have found another scapegoat," he said.
The former parliamentarian noted that he "faithfully" served the PNCR for 10 years being a candidate for two national and regional elections, and campaigned again for the party in 2015. According to him, the "string alongs" in APNU and AFC are a "bunch of hustlers" living the good life. "They have no commitment to grassroots politics to help the poor and disadvantaged. For them, it is about a job, a hustle and influence peddling for lucre," he charged.
Khan joins other former high profile supporters of the PNCR who have spoken out against the current elections crisis.
Guyana Foundation head Supriya Singh-Bodden, who endorsed Granger in 2015, has said that both he and Guyana Elections Commission Chair, retired Justice Claudette Singh, owe the nation an explanation for the events that occurred after the March 2nd elections.