A portrait of late President Forbes Burnham.
August 7, 2017
— says President Granger in tribute to late President
PRESIDENT David Granger on Sunday paid tribute to Guyana's first Executive President and founder of the People's National Congress (PNC), Linden Forbes Sampson Burnham, on the occasion of the 32nd anniversary of his death.
The wreath-laying ceremony was held at the Mausoleum at the Seven Ponds in the Botanical Gardens, where the former President was laid to rest.
President Granger in his remarks said the late Forbes Burnham, OE, SC, will always be remembered with reverence for his fight against inequality, poverty, illiteracy and other social ills, which affected the lives of the ordinary Guyanese.
"We recall Forbes Burnham's courageous campaign to transform the backward colony of British Guiana when he entered office on 14th December 1964 up to his death on 6th August 1985. Forbes Burnham described his mission as "… a struggle… against poverty, ignorance, unemployment, hunger and exploitation…."
He launched a process of national transformation to eliminate the inequalities associated with economic, geographic and demographic disparities.
Forbes Burnham's policy of national transformation was based, in part, on providing easier access to public education," the President said.
He noted that the institutions which were established by the late President still sustain social change and the evidence of his monumental achievements is visible everywhere, particularly in the University of Guyana at Turkeyen, the Cyril Potter College of Education, the Cooperative Training College at Kuru Kuru, the Technical Institute at New Amsterdam in East Berbice-Corentyne, the first hinterland secondary school at St Ignatius, in the Rupununi, the extension of free education as an entitlement and the Teaching Service Commission and production of local textbooks, among others.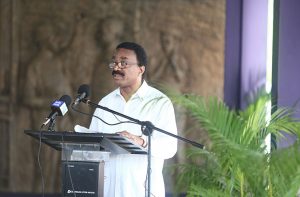 "Forbes Burnham will always be remembered with reverence. We renew, on this solemn commemoration of his death, our collective commitment to continue his campaign '…against poverty, ignorance, unemployment, hunger and exploitation…'" President Granger said.
Meanwhile, Attorney General Basil Williams, who also serves as Chairman of the PNC, in his brief remarks said the late prime minister and first Executive President of Guyana was a giant of history, who transformed not just a nation, but also the Caribbean.
"Linden Forbes Sampson Burnham was a consummate statesman and a freedom fighter whose keen commitment to the development of Guyana and its people is undeniable.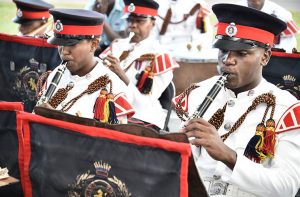 Burnham played a significant role in shaping the political, social and economic landscape of Guyana. It was under his leadership that Guyana attained political Independence and Republican status. It was also under his leadership that many of the transformative infrastructural developments of Guyana materialised. Under Burnham, Guyana's status in international and regional affairs was elevated and respected," Minister Williams said.
Linden Forbes Sampson Burnham served as Prime Minister of Guyana from 1964 and as President from 1980 until the time of his death in 1985 at age 62. He was a lawyer, a politician, a fierce freedom fighter and a father of six children.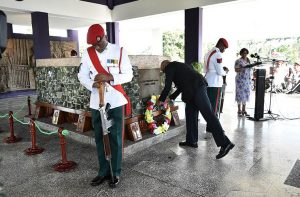 The event was attended by Prime Minister Moses Nagamootoo, other Ministers of the Government, members of the diplomatic corps as well as representatives from the 10 administrative regions.