New rice variety, buoyant Venezuela market seen as key drivers for bumper production
By Stabroek News On January 19, 2020 In Guyana News |
https://www.stabroeknews.com/2...r-bumper-production/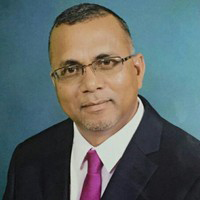 Nizam Hassan
Favourable markets, seed treatments, improved agronomy and a higher-yielding rice variety are some of the factors that contributed positively to 2019's rice production record for the country.
Crop production for 2019 had seemed bleak with the number of challenges the industry faced but statistics shared by the Guyana Rice Development Board (GRDB) showed that last year's production is the second highest on record, with 1,049,874 metric tonnes (mt) of paddy produced.
A statement last week from the GRDB on the rice production for 2019 showed that production fell short of the 2015 record production of 1,058,128 mt by just 8,254 tonnes. The 2015 production is the highest to date.
"Guyana managed to produce this record amount of rice despite a number of challenges including extremely unfavourable weather conditions and some pest infestation. These challenges were taken head on by the GRDB, who spared no effort in ensuring that the extension and support services meted out to their rice farmers were superior," the statement had said.
Nizam Hassan, the General Manager of the GRDB, told Stabroek News in an interview on Monday that his agency worked diligently throughout the first and second crops to assist farmers in tackling the challenges faced during cultivation. He said that when the paddy bug infestation manifested itself in Region Two, they hired labourers, who worked along with extension officers to administer the pesticide to paddy stalks.
In addition, he recounted, consultants from the Latin American Fund for Irrigated Rice (FLAR) also visited the affected areas and provided advice and guidance to farmers, which resulted in better production. He noted that advice was also shared on how to improve the agronomy and practices farmers should adopt.
Further, Hassan disclosed, his agency educated farmers on the benefits of seed treatment, a practice which improves the health of the seeds to fight off pests after being sown and to withstand harsh weather conditions.
Farmers were also advised against early preventative spraying of pesticides since that contributed to lower production. "We had farmers spraying when they shouldn't have sprayed. They see it as preventative spraying but it was doing more harm to the crop because it was killing the beneficial insects that is there to keep the other bugs away," Hassan explained.
In order to combat that challenge, the GRDB embarked on an educational programme to highlight the dangers of early preventative spraying.
New variety
Contributing further to the success of the 2019 crop was the GRDB 15, a new variety of rice that was developed by the seed facility at Burma, Mahaicony. Hassan explained that this variety of rice yields more grains and is of a better quality. It increased production between 10 to 15 per cent, Hassan disclosed while observing that 25,000 bags of paddy from the variety were produced in the first crop. During the second crop production period, the GRDB boss said, they were engaged in diversifying seed production and supplied seed growers, who sold it to farmers in the different regions.
"Region 5 remains the highest producing region, harvesting 454,476 mt of paddy (295,409 mt rice equivalent) at a 99% harvesting rate. Second to Region 5 is Region 6 with a total of 311,915 mt of paddy (202,745 mt rice equivalent). As such Region 5 stands as the highest rice producing region for 2019," the GRDB said in their statement issued last week.
Production in Region Six is said to be the highest ever for the region since it began paddy production. Region Six produced 4,910,444 bags of paddy, which equates to a 25 per cent increase in paddy production for the region.
The GRDB had highlighted that not only was production in 2019 close to surpassing the 2015 national record but production increased 28 per cent since 2016 as well. "This is possible not only by the efforts extended by the GRDB but also by the hard work of our farmers," the statement had said.
Touching on markets, Hassan said millers have been able to find markets and prices that have been encouraging to farmers. With this, he noted that farmers were encouraged to increase their production.
The GRDB General Manager observed that the Venezuelan market has become a market with great demand and accounts for 34 per cent of the exported rice. This figure, he explained, is close to what was exported during the PetroCaribe deal between the two governments. Most of the markets to which rice is being exported have resulted from private contracts between local millers and buyers.
For the 2019 crop, a total of 16,528,024 bags of paddy (a rice equivalent of 682,418 mt) was produced. Further, 178,628 hectares were sown, with an average yield of 93 bags of paddy per hectare (38 bags of rice per acre).
The average price for white packaged rice currently stands at US$475 per tonne while bulk white rice is being sold at US$440 per tonne.
Climate change
For this year, some 89,558 hectares have already been planted and according to the GRDB head, they are looking forward for another successful crop production. He noted that a bumper crop can be achieved if there is favourable weather.
With climate change, Hassan noted, some regions have experienced adverse reactions. He pointed to the situation in Region Six during the first crop of 2019, where farmers faced water shortages to grow their crops.
Chairman of the #36 Village, Corentyne rice milling operation, Nand Persaud & Company, Rajendra Persaud, in a recent Stabroek Business report, pointed out that some of the deficiencies in the rice sector in Region Six were due to the failure of the regional administration to deliver in a timely manner.
During the 2019 first crop, the Region Six rice sector saw challenges associated with pests and diseases, adverse weather conditions and the lack of timeliness in the release of water, which Persaud blamed on the regional administration.