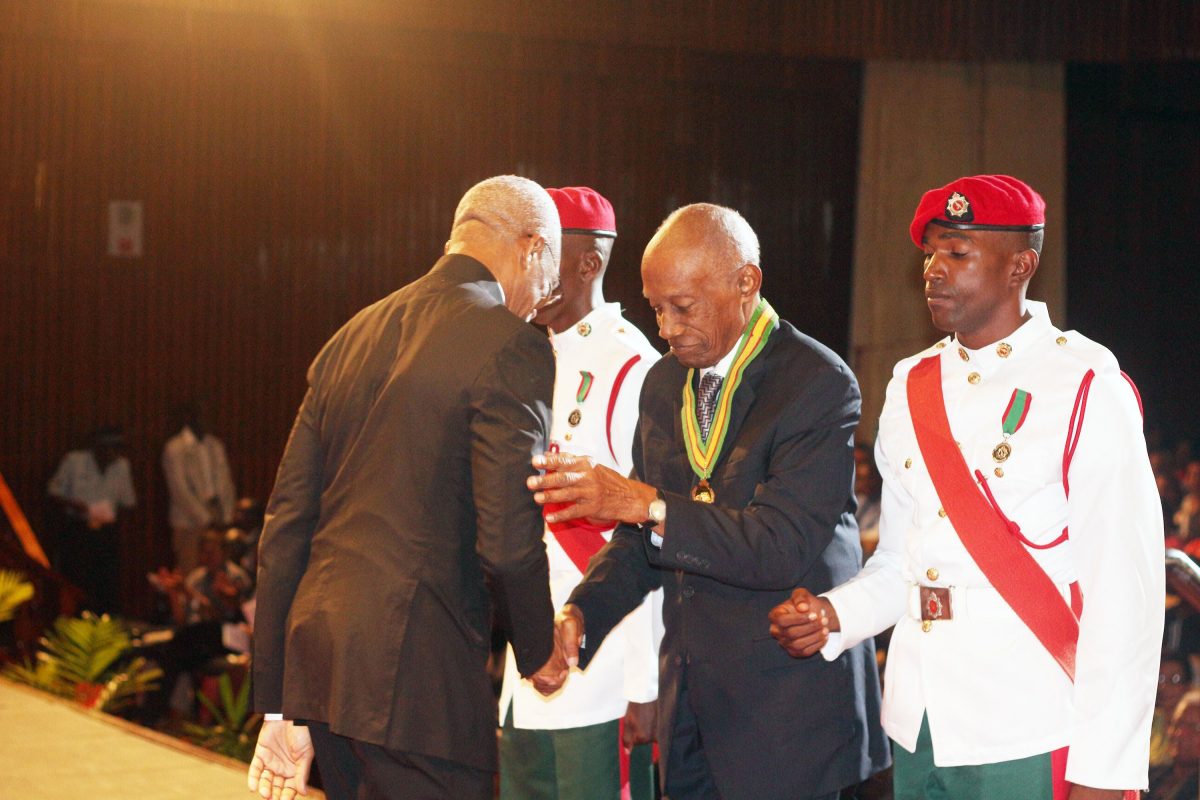 President David Granger (left) in 2015 congratulating Bryn Pollard SC on his national award of the Order of Roraima for his "contributions in the field of law at the National, Regional, Commonwealth and International levels."
January 26 2020
President David Granger yesterday expressed sadness at the death of Senior Counsel and National Awardee Brynmor Thornton Inniss Pollard who died on Friday at 92.
A statement from the Ministry of the Presidency noted that Pollard who was born in Buxton on October 10, 1928 had made outstanding contributions in the field of law at the national, regional and international levels.
He had attended Queen's College and briefly taught at the institution before proceeding to London to read for the Bar.
In 1959 he returned to Guyana and was called to the Bar before serving in the Attorney-General's Chambers under the then Attorney-General, Sir Shridath Ramphal,
The statement explained that he was conferred with silk and became a Queen's Counsel in 1970 after which he was appointed as the Chief Parliamentary Counsel and served as an expert authority on legislative drafting, constitutional and public law, and related matters.
After leaving the
service of the government in 1979 he was engaged by the Commonwealth Fund for Technical Co-operation and seconded to the Caribbean Community (CARICOM) as General Counsel.
"At the Secretariat, he assisted in the harmonisation of the Region's Companies Law, and provided assistance to the Constitutional Assembly of Namibia, South West Africa, which was poised to attain independence at the time. He was also a leading participant in the efforts of the Council of Legal Education and its two law schools in Trinidad and Jamaica," the statement explains.
During his lifetime Pollard held several other distinguished posts including that of Vice-Chairman of the Juridical Committee of the Organisation of American States (OAS) from 2000 to 2002 and a member of the Judicial Service Committee of Guyana. He demitted the last office in 2010.
Pollard was one of three persons awarded the Order of Roraima in 2015 by President Granger. He had previously been conferred with the Cacique Crown of Honour (CCH).
The President has expressed his sympathy to Pollard's four children, Senior Counsel Andrew Pollard; Under Secretary General of the United Nations, Catherine Pollard as well as Ian and Michael Pollard. The sentiment has also been extended to his six grandchildren – Gina, Angelica, Nikolas, Tyla, Nataliya and Julia and other relatives and friends.
He is pre-deceased by his wife Jean Adair Pollard and all three of his siblings including his sister, women and gender equality activist, Magda Pollard who died last year at 88.