Beset by hardships, crime …Guyanese giving up on Venezuela
-seeking livelihoods here.
March 31 2018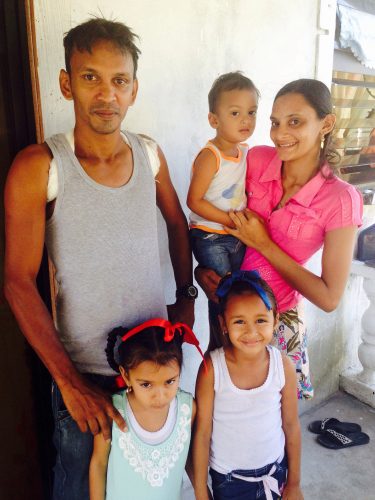 A number of Guyanese who have faced hardships in Venezuela due to the country's crumbling economy and escalating crime wave, have been returning home, leaving hard-earned assets behind.
They have taken up residence with relatives on the Essequibo Coast, West Demerara and East Bank Essequibo having lost the battle to survive under harsh conditions.
In an interview with Stabroek News one of returnees said "Venezuela was very nice. We hardly had robbery and everything was selling cheap…"
But suddenly, after Nicolas Maduro took over as president in 2013 following former President Hugo Chavez's death, and with the falling world oil prices, the country's economy took a serious dive. Prices started skyrocketing and there was a scarcity of food, fuel and cash along with a collapse of the health care, education and transport systems.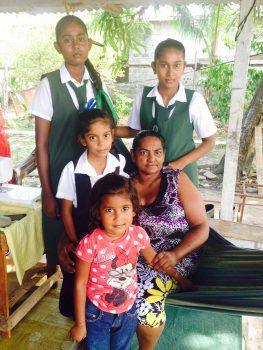 The Venezuelan government provides a bag of groceries to each family every three to four months at a low cost but they would have to line up for it for about three days.
The frustrating part is that many times when some people almost reach the front, they would be told that everything is finished.
This has led to looting, robberies as well as to protests – some of which have turned deadly – as residents vent their frustration over the situation they are faced with.
Johnny Ram, 32, lived in Venezuela for 20 years, enjoying a comfortable and independent life due to his flourishing joinery business. He told Stabroek News in an interview that he never thought that one day he would be forced to leave under such circumstances. His business had started to dwindle and prices for food and other items started spiraling out of control.
When the crisis just started, he drove for 12 hours to Brazil to purchase food items. He decided to move back after he was attacked and robbed by armed bandits on two occasions.
In March 2016 the bandits scaled his 15 ft fence and gained entry to his house through an open door. They held him at gunpoint and demanded that he hand over US currency.
Although he told them he did not have any, they continued to search and terrorize him and his family and ransacked his house. They had also threatened to shoot him if they found any. In the end, they escaped with only local currency and other articles.
One week later three bandits again barged into his home and carted off electronic items.
They also attempted to steal his vehicle but desisted after neighbours raised an alarm. The bandits had also threatened to kidnap one of his three children.
A few months later he packed up and left with his family. Ram who lives at Tuschen, East Bank Essequibo is still trying to re-establish his business and get settled here fully. According to him, many people are struggling and desperately want to return but they "don't have anyone to help them. Some are old and they won't be able to start life all over again."
He pointed out that "Guyanese don't punish; they try to make ends meet. Most people boil cassava and eat that everyday…"
"There's lots of struggle… Many people get laid off their jobs and some are working just a few days."
The only good thing, Ram said, is that residents do not have to pay for electricity, water and garbage collection.
His cousin, Michael Sukhu, 21, who was born in Venezuela, still lives there with his Guyanese parents and his siblings. He has been staying with Ram for the past five months and is planning to return home in three weeks.
Strike
Sukhu is an electrical engineering student at the government university but the teachers and students have been on strike for the past eight months.
The reason for that, he said, is because of a lack of transportation and food and because the teachers are not being paid. He is hopeful that the university would reopen, but said it depends on the outcome of the country's presidential elections that would be held at the end of April.
If it does not reopen, he told this newspaper, he would have to look at continuing his studies at a private university.
Roberto Ramnarine, 33, fled with his wife Theresa Persaud, 24, and their three children, ages, two, four and six almost two years ago, when the situation became unbearable. Bandits had also attacked and robbed him seven times.
A joiner by profession, it took him three months before he could finally land a job at a furniture factory. Relatives helped him with his rent and provided basic food items until he started earning.
Ramnarine said that while life is much better now, he is still finding it hard to pay the house rent of $28,000.
And as if his misery was not enough, he injured his shoulders in a bicycle accident a few weeks ago and is unable to work at the moment.
He hopes to obtain a plot of land so he can build a little home and curtail some expenses.
In Venezuela he operated a flourishing business, supplying kitchen cabinets and other furniture to trailer homes belonging to an oil company.
He also owned a home with modern appliances and a car, which he left behind in his search for a better life for his family.
Ramnarine recalled that when his business started to collapse he had to lay off his two employees and work alone. Eventually there was no work for him either.
His wife, Persaud chimed in that it had reached a stage when they could not afford basic food items as well as milk and pampers for their youngest child.
Fights
They spoke of lining up from the afternoon before to get food supplies from the government. There were many fights for space in the line during that time.
He recalled one instance when the army shot and killed a woman because she vented her frustration at others coming from behind and joining the line ahead of her.
His parents and other relatives are still in Venezuela facing dire conditions and cannot afford the passage back home.
His father earns a small pension and although it is not enough for food, he tries to make much.
The Venezuelan currency has inflated so much that the family paid 26 million bolivars (Bs 26 million) to travel to Guyana.
Residents would take one million bolivars to the market and they would not get everything they need.
The price for rice is Bs 200,000 while 12 eggs are sold for Bs 232,000; one litre of whole milk cost Bs 125,000 and 16 ounces of cheese cost Bs 250,000.
The government provides 500,000 bolivars to residents to assist with groceries. So desperate for the help, his mother spent three days in the line continuously without food waiting for money.
Ramnarine's brother, Ricardo, 32, a carpenter, came to Guyana three months ago and only recently got a job.
Ricardo thought he could have survived the hardship and only decided to move when bandits attacked and robbed him of his car at gunpoint.
Another young man, Sheik Ally, 22, relocated together with his parents over a year ago. He had preferred to stay in Venezuela and said he would love to return if he gets the opportunity.
He was engaged in gold mining in that country but he is currently working at sea as a fisherman.
Tough life
Parbattie, a housewife, moved back from Venezuela about two years ago with her husband and 14-year-old son when she could no longer face the tough life.
When they first got there, her husband worked as a "weeder" and within a month they started building a wooden house, which they later upgraded to a concrete structure.
The woman related that her husband "give up" after all the produce from his cassava and plantain farm was stolen. "We don't know if it's Guyanese or Spanish people who thief them because everybody hungry," she said.
Her daughter, son-in-law and their four daughters, ages three, eight, twelve and fourteen, remained there trying to battle the hardship.
But three months later her daughter called and told her that they hardly had food. They were eating mangoes for breakfast and for lunch they ate boiled rice and a "cheap fish."
Parbattie decided to go with the hope of bringing them back to Guyana immediately. But she too was caught in struggle as she tried to raise the money to get the family over. She recalled eating soursop for lunch a few times.
She tried in vain to sell her house there to get enough money. After she returned, a woman who was left in charge of the house sold it and gave her G$30,000.
While there, she sold her fridge and freezer but she had to use that money to buy food items. Her grandchildren were unable to attend school because there were reports of girls being raped.
According to her, many people are suffering from malaria but there is no treatment in the country. She said a woman died lately because she could not be treated.
Parbattie is sad that life turned out the way it did and prays that one day the country would "get good again…"