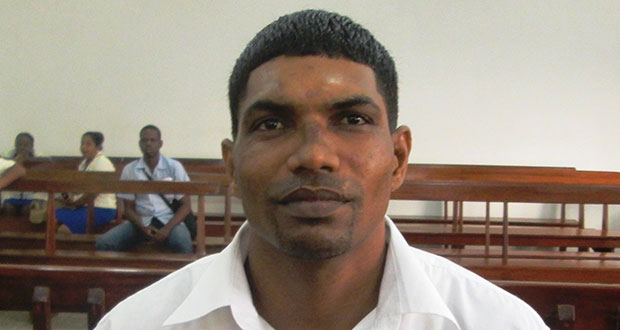 Omar Bacchus called 'Batty Shine'
OMAR Bacchus, called 'Batty Shine', was on Friday sentenced to seven years' imprisonment for the unlawful killing of Chandradat Hemraj, called 'Fish Fry' or 'Sunny Boy', committed at Bloomfield, Corentyne on August 20, 2011. Justice Brassington Reynolds, who imposed the sentence on Bacchus, told the prisoner that the offense attracts a sentence of between 15 and 25 years, but he has deducted five years for his guilty plea; eight years for time spent in prison, and a further year for his age, resulting in the seven-year jail term.
Bacchus had, since September 5, 2008, been remanded for this offense; although he had been committed to stand jury trial on December 21, 2011, he had since remained a guest of the State. Defense Attorney Perry Gossai, in a plea of mitigation, had argued for his client's constitutional right for a fair trial within a reasonable time.
LACK OF GUIDANCE
The lawyer painted a sad picture of Bacchus's life, revealing that he had already spent twelve prison years in the State's care, and was only 9 years old when he assumed responsibility of being a breadwinner for his family.
"After all these years, no member of the family is within the court due to transportation cost; they can't afford it. Their living conditions (leave) much to be desired…they have a flooded yard with an outhouse in the yard. My client was nine years old when he took up the responsibility of being a breadwinner. He suffered from a lack of guidance," Attorney Gossai said.
He further noted that Bacchus cannot read or write, and blamed the system for failing him.
"Others are writing exams, but there are no systems in place to teach him," the lawyer said.
And Senior Probation Officer Claudia Munroe told the court that the prisoner was raised in a nuclear family setting, and was forced to leave school at the age of 9, as both parents were alcoholics.
The court heard that he did various jobs to maintain his home and the habits of his parents, which resulted in him becoming addictive to alcohol and prohibited substances.
It was during this period that he met the now deceased, and their friendship blossomed. Chandradat Hemraj was reportedly a 'junkie', which resulted in a broken marriage. However, he shared a good relationship with his three children and siblings, one of whom is under psychiatric supervision since his demise.
THE MURDER
In narrating the facts, State Counsel Stacy Goodings said that Hemraj was mentally ill and lived with his sister at Bloomfield Village, Corentyne.
On August 20, 2011, he left home for a Hindu religious function at Letter Kenny Village but was later seen by Harenandan Samsarran at a birthday party in his home village of Bloomfield at approximately 22:00h.
Samsarran told investigators that he had given Hemraj $1,000 to purchase two packs of cigarettes from a Chinese restaurant.
Sattie Nathoo called Chiney, was at her Lot 65 Bloomfield Village home when she heard a 'beating' sound at about 23:00h. The court heard that she turned on her light and ventured on her verandah where she saw 'Batty Shine' beating 'Fry Fish' with a picket on his [Bacchus] bridge.
"I asked him what he beating the man fah, and he responded 'shut your mouth! Go in yuh house and turn off yuh light!'"
The following day, Nathoo saw blood stains in front of Bacchus's bridge.
On September 3, 2011, Police Constable Andel Doris, acting on a missing person's report, went at the back of Nankumar Singh's yard, where he found the decomposed body of Hemraj. The body was clad in long blue jeans and blue underwear, which were partially pulled down.
A post-mortem conducted by Government Forensic Pathologist Dr. Vivikanand Brijmohan revealed that Hemraj died as a result of asphyxia, drowning and multiple injuries.
Hemraj was buried on September 6, 2011, at Letter Kenny Village cemetery.