Jan 28,2018.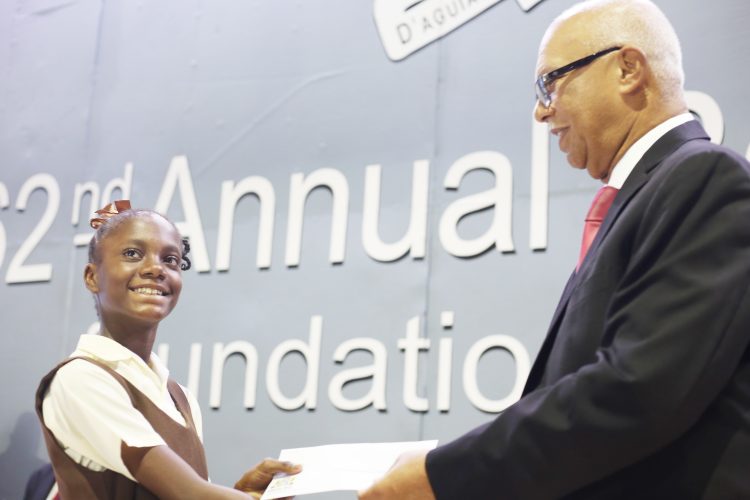 Chairman of the Banks DIH Ltd Group Board of Governors Clifford Reis presents a cheque to a representative of the Vreed-en-Hoop Primary School at the conglomerate's Annual General Meeting (AGM) yesterday at Thirst Park. This was one of four monetary awards given to schools to be used for educational endeavours. The other recipients were St Agnes Primary, Hope Secondary and the Kuru Kuru Co-operative College. (Photo by Keno George)
Cognisant of the impact that diabetes is having on the local population, the Banks DIH Ltd Group is working assiduously to ensure that no linkages are drawn between its products and the disease so that it can continue to avoid any possibility of a "sugar tax."
Speaking at the group's Annual General Meeting (AGM) yesterday at Thirst Park, Board Chairman Clifford Reis told shareholders that all local beverage companies have had strong discussions on the use of sugar because of the impact of diabetes. At the time, he was responding to a question from a shareholder who asked about the impact that changes in the domestic sugar industry could have on the company.
Reis, who seemed to have misinterpreted the question, spoke instead about his company's decision not to directly sell soft drinks in schools or other places directly linked to children.
"It was discussed strongly that we adhere to certain rules where children are concerned otherwise we'll end up having taxes known around the world as 'sugar tax,'" he said.
According to Reis, the group must "work to ensure that sugar doesn't become a topic linking our business and diabetes or other health issues."
To this end, Reis noted that his company is conducting a continuous campaign, including offering new Coca-Cola lines which include "Low Sugar" and "No Sugar" options. This campaign also includes a continuous education programme and labelling which clearly indicates the amount of sugar present in each serving of the product.
Guyana has been identified as having the highest diabetes rate in the entire Americas, and according to the 2017 country profile from the World Health Organization, most Guyanese dying from this disease are between the ages of 30 and 69.
Sugar is seen as having a similar impact around the world as a result of which diabetes experts have repeatedly called on world leaders to use sugar taxes to fight the disease.
One day before the opening of the 2015 Group of 20 (G20) summit of the world's major advanced and emerging economies, the International Diabetes Federation (IDF) called for the dual epidemics of obesity and diabetes to be placed on the global agenda alongside major geopolitical and financial issues.
At the time, the IDF had argued that with one death every six seconds, diabetes was now a bigger killer than HIV, tuberculosis and malaria combined and they estimated that most countries spend between five and 20 percent of their healthcare budget on the disease.
Reuters reported Petra Wilson, chief executive of the IDF, as urging the G20 to cooperate in fighting obesity by adding a surcharge to drinks which have added sugar.