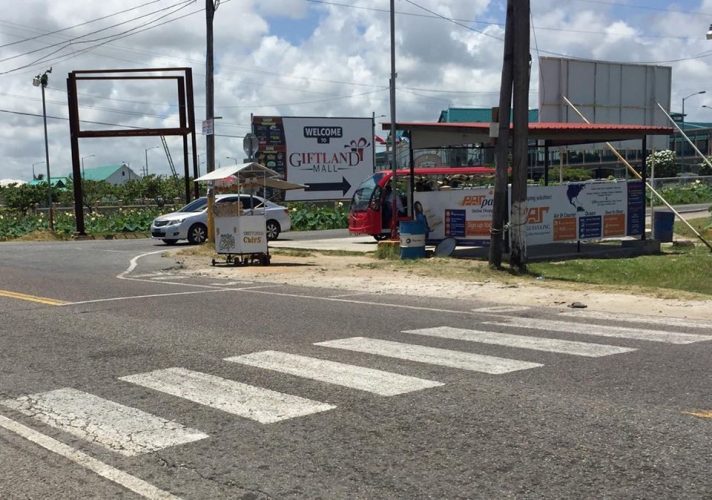 The junction where the bandit was shot dead.
August 29,2017
A bandit was this morning fatally shot by a security official during an attempted robbery at the junction of the Giftland Mall access road.
He has since been identified by the prisons authorities as Troybon Monroe, an ex-prison officer who was dismissed in March, 2017 for breaches of prison regulations .
Reports reaching Stabroek News revealed that at around 10 am, a businesswoman and her security guard were heading back to Georgetown just after conducting a transaction at the Ogle airport when they noticed they were being followed by a black car.
As they were in the vicinity of the Giftland Mall, they were forced to stop due to the traffic congestion. They were then accosted by the bandits who attempted to relieve the businesswoman of the parcels she was carrying and which included cash and gold.
During the process, the now dead bandit attempted to open fire at the security guard but his gun jammed and he was shot dead instead.
His accomplice, who is also suspected to have been shot, fled the scene.
The police this afternoon issued the following press release on the matter:
Swift and courageous actions by an armed security escort about 09:45h. this morning at Liliendaal, ECD, have resulted in the death of one of two armed bandits, who attempted to shoot and rob him and the driver of the motor car, he was escorting.
Investigations revealed that a 42 year old Interior Flight Services Supervisor and her Security Escort who was armed with a licensed handgun, went to Ogle Airport in a motor car, driven by the supervisor and collected several parcels. As they were returning to Georgetown via the Railway Embankment, in the vicinity of the Giftland Mall Access Road, a dark coloured motor car suddenly blocked their path and immediately two males, exited the vehicle, brandishing firearms and pounced on them.
During this process, the armed escort drew his firearm and discharged several rounds which struck one of the bandits who fell; the security then exited the vehicle and discharged his firearm at the other armed accomplice who managed to escape on foot since the vehicle that brought them sped away.
The police were informed and responded promptly. The deceased bandit who was identified as Troybon Munroe, an Ex Prison Officer and who was dismissed in March of this year, was discovered motionless and a .32 pistol with three live matching rounds was found next to his body. He was taken to the GPHC and pronounced dead on arrival.
Shortly after, a male with gunshot wounds went to the GPHC and is currently receiving medical attention, under police guard. Investigation in progress.