Army issued AK-47 rifle found in Sophia pit latrine
…Police unearthed gun, ammo, drugs, cash during raid
An AK-47 assault rifle reportedly issued to the Guyana Defence Force (GDF), a pistol and 66 rounds of live ammunition were discovered by Police at the residence of a construction worker and his reputed wife in North Sophia, Greater Georgetown on Monday morning.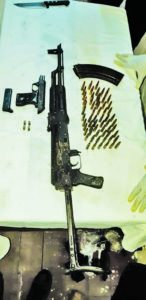 The AK-47 had a "skeleton butt" with its serial number inside the gun on its bolt carrier. It was found inside the pit of a latrine at the residence.
Reports are ranks of the Criminal Investigation Department (CID) attached to both the Major Crimes Unit and the Police Narcotics Branch conducted a search at the residence where they unearthed more than 32 kilograms of cannabis wrapped in several parcels.
The 13 ranks, under the command of a Police Superintendent, found the parcels of cannabis hidden under the couple's bed, inside a large cooler in a room of their home, and inside their washing machine.
According to Police reports, $700,000, along with US$250, was also discovered during the intelligence-led operation which lasted over six hours. The find occurred as cops were in search of a 22-year-old former GDF rank, who according to the construction worker is his nephew and who allegedly owns the illegal items and monies seized by the Police.
The construction worker and his reputed wife were immediately arrested. They would be charged for possession of narcotics for the purpose of trafficking and unlawful possession of arms and ammunition without being the holder of a licence. They are being processed for court.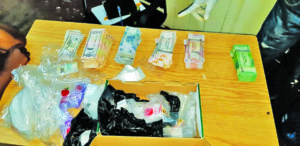 Prior to arriving at the couple's North Sophia home, investigators had swooped down on the residence of the suspect's grandmother, who lives in the same area.
At her home, cash was found stashed inside a cardboard shoe box, which had been hidden away.
Police detained the suspect's grandmother after the discovery of the cash and then ventured to the construction worker's home which the suspect would frequent.
According to a senior Police source, the couple were arrested while their four children were at home. The source added that one of the children looking on told cops "me can't sell out my mommy."
Guyana Times understands that the suspect on the run has been on the Police's radar for some time now. This newspaper was told that the man is closely linked to a known criminal known as "Mafia".
The 22-year-old suspect is also said to work for another criminal and engage in various illegal activities on a large scale.
"He has been transporting narcotics and doing a lot of shooting jobs … Aside from that, the activities, this boy living way beyond his norms and means and that was not adding up. An informant told us that he saw him with a big gun on him when he went to pick up a load of weed and then we started paying more attention to him," the senior Police source said.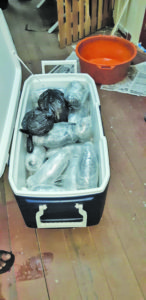 The source added that the man is also linked to 39-year-old Osafa Grundell, called "Safo" of Freeman Street, East La Penitence, Georgetown and James Fraser, 21, called "Dab" from Garnett Street, Georgetown, who are presently on remand for murder.
It is alleged that between April 25, and April 30, 2019, at Norton Street, Lodge, Georgetown, they reportedly murdered Marlon Seon Rodney, called "George".
According to reports, Rodney, a 35-year-old taxi driver of Lot 71 Norton Street, Lodge, was involved in a heated argument with Grundell, Fraser and another man called "Curl Up".
The defendants reportedly pulled out guns and discharged several rounds at Rodney, who was hit in the left leg. A passer-by, identified as 24-year-old Shaquille Dion, of Joseph Pollydore Street, Lodge, was also shot in the process.
In October, the main witness in Rodney's murder, his cousin, Collin Rodney went missing.
Collin Rodney, a former Policeman, also known as "Glock", "Troy" and "Cutty", was last seen on October 25, 2019, around 08:00h when he left his home to attend court to give evidence in the murder trial of his cousin, Marlon. He was a witness to his cousin's murder.
He had left his residence driving his car, a silver-grey Toyota Allion, PRR 1076, which is believed to be the car that was torched on November 1. However, he was a no-show in court. Earlier this month, the burnt car which contained charred remains was discovered in a swampy area in Mahaicony, Region Five (Mahaica-Berbice). Acting Crime Chief, Superintendent Michael Kingston confirmed that the vehicle belonged to the missing witness.
Meanwhile, Police ranks have intensified their efforts as they continue to hunt for the former GDF rank. GUYANA TIMES