Alia Bhatt — the greatest female superstar than all those before her
Raazi actor has hit a moment never enjoyed by successful seniors like Madhubala, Rekha, even Sridevi.
GAUTAM CHINTAMANI
@gchintamani
Stardom in popular Hindi films is gauged by the said star's capability to "shoulder" a film — if there was any doubt about Alia Bhatt's status as a star until last week, the success of Raazi has ensured that now, the actor's name would be mentioned in the same breath as some of the all-time greats as a "solo heroine".
Along with shouldering a film, the industry also considers an actor's ability to ensure a commercial opening, which has now become one of the yardsticks to evaluate a superstar's quality — here too, Alia Bhatt's Raazi, with a Rs 30-crore opening, has edged past the competition.
The brightest of all: Alia Bhatt and Rajit Kapoor in a still from Raazi.
Amongst her generation, Bhatt has joined the ranks of other stars like Varun Dhawan, amidst a handful that could probably sell a film only on their own name. While Raazi has a "male lead" in the form of Vicky Kaushal, one cannot doubt that the film largely got made due to Bhatt's name and in that respect, it could well become her first "solo" film to breach the Rs 100-crore club.
The unforgettable: Madhubala in a still from Mughal-e-Azam.
Alia Bhatt is one of the very few women leads out there now who has routinely featured in films that have crossed the Rs 100-crore mark — unlike other female leads, her contribution and participation have been far more significant in ensuring her Rs 100 crore-club films (2 States and Badrinath Ki Dulhania) hit the box office bull's eye.
The evergreen diva: Rekha in Khubsoorat.
But it's not only the box office success of the Rs 40 crore-budgeted Raazi that has the makings of being a milestone. The thing that truly separates Bhatt from the rest is the fact that Raazi is said to have made close to Rs 30 crore just from ancillary streams of revenue, like satellite, digital and music rights, and recovered 75 per cent of its investment pre-release itself. The film's success before it even released thus reveals the brand that Alia Bhatt has become in the six years since her debut in Karan Johar's Student of the Year (2012).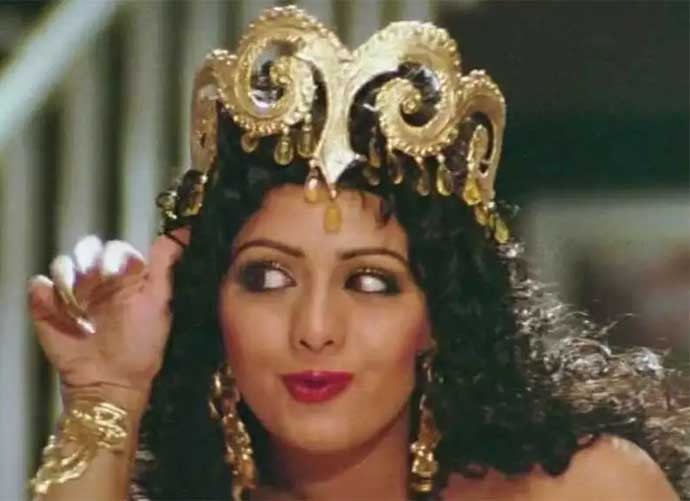 Miss India: Sridevi in Shekhar Kapoor's Mr India.
Despite being a tad prescient, comparisons between an Alia Bhatt and classic single-screen queens, such as the late Sridevi and Hema Malini, might not be too early — or even too audacious. The one factor that separates Alia Bhatt from the likes of Kangana Ranaut and Anushka Sharma, as well as from the divas of yesteryears, is the manner in which the contemporary exhibition aspect of films has made it possible for a new kind of narrative within so-called "women-centric" cinema. A decade ago, Vidya Balan's Tumhari Sulu (2017) would not be seen as a "regular" film by the trade. Ditto Dear Zindagi (2016), Neerja (2016), NH10 (2015), Queen (2014, Mary Kom (2014) and Kahaani (2012).
Why play by the rules: Vidya Balan in Tumhari Sulu.
For the trade to see these films in the same light as mid-level productions or "smaller" films — and not automatically brand them "women-centric" — is nothing less than a paradigm shift. In that context, a film such as Raazi is far more traditional as far as Bollywood themes and thinking goes. But Bhatt front-lining it puts her in a league beyond the others. The same film, with a top-billed male star opposite Bhatt, would have pushed it into the territory of a film such as Sharara (1984) based on Irving Wallace's novel The Second Lady, featuring Hema Malini with Raaj Kumar, Shatrughan Sinha and Mithun Chakraborty.
But cinema — and its trade — today actually allows a young female star like Alia to be both hero and heroine at the same time.
So, just how much better, if at all, is Alia Bhatt compared to the generation of stars before her? The big difference here is that the more successful Sridevi, Hema Malini, Rekha, Madhubala or Nargis became, the rarer it got for author-backed roles to come their way. It's the opposite in the case of Alia Bhatt, and while she can merrily share the screen with a Varun Dhawan in Badrinath Ki Dulhania (2017) or Sidharth Malhotra and Fawad Khan in Kapoor & Sons (2016), that doesn't come at the cost of playing well-etched characters in an Udta Punjab (2016) or Raazi.
The fact that the market for her films is only growing suggests that audiences are only too happy to back this twist in the tale.