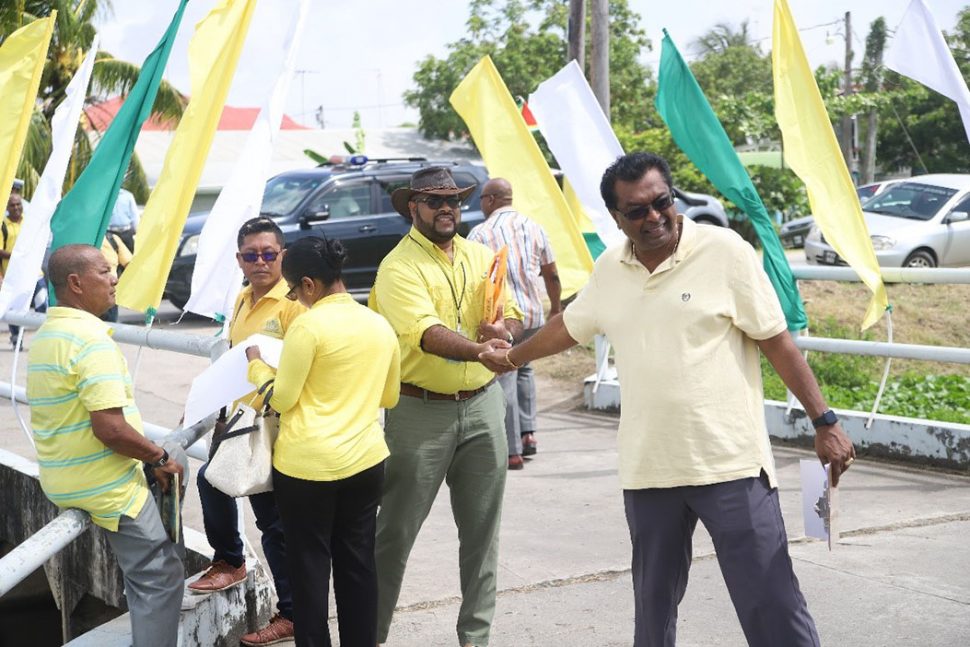 Walk to victory? Newly elected Leader of the Alliance For Change (AFC), Public Security Minister Khemraj Ramjattan (at right) is greeted by Director of Public Information and party executive Imran Khan after his arrival for the party's National Conference at St. Paul's Retreat Centre, at Vryheid's Lust, East Coast Demerara. Apart from being unanimously elected as leader, Ramjattan was also selected by party delegates to be the nominee for Prime Minister in APNU+AFC's slate for the upcoming general and regional elections. He is to replace current Prime Minister Moses Nagamootoo, who Khan zealously supported. (Photo by Terrence Thompson)
June 16 2019
With overwhelming support, Khemraj Ramjattan yesterday won the leadership of the Alliance For Change (AFC) and was also endorsed as the party's choice to be the prime ministerial candidate for governing coalition at the next general elections.
Ramjattan told reporters moments after the party's National Conference ended that a large section of the membership felt that he was "fit and proper" to be the prime ministerial candidate.
Recent weeks have seen simmering tensions underpinned by the rivalry for the post of prime minister post, which is currently held by party elder Moses Nagamootoo.
Speaking to reporters in the compound of St. Paul's Retreat Centre at Vryheid's Lust, East Coast Demerara, Ramjattan said he galvanised support by giving good responses to questions that were put to him by party delegates. He said he made a promise that he would "do a good job of it" if he was made Prime Minister. "I had spoken to a number of delegates and they had asked some very searing questions. Quite frankly, I think I provided very good answers to them and that is primarily what caused them to vote for me," he added.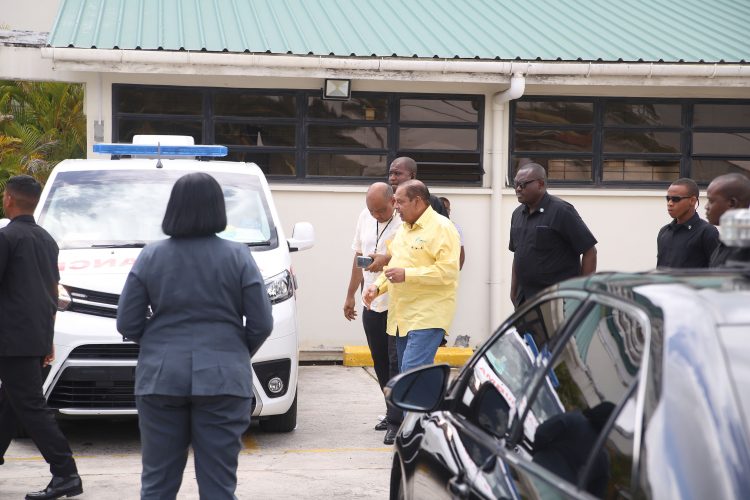 Outgoing AFC leader Raphael Trotman and Prime Minister Moses Nagamootoo in conversation ahead of the start of the party's National Conference yesterday at St. Paul's Retreat Centre, at Vryheid's Lust, East Coast Demerara. Trotman, who did not seek re-election as leader, was unanimously elected party Chairman. (Terrence Thompson photo)
He informed that the questions asked of him had to do with what he plans to do in the areas of job creation and constitutional reform, among other areas. "I think that I provided good answers and I think it has paid off," he remarked.
During the conference, incumbent leader Raphael Trotman was elected Chairman, while Cathy Hughes was elected Vice-Chairperson and David Patterson was elected General Secretary. Up to press time last evening, the names of the new members of the executive were unavailable.
Patterson described the conference as "very successful" while noting that several issues were addressed.
He informed that there were 14 motions on the floor for debate, six of which were passed, four of which were withdrawn and the others defeated.
Patterson said there were several motions which called on the National Conference to nominate and recommend Ramjattan to be the prime ministerial candidate "if we are going in a coalition and if we maintain the status quo or the general tenets of the Cummingsburg Accord." He added that there were "spirited conversations" during the day and representatives for all 10 regions, the diaspora and the Caribbean. "So we had full representation…," he added.
'No contest'
According to Patterson, the motion supporting Ramjattan as prime ministerial candidate was passed by a show of the majority of hands of the 275 delegates in attendance at the conference. "The overwhelming majority of the delegates voted by the show of hands. We didn't actually count because it was obvious that it was an overwhelming majority," he said.
Told that there was information circulating that six persons supported Nagamootoo by the show of their hands, Patterson insisted that this was not true. "Let me dispel any sort of rumours or fake news. There was no discussion… it wasn't a trade-off… it wasn't one against the other. The motion was should there be a general elections before our next national conference, this National Conference recommends that Mr. Khemraj Ramjattan be proposed as the prime ministerial candidate. It was never to do with we prefer one or the other."
Nagamootoo left the venue moments before the motion was considered, while saying that he did not want to influence the process. He told the media that he is a democrat and did not want to influence any of the decisions. "I am involved in it [but] I have not campaigned or contested any of the positions for the party leadership," he said before reminding of his previous position that he was "done with that."
He reasoned that given the fact that he had over 50 years of that while he was a member of the People's Progressive Party, he wanted to give young people a chance to participate in the process and be elected.
Nagamootoo also made it clear that the motion on the prime ministerial candidate was not a race. "My position about it is that it is a motion and it has to be discussed by the party and the party will make its choice and its decision. It's not a contest…I have not thrown my hat in the ring, so it's not like you have to vote for either Ramjattan or Nagamootoo or anybody else. It's a motion… of intention that the party may wish to consider whether it will run with its incumbent or selects someone else…," he said.
Asked if he was confident of retaining the position, he insisted that it was left up to the party. "When I was recommended for the 2015 elections, I had not contested anything. The leadership of the party came to me. I wasn't cognisant of what process it was and they asked—Would you want to be the prime ministerial candidate? Originally, myself and Nigel Hughes were going to run for the AFC as presidential and prime ministerial candidates and then we had this coalition."
Meanwhile, Patterson said that he didn't believe that Nagamootoo's decision to leave was in bad taste. "No, not at all," he said before explaining the Nagamootoo had indicated from the outset that he didn't want to influence the outcome and before he left "he gave us all a hug and said 'good luck.' Patterson indicated that he accepted Nagamootoo's position.
Ramjattan said he did speak to Nagamootoo before he left. "He was most gracious…I hold him in tremendously high esteem. He has been a mentor since I was in PYO… and, of course, I regard him so highly and he came across and he gave me a big hug when he indicated that he was going to leave at this stage because it was getting very warm in there. And, of course, it was a very long day for him and he said, of course, that he has to go at this point in time," he noted.
Interjecting, Patterson reminded that in 2017, Nagamootoo was named the Elder Statesman of the party, a position which he still holds. He would later explain that given the title, Nagamootoo will continue to sit in an ex-officio office within the party. He reminded that in 2017, Nagamootoo opted not to contest any of the elected positions and therefore the title was created for him because of the "great wisdom and political astuteness that he brings to the party and so he still remains in that position."
Cathy Hughes informed that during the conference, Nagamootoo made a "stirring" contribution and interacted with members. "So there is no issue there at all. The motions that were on the table were not secret motions. Everybody knew," she said, before reminding that four identical motions in support of Ramjattan, were submitted.
'Still in effect'
Responding to concerns that there may be questions concerning the constitutionality of his selection as the prime ministerial candidate, Ramjattan said that it was not a selection but rather a recommendation and endorsement.
Patterson disagreed that it would have had to have been dealt with at the executive level of the party before it reached the conference. "This isn't my first rodeo…that's not [true]. We have various categories of recommendation," he said before explaining that the party's constitution allows for the holding of a special conference to deal with a matter of such a magnitude if necessary. He pointed out that the party had decided to use the conference to deal with the matter.
Asked if the support of the APNU is required for the acceptance of Ramjattan, Patterson said the AFC is a party on its own and has made a recommendation which it will stick with. "So, just like we did in 2015, we will do in 2019 or 2020 or 2021, if we stay in a coalition. So, the Alliance For Change has made a recommendation," he noted.
Pressed on whether there needs to be acceptance from the coalition partner, he pointed out that the coalition is governed by an agreement, the Cummingsburg Accord, which is still in force and it states that the AFC shall nominate a prime ministerial candidate. "There is nowhere in that agreement that says nominate a prime ministerial candidate who the coalition accepts or not," he added.
Patterson also insisted that the Accord has not expired. Noting that he is the author of the agreement, he explained that its lifespan is 60 months. Patterson said that each party at the expiration of 36 months has an option to cancel the agreement. "So, therefore, we are duty-bound to respect it from 0 to 36 and them from 36 to 60. Both sides of the Accord have the option of if they would like to break it, they indicate. Neither of the parties has done that so until the expiration of the 60th month, the Accord is still in effect," he added.