A good country life
SOME say the "West Side" is the best side and this was the sentiment of many residents of Den Amstel, West Coast Demerara, who are not willing to relocate from that close-knit community.
It is a village of people who are self-employed, who rear their own livestock and some who are rice farmers, while others also work outside the village.
Tiffany Mc Allen is a stay-at-home mother of a frisky two-year-old. This resident said she is satisfied with her life in that community, simply because she is comfortable living in a place where she grew up among loved ones. She added that it is quite a quiet, simple country life with which anyone can fall in love.
The 22-year-old told the Pepperpot Magazine that she has no need to seek employment because she is being taken care of and is not short of anything, materially.
"I finished school and then I had my son, so I really didn't have to work or anything because I get everything up to date and I spend my time taking care of my son and do chores in and around the house," she said.
From a young lady's perspective, Mc Allen admitted that life in Den Amstel is good and it is her home town, a place she can never get tired of.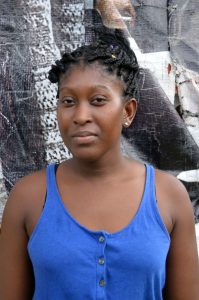 "People in this village don't really work with people because almost every house got their own cattle or livestock or chickens they rear and some are rice farmers; so we don't really need to exit this village to look for work, "Mc Allen said.
Most of the youths in the community are self-employed and a few persons work in offices elsewhere, but generally, folk in Den Amstel "do their own thing" according to Mc Allen.
She added that the village has a few teachers as well and people are friendly and hospitable and they live on good terms with each other and there is no place for any racial disparity there.
This Den Amstel resident stated that her only difficulty is trying to acquire a piece of farmland aback the village, but so far, they are stumped since there is land there but no allocation yet.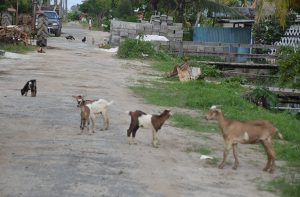 "We as young people need to utilise our lands to make a living and we have vast rice lands aback this village and we need a plot or two to do our farming, because we don't want to leave this community," she said.
The village has about 3,000 residents, many of whom are self-reliant and multi-talented with the resources they have at hand.