-with just days before final roll has to be published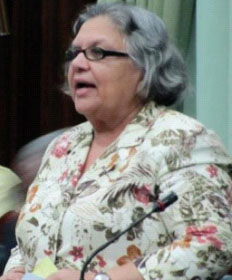 Ninety-one thousand entries on the Revised Voters List (RVL) require address changes stemming from the controversial house-to-house (HtH) enumeration last year, posing a major headache for GECOM with just a few more days before the final voters list has to be published.
"It's a mess," Opposition-nominated Commissioner Bibi Shadick told reporters yesterday.
She explained that last week the secretariat provided commissioners with a list "of just over 11,000 names whose addresses are being changed" but yesterday they told the Commission that it was a partial list.