5,000 online scholarships to be available next year
–First preference for vulnerable groups- says Min. Parag
IMPROVING access to education is a top priority for the new People's Progressive Party/Civic (PPP/C) government and this is evidenced by its plan to provide 5,000 online scholarships next year.
Education is undoubtedly a key element of any progressive economy, but affordability, especially at the tertiary level, is a challenge and barrier for many persons.
Cognisant of this financial burden and the inability of many persons to access university education, the President Irfaan Ali-led administration has committed to providing 20,000 online scholarships over the next five years, a process which will commence next year.
"…We are going to grant 20,000 scholarships across our country, in every single field from next year…the first 5,000 will be made available next year, and we are already in discussion with more than ten universities across the world," said President Ali during his remarks at the opening ceremony for the Dr. Yesu Persaud Clinical Education Centre at the Georgetown Public Hospital Corporation, on Saturday.
Many universities have been offering online courses for years, but more focus has been placed on this aspect of learning over the past eight months due to the dreaded novel coronavirus (COVID-19) pandemic, which has forced persons to practise physical distancing.
According to a recent study done by the World Economic Forum, education has changed dramatically, with the distinctive rise of electronic-learning (e-learning), whereby teaching is undertaken remotely and on digital platforms.
Research done by the forum suggests that online learning has been shown to increase retention of information, and take less time, meaning the changes coronavirus have caused might be here to stay.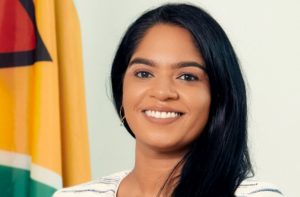 "One spin off of the COVID-19 pandemic is it accelerated the development plan of many universities in providing distancing education, so plans for 10 years down the road, came up now," said President Ali.
The President also referred to a study which shows that by 2030, less than 20 per cent of the student population at any university will be in a building.
Students, locally, will have to position themselves not only to adapt to the changing times, but to also capitalise on the opportunities which will be presented next year and beyond.
The government is also wrapping up preparations from its end, to be able to provide these opportunities in a timely manner.
Policies and other technical aspects of the scholarship programme are still being finalised by the Ministry of Public Service, said subject Minister, Sonia Parag, in an invited comment, on Sunday.
"We are looking at the policies and so regarding the scholarships, and we are going to deal with the selection committees and so on…we are in that phase right now and we are looking to get collaboration in relation to putting things in place for those scholarships," said Minister Parag.
Preparatory work also includes finalising an opening date for applications, the criteria for acceptance and other critical elements of the programme.
While there will be criteria for acceptance, Minister Parag said the aim of the programme is to give vulnerable persons an opportunity to access tertiary education.
"Well we are aiming to give scholarships to vulnerable persons in society…especially those persons whose parents would not have an income that can sustain their education," said the Minister.
Opportunities are not just limited to the online scholarship programme, as the Ministry of Public Service would have allocated 90 per cent of its over $1 billion budget, for academic scholarship, grants and training.
Scholarships are currently being offered in dozens of subject areas at the bachelor's, master's, and PhD levels to the University of Guyana, the University of the West Indies and various universities in China, the United Kingdom, the United States and India. It was reported that the Ministry has already received over 700 scholarship applications.