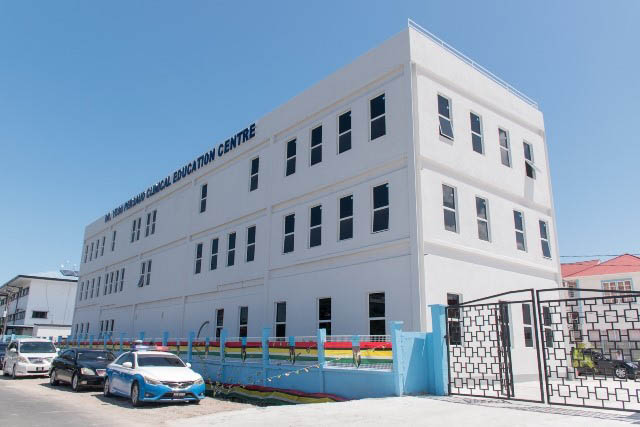 The newly commissioned Dr Yesu Persaud Clinical Education Centre situated in the compound of the Georgetown Public Hospital (GPH) at Thomas and Middle streets, Georgetown. (Department of Public Information photo)
October 25 ,2020
After more than three years of construction, the $245 million Dr Yesu Persaud Clinical Education Centre was yesterday officially handed over to the government with emphasis being placed on the role it is expected to play in improving the country's current level of primary health care in the coming year.
The three-storey building is situated in the compound of the Georgetown Public Hospital (GPH) on Thomas and Middle streets, Georgetown. It comprises classroom space, administrative and faculty offices, conference rooms and labs.
The building was constructed under a public-private partnership and will serve the University of Guyana (UG) and GPH medical education programmes.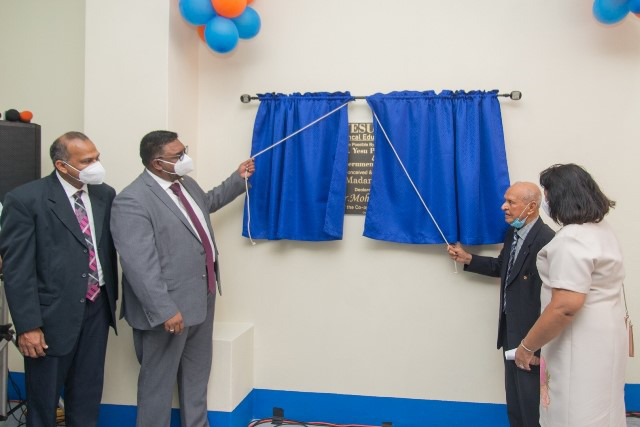 President Irfaan Ali (second from left), Dr Yesu Persaud (second from right) and Minister of Health Dr Frank Anthony (left) during the opening of the institution (Department of Public Information photo)
In January 2015, Dr Yesu Persaud was approached by the then Director of the UG Medical School (UGMS) Dr Madan Rambarran for assistance in establishing a facility to serve the needs of the medical education programmes
As a result, Persaud's Foundation contributed a sum of $215 million towards the project while the Government pledged an additional $30 million. Two years later, the construction of the institution commenced.
Persaud is a philanthropist and founder of Demerara Bank Limited and served for many years as Executive Chairman of Demerara Distillers Limit-ed. He was also instrumental in the formation of the Institute of Private Enterprise Development and has been a leading civil society figure.
Delivering the feature address yesterday, President Irfaan Ali said that the primary health care of the country needs to be fixed. "….We have to fix primary health care and to fix that we have to invest in community health care," he said.
As a result, Ali said that the next budget will cater for a new programme for research and development and primary health care.
According to Ali, the human potential of the country is "mind blowing but 75% of the highly skilled persons are underutilized. "…When you review the CV of the human potential that we have in this country, it's mind blowing and if you look at the utilization rate, I would say that 75% of those people are underutilized… we have to put extra work, we have a primary health care problem and we are going to fix it. We are going to fix it together," Ali stated.
Ali explained that through the planned US$17 million investment programme by the Government of India, expansion and modernisation of the Suddie, West Demerara and Bartica hospitals will commence soon.
This, he said, will ease the current load at the GPH. Ali further explained that often times, the GPH is criticised because the institution is "overwhelmed" and the system is "not working".
He noted that Minister of Health Dr Frank Anthony and his team have since started to review the system in an effort to address the existing issues. "So we have to fix the system at the regional level but importantly in addressing primary health care, we have to fix the systems at the district health care," Ali said.
As a result of this, Ali added that resources were also put aside for the upgrade of several district hospitals across the country including Lethem, Diamond, Paramakatoi and Leonora. "We are going to the community level and when we go to the community level and we train our doctors, they will have doctors there to take care of the people," he said.
Meanwhile, Dr Anthony noted that the GPH has grown to be the premier medical post- graduate institution.
He said that since the start of the programme, 144 doctors graduated and an additional 138 are currently still training. "This new facility, the Dr Yesu Persaud Education Centre will allow us to expand our current post-graduate training and provide better accommodation for simulation labs and other modern teaching aids," Dr Anthony said.
He added that it is the government's intention to use the building as the teaching arena to provide various types of online training for doctors and other medical personnel in all regions. "We want to take full advantage of the government internet connectivity and to ensure that training done here at this centre can be accessed in every single regional hospital across this country," Dr Anthony noted.
In his brief remarks, Persaud said that his motto in life has always been "helping those who can't help themselves…There is nothing like doing things and helping those who can't," he said.
"Deserve more"
Ali also recognised the work of the health care workers during the pandemic while admitting that they "deserve more".
However, he noted that this will take "some time".
"You deserve more, you deserve better… we are a growing economy and it is your president's commitment, it is the government's commitment that you will get more and you will get better, just give us some time," he said.
Ali's government is currently in discussions with health workers on a risk allowance and other matters. GPH nurses have threatened to strike if the matter is not resolved.
According to Ali, this is a "critical" time for the health care system around the world. He said it is a period during which their oath will be ultimately tested.
"….When you work in a pandemic. You are not putting a salary on the line, you are putting your lives on a line….this is what distinguishes the great profession of medical doctors. Periods like these we have to act responsibly," Ali added.
"The economy is going to grow and we recognise the fact that we have to provide more to every category of our work force…So I agree, we have to do more but at the same time sometimes we have to understand the circumstances under which we are providing our service," he added.
Electronic medical record system
Ali further related that the government is currently engaged in discussions with the Indian High Commission to establish an electronic medical record system. "Every citizen of the country will have an electronic management of their medical records. So whether, you move from Georgetown to West Dem, you don't have to move with big layers of files," he said.
In 2015, UGMS lost the provisional accreditation it had first gained in 2008, after it failed to submit annual progress reports.
At that time, CAAM-HP, which was in 2003 established under the aegis of CARICOM to accredit programmes of medical education, asked the UGMS to prepare for a full site visit in early 2016 if it wished to regain accreditation.
The UGMS was first granted provisional accreditation in 2008 for the period January, 2008 to December, 2009. In 2009, it was accredited with conditions for the period 2008 to 2012. After a site visit in 2013, the institution was afforded provisional accreditation for the period 2013 to 2015, with the condition that issues flagged in the site visit report and in its letter be addressed and reported on in the school's reports to CAAM-HP, the organisation said on its website.
UGMS was required to submit annual progress reports and prepare for a limited (focused) survey visit from CAAM-HP as conditions for the retention and possible upgrading of its accredited status.
However, after the university failed to submit its annual report in 2015, a decision was taken to withdraw the Provisional Accreditation and ask the school to prepare for a full site visit early 2016 if it wished to regain accreditation.
In its "Standards for the accreditation of Medical Schools in Caricom," CAAM-HP listed a wide variety of standards in the following areas: the institutional setting; the students; education programmes; the faculty; educational resources; internship and continuing professional education".
There were also concerns about the quality of tuition and CAAM-HP has asked that lecturers be qualified in education as well as medicine.