10 Best Chicken Soup Recipes
NDTV Cooks | Updated: November 30, 2017 12:54 IST, https://food.ndtv.com/lists/10...-soup-recipes-708270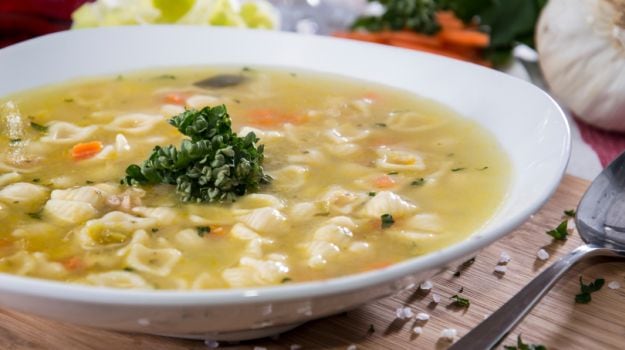 Highlights
There is nothing quite like curling up with a steaming hot bowl of soup on a nippy night. Soups spell comfort and warmth. Not only do they soothe your soul but they are also extremely healthy. It is super easy to swap one ingredient for the other without compromising much on the flavours. While some broths require precise technique and measured condiments, by and large most recipes give you ample room for creativity and experimentation. Every country simmers with its own variety. Chicken soups, however, are enjoyed across the globe as one of the best loved winter warmers.

Chicken when combined with garden fresh vegetables acts as a wholesome and healthy meal, adding broth to it makes it more filling and satiating. Soups are light on stomach, easy to digest and packed with nutrition. Chicken soup is often regarded as a one pot meal. You can add vegetables, noodles, pasta and other ingredients to turn it into a wholesome meal. Those of you who are following a particular diet or closely keep a track on your calorie consumption can opt for simple, clear chicken soups instead. According to Delhi-based weight management expert, Gargi Sharma, "Opt for a light dinner that would include teaming salads with some soup. Chicken soup can easily serve as a nutritious finale to your long, tiring day."

A hot bowl of chicken soup may warm you up from inside out and also drive away seasonal cold and flu. Chicken is a rich source of an amino acid called cysteine which helps in thinning the mucous build-up in the lungs for easy elimination. Not only this, the compound is believed to have properties that can combat adverse effects of alcoholism, including liver damage and hangover.

So, what are you waiting for? We've gathered our best chicken soup recipes for you. From the heartwarming Tibetan broth and Ladakhi Thupka to the classic Tom Yum and Mulligatawny, soup up one of our favourites.