Dangerous driving death case against Keisha Chase thrown out
- documents cannot be found
Upholding a no-case submission, City Magistrate Allan Wilson yesterday dismissed charges against attorney Keisha Chase, who was on trial for causing the death of a pedestrian two years ago.
The ruling was handed down by Magistrate Wilson during court proceedings yesterday in the presence of the family of the deceased and attorney Roger Yearwood who represented the accused.
Chase was charged with causing the death of Julian Leitch by dangerous driving, on November 10th, 2015, on Duncan Street, Georgetown.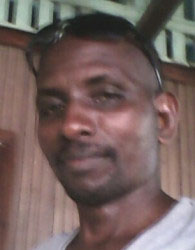 The ruling comes shortly after Magistrate Wilson ordered that the prosecution close its case after attempts to locate the original case file, a page from the statement of Constable Kwesi Carmichael, along with other documents which were ordered to be produced from the Attorney General's Chambers proved futile.
The Magistrate ruled that the absence of the documents rendered it impossible for Carmichael to continue his testimony, or for Corporal Rockcliffe, who photographed the scene of the accident, to give evidence.
After the defence declined to cross-examine him, Carmichael's evidence was deemed complete. The prosecution's final witness, Mark Plant, was absent since he could not be located.
During Tuesday's court session Yearwood made a no-case submission, stating that the prosecution had failed to prove their case against his client.
This no-case submission was upheld by Magistrate Wilson who, yesterday, told the court that the prosecution failed to present any evidence that the defendant was driving in a manner dangerous to the public, and that she was driving with speed.
The Magistrate went on to note that there was no evidence as to the traffic on the road at the time of the accident.
He subsequently added that the prosecution failed to establish the elements of the case.
On February 29th, 2016, the DPP advised that charges be brought against Chase for the offence of causing death, almost four months after the fatal accident.
Leitch died at the Georgetown Public Hospital shortly after he was hit near the Survival Supermarket at the corner of Vlissengen Road and Duncan Street. He had sustained several injuries, including a fractured skull and a broken neck.
It was reported that Chase had rushed him to the hospital following the incident, but he died while receiving treatment.
---
Here is one of the Case where documents vanished.