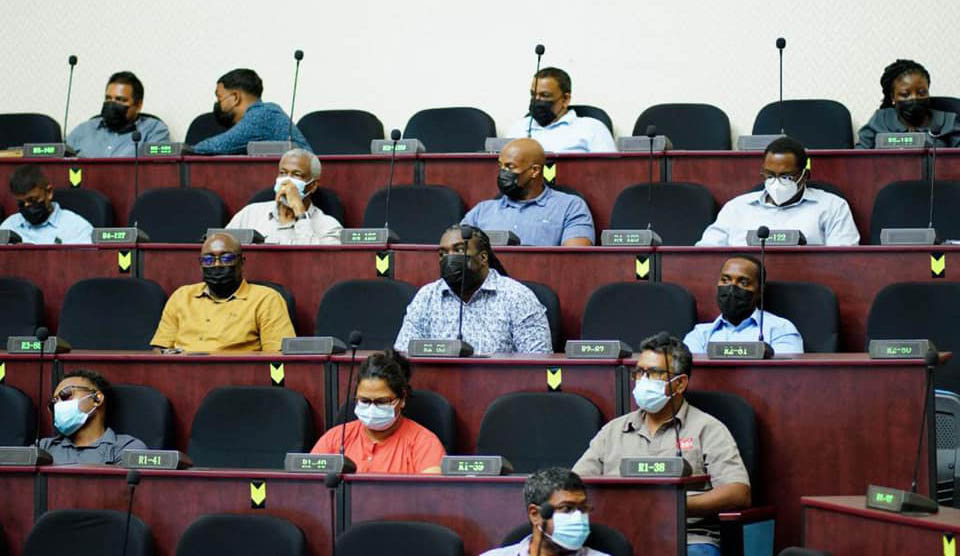 A section of the contractors who attended the engagement on Monday
November 24 ,2021
Urging that they revise their business models and modify their work culture, President Irfaan Ali on Monday told contractors that they must adapt if they want to remain competitive in the sector.
Addressing the contractors at a meeting at the Arthur Chung Conference Centre, Ali stated that those working on government projects must expand their human resource capacity and machinery to effectively meet their contractual obligations. He also said that contractors must be willing to invest in night work in order to get the job done.
"If you are playing at a certain level, you have to be willing to make the investment to allow you to be competitive and efficient at that level. This is where the country is heading. You have to build your night capacity; otherwise, you will fail," Ali said as he discussed his government's expectations regarding the execution of the projects and the quality of work.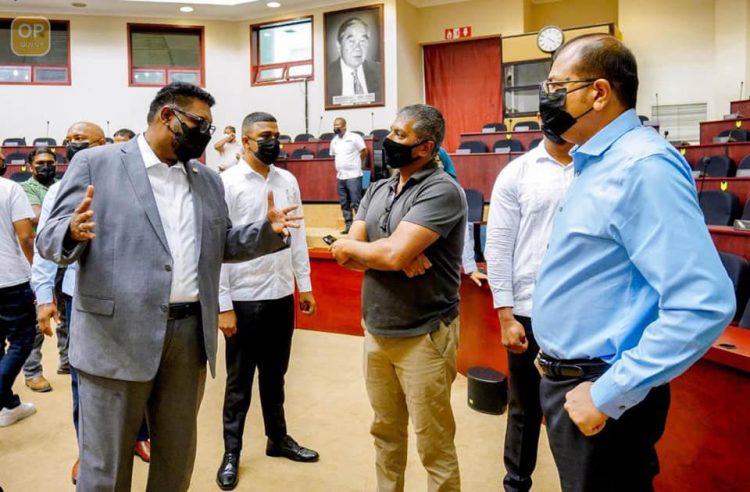 The Head of State contended that contractors must work to create a culture and workforce that will deliver quality work on par with first world construction standards.
The days of workers "sporting" at the end of the working week no longer exist, he remarked. This culture, Ali pointed out, negatively impacts the delivery and quality of works which reflects on the contractors.
"…We have talented people but do we have talented committed people? The culture where you come to work and then you sport whole weekend and miss Monday or all they do on Friday is looking at the time… those days are gone… Pull yourselves up now… Listen, the time when you spend four hours on Friday or eight hours after your construction to drink six bottles Scotch is over. Those days are gone," he cautioned.
Ali suggested that contractors find a balance between entertainment and work and desist from the culture of partying all weekend and not being able to work when the new week starts.
"Those days are finished with. I am speaking very frank. You have to have your entertainment time and a balance life but the balance has to be more to what has to be achieved," he added.
He urged contractors to rethink their business models and examine opportunities to improve their project management skills. Rainy days, Ali said, should not interrupt the entire operations of a work force as companies should be able to use that downtime to engage in other activities that can be done on those days.
"We have to create a winning culture in this country. You have to create a winning culture in your companies. It requires a shift in how we operate and do things. I want all of us to be successful and be better at what we do. We are going to turn the screws out because we know you have it in you to be successful," he declared.
Arguing that Guyana is on the cusp of transformation with mega infrastructural projects such as the construction of the new Demerara Harbour Bridge, the Amaila Falls Hydro Project and major roadworks, he said that companies must position themselves to benefit from these developments.
Apart from the construction of hotels and facilities in the private sector, Ali reiterated that government over the next few years will also be rolling out massive projects such as the development of a four-lane highway from Busby Dam to Ogle and then to Cane Grove on the East Coast of Demerara; an expanded four-lane highway on the Corentyne; an industrial estate that will require billions in contractual services; more than 30 new first-world schools; more than eight new hospitals across the different regions; the spending of billions of dollars in hinterland and community roads and other government infrastructural projects will create enormous opportunities for local contractors.
"This is the scale of investment that we are talking about—that you will be a part of. That is why you have to pull yourselves up now" he underscored.
The president disclosed that his government is prepared to give support to contractors where necessary but contractors must indicate the areas in which assistance is required.
Mobile floodlighting units
On this note, he stated that government is prepared to look into the possibility of offering duty-free concessions on mobile floodlighting units to better prepare contractors for night work.
"There are two ways you address this; the first is that you adopt a winning culture, or the second is for you to stay where you are, be happy and slowly be pushed out of what is happening. To adapt, you have to invest. You have to grow yourself in quality, in equipment and understand what is coming at you," he told contractors in a passionate plea for them to improve their service and quality of work.
Ali further admonished contractors for not building capacity and looking for the cheap way out when bidding for contracts.
During his address, he suggested to contractors that one way to invest in building their human resources capacity is by employing skilled engineers to work on mega projects.
From a review of tender documents, he said, it has been observed that various contractors are utilising the services of one engineer for projects but there is no project engineer on site.
Ali put them on notice that they will have to build capacity as some projects will have to be done simultaneously. He assured that while he has no objections to a single contractor being awarded four contracts, they have to comprehend that the projects must be completed within a certain timeline.
The President also upbraided large scale contractors for competing against small contractors for lesser projects in regions. He averred that such actions are a waste of resources and should not be encouraged. He questioned the reasoning of the large scale contractor who is awarded a $100 million contract but is still bidding for a $5 million contract at the level of the regions.
"Absolute nonsense for you and for us because there is something called economies of scale, and allocation of resources, allocation of material, human financial and material resources. And if you are a tier-one contractor, and you want to spend the time to allocate resources on a $5 million project, you will bust. You will not be able to efficiently implement or achieve your outcome," he admonished.
In the same breath, the President informed contractors that Guyana is moving towards a higher standard of construction which he referred to as "a different scale of sophistication" that will require skills and competences to deliver higher-quality finishes for every product.
Demerit
He also disclosed that a demerit system will be introduced to ensure performance-based awards of contracts.
Noting that some contractors fail to complete projects within the timeline provided, the president explained that the demerit system which will come on stream by the end of this year, will assess the performance and quality of work. The system will assess contractors' performance for every contract awarded.
"The demerit system is that the net value of outstanding work will be transferred to the new year and will become your net value of work in progress that would disallow you from having new contracts or a certain level of new contracts. That too will be in the bidding document by agency," Ali explained to the audience.
Moreover, said that he and his cabinet are committed to fulfilling the elaborate and comprehensive mandate of development to transform the lives of people.
"Every ounce of my energy and the cabinet's energy, and the technicians' energy, will be at achieving that mandate in the interest of Guyana and every single Guyanese, and you're a part of that…The Government and all of you in this room have a professional responsibility to ensure that our plans and programmes are achieved," he declared.
President Ali was joined by the Senior Minister within the Office of the President with responsibility for Finance, Dr Ashni Singh, and the Attorney General and Minister of Legal Affairs Anil Nandlall, who also addressed the meeting.
Also present were the Minister of Education, Priya Manickchand; Minister of Foreign Affairs and International Cooperation, Hugh Todd; Minister of Agriculture, Zulfikar Mustapha; Minister of Housing and Water, Collin Croal; Minister within the Ministry of Public Works, Deodat Indar; and heads and representatives from the various government agencies.