Gilbakka posted:

Phew! Woof! Poof!! Only 2 threads I've started this morning and already I'm huffing and puffing. This is burdensome wuk. Dis kinda task is fo younger men like Django. I'm hereby appealing to him to resume duty forthwith. Me cyaant start anymo new blasted thread.
Sorry frenno,Django on one month vacation.
SN have a few juicy articles,remember Harmon went to China on the secret trip to search for the missing US$5M owed to GTT.He came back puffing his chest saying,in his possession are documents that the money was paid.
Well he was lying from day one,NICIL said the company finally agreed to pay,after considering the fees for arbitration,they will accept US$3M.What's your thoughts is this better than loosing corn and husk ?
Hopefully NICIL don't take the money and run,that money should be deposited in the Consolidated Fund.
Also Harmon blast the Guyana Bar Association for double standards regarding the debacle of nominating the Chancellor and Chief Justice.Granger said he guided by the provision of the [unprogressive] constitution,the bar association thinks he will pull a fast one like how he selected the GECOM chairman,so they take first jump.Granger ketch sense he ain't making that mistake again.
The Auditor General found lots of discrepancies with the accounts of Georgrtown City Council.
Here is a snippet of what he said.
"Audit Office has attempted to audit records from 2005 to 2015, but said that when the Council was visited for the audit, no records for 2005 were produced. He further related that records from 2012 were damaged, but nevertheless, they have begun work from that period onward."
How much money received.
As it relates to 2016, the year in review for the AG's report, the Mayor and City Council (M&CC) received a $24 million subvention. The sum was part of a $401 million Capital subvention for Municipalities and Neighbourhood Democratic Councils for the enhancement of the environment and improvement of community services, and for M&CC, was an addition to $200 million disbursed for the Georgetown Restoration Fund."
Money spent.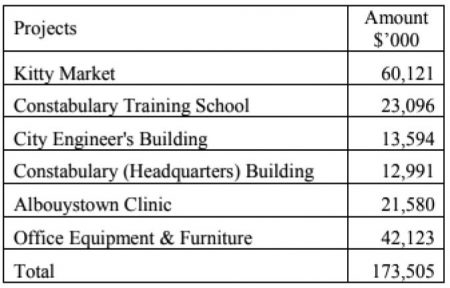 PS take.
Permanent Secretary of the Ministry of Communities Emile McGarrell pointed out that according to the law, treasurers are in fact responsible to the AG, and so it is the AG that has "leverage, legally," to address the matter.
Courtesy of SN
Feb 20 2018
Have to run,will peep in later.