Tanker to lift first million barrels of oil this weekend
Crude oil tanker – YANNIS P – will over the weekend lift the first million barrels of oil from the Stabroek Block offshore Guyana.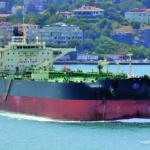 The crude tanker which was built in 2010, will begin loading this weekend, ExxonMobil's Public and Government Affairs Advisor, Janelle Persaud said on Friday.
She added that ExxonMobil will process the cargo in its own refining system as was previously announced.
On December 20, 2019, United States oil giant ExxonMobil announced the commenced production of Guyana's oil in the Stabroek Block, where 15 discoveries of crude in commercial quantities have been made since 2015.
In September 2019, the Liza Destiny floating production, storage and offloading vessel (FPSO) arrived in Guyana's waters. The vessel is a significant component of the Liza Phase One Development, which involves four undersea drill centres with 17 production wells. Besides its production capacity of 120,000 barrels of oil per day, it also has an overall storage volume of 1.6 million barrels.
During normal operations, there will be at least 80 persons living and working onboard the vessel.
With the 120,000 barrels expected daily from production in the Liza Phase One Development, it is estimated that Guyana will earn some US$300 million annually.
ExxonMobil had previously said there is potential for at least five FPSO vessels in the Stabroek Block, producing more than 750,000 barrels of oil per day by 2025. Liza Phase Two Development is expected to start up by mid-2022. It had been reported that the project would use the Liza Unity FPSO to produce up to 220,000 barrels per day.
With Hess Guyana Exploration Ltd holding 30 per cent interest in the Stabroek Block, ExxonMobil's affiliate, Esso Exploration and Production Guyana Limited (EEPGL) has 45 per cent interest and is also the operator of the 6.6 million acres block while CNOOC Petroleum Guyana Limited, a wholly-owned subsidiary of China's state-owned CNOOC Limited, holds the remaining 25 per cent interest.
In 2015, the oil giant announced a significant oil discovery on the Stabroek Block, located approximately 120 miles offshore Guyana. The well encountered more than 295 feet (90 metres) of high-quality oil-bearing sandstone reservoirs.
On May 8, 2015, days prior to General and Regional Elections, the then Government – PPP/C – had announced that ExxonMobil discovered hydrocarbons offshore Guyana while drilling the Liza-1 exploration well at the Stabroek Block. However, now coalition Government, which was in Opposition at the time, had said that the PPP's announcement was a mere elections gimmick.