Govt grants financier 164,000 acres of land
3 days before elections
A massive 164,000 acres of prime State Forest located along the Berbice River has been allocated to known Government financier, Lloyd Singh.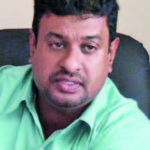 This allocation was made three days before General and Regional Elections under very suspicious circumstances. Incidentally, it is one of the same areas that the current APNU/AFC Administration repossessed recently.
Guyana Times was told that the last-minute allocation of Guyana's State Forest was done via a rushed and uncompetitive process that was engineered to favour this particular individual. A source at the Guyana Forestry Commission told this newspaper that it is highly unusual that an area of this stocking and location had only a sole applicant.