'Put up or shut up'
-GLSC head discredits Jagdeo's land giveaway claims
By Thandeka Percival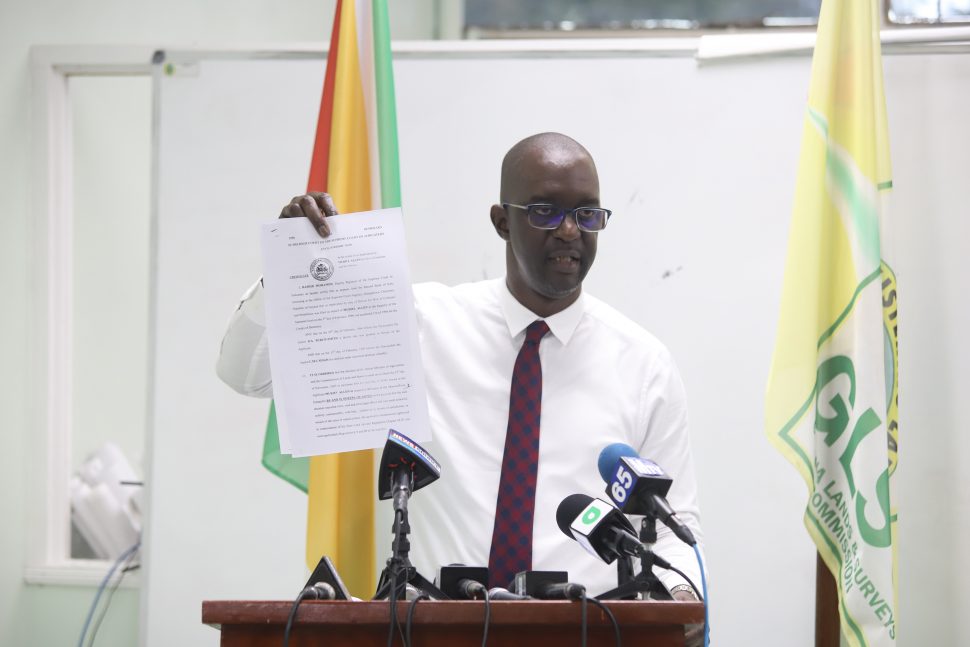 Head of the Guyana Lands and Surveys Commission Trevor Benn displays for reporters a court order, dated 1996, which he claimed the former administration failed to honour and which has since returned more than 2,000 acres of state lands to Muriel Allen. (Photo by Terrence Thompson)
June 29 2019
Source: www.stabroeknews.com
Head of the Guyana Lands and Surveys Commission (GLSC) Trevor Benn yesterday discredited accusations of corruption levelled against the agency by Leader of the Opposition Bharrat Jagdeo.
"Operations under my watch remain aboveboard and can withstand scrutiny. At the commission, we exercise zero tolerance for corruption and our record speaks for itself," Benn told a press conference at the GLSC's headquarters.
Jagdeo on Thursday accused the commission of facilitating a land grab following the passage of the December 21st no-confidence motion against the APNU+AFC government.
Benn called his allegations blatantly untrue.
Jagdeo identified several state employees, including Head of the Project Management Office at the Ministry of the Presidency Marlon Bristol and State Assets Recovery Agency (SARA) Special Assistant Eric Phillips, as having been beneficiaries of a "wanton and obscene gathering of land" that could be developed into shore-based facilities. He also named Chief Elections Officer Keith Lowenfield and engineer Charles Ceres, whom he sought to link to government via his wife Nidibi Schwiers who heads the Department of the Environment.
Benn, in responding to the accusations, specifically challenged Jagdeo or anyone else to come forward with evidence that can implicate him in any corrupt activity.
"Put up or shut up," he declared.
He stressed that in several cases the lands were awarded before his tenure at the commission. He cited as examples, the case of Phillips, who was awarded land in 2015 before the change of government, and Ceres and Lowenfield, who were awarded land in 2004.
"Keith Lowenfield and Charles Ceres were awarded land in Canje Creek in 2004 but they were not issued title. When I arrived, I found the approval and issued the title. Unfortunately, it was found that persons were squatting on the lands," Benn shared, before adding that Lowenfield has since asked for alternative land and his application is being processed.
Benn questioned why Lowenfield and Schwiers names were called, lamenting as a tragedy, "pulling the names of good people in the mud for political gain."
Additionally, Benn noted that none of the applicants referenced had applied for lands for the purpose of establishing shore-based facilities.
Asked specifically about the allocation of land awarded to Bristol at Dalawalla in Linden and Bohemia in Berbice, Benn said that the "gentleman named" applied for and was issued those lands. He stressed that individuals who comply with state lands regulations when applying for land can be issued land.
Jagdeo had claimed that the land at Dalawalla had previously been identified for an industrial site. While Benn did not deny this claim, he said that land use can be and has been regularly changed.
"We have land for various land uses and over time, land uses changed. A lot of land which was formerly given for agricultural [purposes] on the Soesdyke highway is now being used for mining," he said.
Asked by Stabroek News if this intention to change the use of particular lands was duly gazetted, Benn claimed that there is "no requirement for gazetting state lands approval."
"We don't routinely gazette state land unless we are unsure about the ownership or unsure about the status of the land. We don't gazette state lands. It is not a requirement," he stressed.
'Law-abiding'
Jagdeo had also claimed that Ceres was allocated 1,297.1 acres at Canje Creek, 112 acres at Bohemia where a shore-based facility could be built, 5,000 acres at a location yet to be identified and a plot at Liliendaal.
Though the opposition leader sought to indicate that these allocations all occurred in 2019, documentation provided prove otherwise.
Benn, in responding, stressed that for the lands at Liliendaal, Ceres "paid more money than anyone else who owns land there and got less land."
The GLSC head also addressed claims that a former PNC parliamentarian and his relative had been granted land noting that the unnamed persons were actually awarded these lands based on court orders dating as far back as 1996 and 1997 respectively.
He claimed that the previous government had failed to honour the directive of the court but the GLSC, under his stewardship, is a law-abiding entity.
According to Benn, while he could speak about less than fair distribution of lands under Jagdeo's presidency, he feels it is unethical to discuss the names and property of the commission's clients.
Stressing that there is no record of a request for the information displayed by Jagdeo on Thursday, Benn indicated that he would be contacting the police to investigate how the commission's property ended up in the possession of the opposition leader.
"It is against HR [Human Resources] policy for staff to be disclosing personal information of clients. We know those individuals and we will deal with that condignly," he said.
Meanwhile, Ceres has questioned whether Jagdeo's motive for identifying certain land owners lies in their ethnicity. All individuals identified by Jagdeo are Guyanese of African descent.
He pointed out that he, Lowenfield and two others had applied for and been awarded land in the Canje Creek in 2004, "a time when Bharrat Jagdeo was President" and that Ground Structures Engineering Consultants (GSEC), a company owned by him and his children, was granted a lease for 4.5 acres in 2017.
In the case of the 1,297.1 acres, Ceres indicated that he and Lowenfield asked to be excised from the lease as the other two partners proved unable to satisfy their financial obligations and therefore the lands could not be beneficially occupied. This request was made in November 2015.
He noted that since occupying the 4.5 acres in Liliendaal, his company has transformed the "swamp," which he secured "above market value," into a multimillion-dollar facility which currently employs 40 young Guyanese including nine young people who are provided allowances of $110,00 per month to attend the University of Guyana.
Stabroek News reported on the opening of this facility in March 2018.