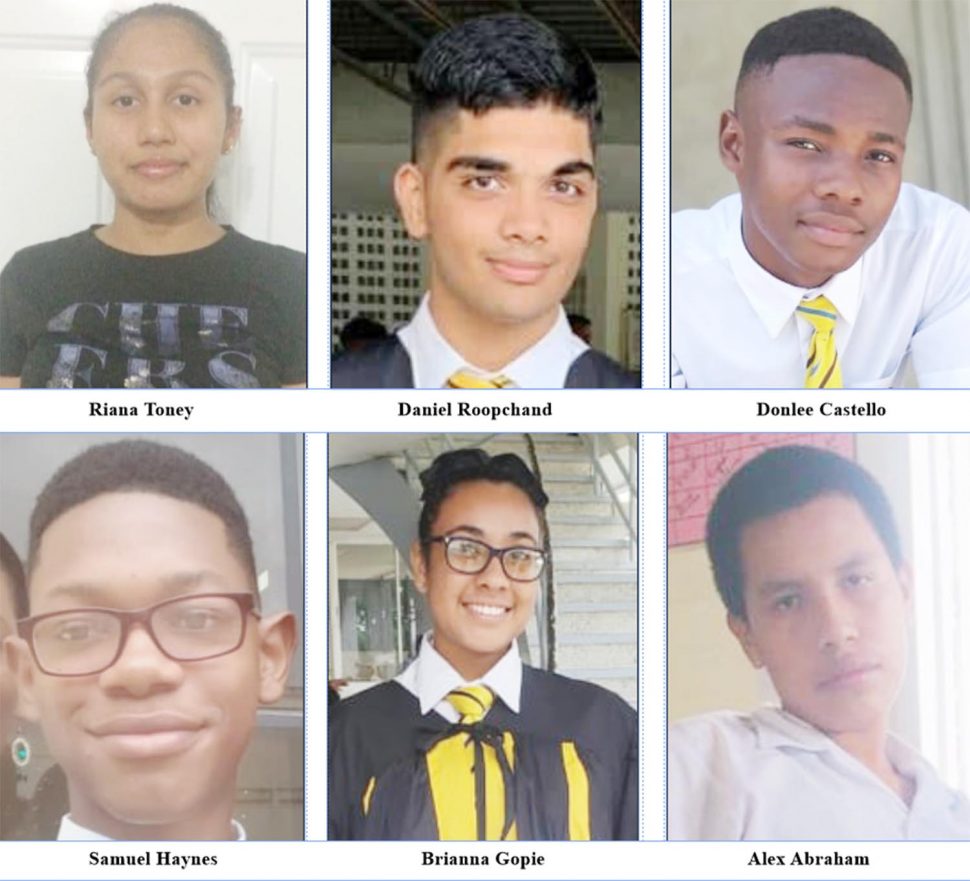 August 15 2019
The top Caribbean Secondary Education Certificate (CSEC) performer this year is Riana Toney of the Anna Regina Secondary School.
The 16-year-old Toney of Queenstown, Essequibo secured 19 Grade I passes in Physical Education, Religious Education, Office Administration, Principles of Business, Mathematics, Caribbean History, Geography, Electronic Document Preparation and Management, Information Technology, Spanish, Agriculture Science, Integrated Science, Biology, Chemistry, Social Studies, Human and Social Bio-logy, Chemistry, English A and English B.
She told Stabroek News that she was shocked and overjoyed.
Toney, who aspires to become a Microbiologist wrote the subjects not only "to challenge" but also because she wants to be "an all-rounder" who knows a little bit of something from different fields. In addition, she said, if she decides to change her current career-path she will have a number of choices from which to select.
Although CSEC requires a lot of study-time and sleepless nights, Toney said, she participated in as much extracurricular as she could have, including being part of her school's debate Team and participating in a science quiz. Toney who attributes her success to her parents, teachers and God revealed that she is currently undecided on whether she should attend the University of Guyana this year.
Her stellar performance was complemented by an equally good performance from Alex Abraham who secured 18 Grade Is and two Grade IIs
According to a report by the Department of Public Information (DPI), Abraham of St Rose's High is part of the Hinterland Scholarship Programme. Abraham who is reportedly from Santa Rosa, Moruca sub-District, Region One was in that area when Stabroek News attempted to contact him.
Third place went to Samuel Haynes of Queen's College who obtained Grade I passes in Mathematics, Additional Mathematics, English A, English B, Chemistry, Biology, Integrated Science, Human and Social Biology Social Studies, Caribbean History, Geography, Spanish, Information Technology, Electronic Document Prepa-ration and Management, Physical Education, Agriculture Science and Economics.
Speaking with Stabroek News, the Buxton-born youth said that he is very ecstatic about being among the top performers in the country.
"I always knew I had the potential to do great things, with the help of God," Haynes happily commented.
For Haynes, preparations began in fourth form with lessons for subjects he knew to be his weak area. Despite all his studying, however, Haynes said he managed to keep up with extracurricular activities. He revealed that he would sleep three to four hours a night to accommodate his studies along with extra-lessons and reduced social interaction as examinations came closer.
"Major thanks to God, my parents as well; both of them were a huge impact in where I am today and teachers like Dianne Henry, Sir Simeon from Bladen Hall Multilateral among countless others,' he said.
Meanwhile, Donlee Castello also of Queen's College was a bit disappointed in his results as he was expecting to do "much better."However, he remains thankful as he "could've done much worse."The 17-year-old of Tuschen Housing Scheme wrote 20 subjects and according to the results revealed by the Ministry of Education, he achieved 17 Grade Is and three Grade IIs. He plans on returning to QC for sixth form in September to pursue studies in Law,
He noted that for him the most challenging part of his journey was the hour-long drive from Tuschen to Georgetown.Castello said, he would arrive home at 9 pm after lessons and sleep two hours before waking up to study.
"Sometimes I would sleep on my way home," the youth told Stabroek News. His success, however, would not have been possible without his parents who he said sacrificed "a lot" for his education, his siblings who would offer to do his chores when he was studying, his church members who prayed daily for him to pass his examinations and his teachers from his school and extra-lessons.
"Thank you so much to God and I would advise future CSEC students to, first pray, know yourself, trust God 'cause without God nothing is impossible and I would like them so see my life as an example cause he answered my prayers," Castello concluded.
On the other hand, 16-year-old Vijay Sharma who attained 16 Grade I and two Grade II revealed that his results came as no surprise to him even as he was skeptical of his position in the top performers since unlike other students he was unable to attend extra lessons.
Regardless, Sharma said that he studied very hard but he always tried to balance his studies and extracurricular activities. The QC student also plans on returning to the school to attend 6th form.
"I was shocked when the Minister called my name when she was revealing the names of the top performers," a happy Daniel Roopchand said.
Roopchand is also a former student of Queen's College and while he is currently unsure of what he plans on doing next, he says, it is likely that he will attend sixth form at QC. According to the Ministry of Education he attained 16 Grade Is and one Grade II in CSEC examinations.
He wrote Physics, Biology, Chemistry, Integrated Sciences, General Mathematics, Agriculture Science, History, Social Studies, Geography, Economics, Information Technology, Electronic Document Preparation and Management, English A, English B, Spanish and Human and Social Biology.
Like the others, Roopchand also had countless sleepless nights. "I refused to enter an exam without ensuring that I had grasped every topic," he added before revealing that he too went to extra lessons. Further, he said, he was sick with the flu for half of the examination period and his accomplishment would not have been possible without the help of his teachers and parents. Roopchand aspires to become a neurosurgeon.
Speaking with Stabroek News, Brianna Gopie, of Queen's College said that she was more than happy with her results but she wasn't surprised because she wrote the number of subjects she knew she could have handled.
Gopie, 16, attained Grade I passes in 16 subject and she also plans to attend Sixth form at QC in September.
She revealed that she attended extra-lessons "every single day" and tried the difficult task of balancing her studies and extra-curricular activities.
She also said that she finds it very hard to focus but tried to study especially in her weak subject areas. To the students who will be writing the CSEC examinations, she said, "No matter how difficult things seem to be going, once you put your mind to it and you work and do your best you will always get the results that you want to see."
She also noted that her success would not have been possible without the sacrifices of her mother along with the teachers from her school and lessons.