If you build it, the fish will come
The natural reef landscape framing 5.8 was created by Hurawalhi dive instructor Paige Bennett.
"Basically what I did is [find] dislodged coral blocks, which were not healthy," she says. "Then, I transported them to the restaurant in hopes that it would start to regain these coral animals that live inside."
In the beginning, it was an experiment, so she started out with small pieces. Then, after a couple of weeks, the corals regrew.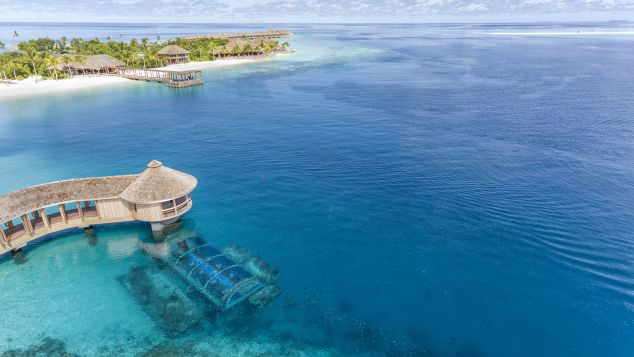 Aerial view of 5.8 Undersea Restaurant. -- courtesy Hurawalhi
Knowing that certain fish live in symbiosis with certain corals, she chose the pieces that would attract specific fish, which would then attract other marine life.
"Once I saw that it was going to work then we started to take bigger blocks and create a natural reef landscape, something that would attract fish in a way that is representative of the Maldives.
"It's an actual living, thriving reef system and ecosystem, which will grow on its own."
Though the sheer breadth of sea life drawn to 5.8's corals is to be expected given the diversity of the Maldives' marine ecosystems, Bennett admits they were surprised by just how many species decided to move in.
"That's what makes it so rewarding now," she says.
But long before any coral was built came the most difficult task of all -- actually building the restaurant.
Manufactured in New Zealand, the restaurant's glass is 15 centimeters thick and was shipped in one entire piece then lowered down with a special crane -- a process that took two years in total. (Footage of the lowering can be viewed in in the above video.)