Couple busted with guns, ammo, cocaine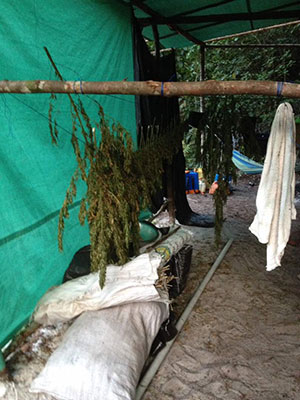 POLICE have arrested a taxi driver and his wife after three illegal firearms, matching rounds and 11.kg of cocaine were found at their home during a raid on Friday.
Reports indicate that ranks, acting on intelligence, conducted a search on the couple's house at Duncan Street, Campbellville, Georgetown, where they found one .357 Taurus Magnum Revolver and six live matching rounds, and two 9MM pistols and 36 live .45 rounds.
Charges are expected to be laid against the taxi driver in the new week.
Meanwhile, police in Linden destroyed marijuana fields on the same day. An estimated 5,300 plants, ranging in height of six inches to five feet and two make-shift camps were destroyed by fire.
A 20- year-old South Ruimveldt male is in custody assisting with investigation.
Also on Friday, police ranks in 'F' Division, while on a mobile patrol on the Takatu Bridge, Lethem arrested a 39-year-old Lethem resident in connection with the discovery of 70 grams of cannabis.
Enquiries disclosed that about 20:00hrs, the suspect was walking on the bridge, and on seeing the police, he quickly dropped a bag, which was retrieved and found to contain the illegal substance. He is being processed for court.